Baidu (NASDAQ:BIDU) reported earnings last week and disappointed investors. Revenue grew 42%, marking yet another quarter of slowing growth, and adjusted earnings grew just 17%, representing a significant slowdown from last quarter's 39% growth rate. Both earnings and sales were below analyst estimates, sending the share price down 8% on Friday. Although there are positive developments, there are more reasons to be concerned right now.
Earnings highlights
Baidu reported first quarter earnings of $1.00, up 17% compared to the same quarter last year. Revenue was up 42% to $961 million. Both earnings and revenue growth decelerated for more than four quarters. Earnings growth slowed from 63% and 39% in the previous two quarters, and revenue growth decelerated from 52% and 43% respectively in the previous two quarters. The company has increased research spending 83% from a year ago, and sales and marketing costs increased 77%, weighing in on earnings.
Daily mobile users grew 25% from the previous quarter to 100 million. Management noted in the conference call that their focus this year is to invest aggressively in mobile. Increased sales and marketing costs were particularly driven by mobile related campaigns. CEO Robin Lee said that revenue contribution from mobile is increasing rapidly, but from a very small base, so it still represents a small percentage of total revenue.
Baidu is also investing in China's streaming-video market. Reuters reported that Baidu is in the process of acquiring Chinese online video firm PPS Net TV, for $350-$400 million. The online streaming-video market is led by Youku Todou (NYSE:YOKU), which acquired Todou in 2012, which in turn made it the largest online video player in China.
As I said in my previous article, Baidu is in the fourth stage of the earnings maturation cycle. This is the worst phase a company can be in, and is characterized by slowing earnings and sales growth, declining profit margins, negative analyst consensus estimate revisions, and as a result - declining stock price. All of those characteristics are seen in Baidu. When these negative trends stop, Baidu's stock price can recover.
Competition
With heavy investment in mobile and online streaming-video market, Baidu faces a fierce competitor in the search market. Qihoo 360 (NYSE:QIHU) entered the search market last year, and soon grabbed 10% of the search market. As of March 31, it was reported that Qihoo now has 12.5% of the search market, while Baidu has 79%. In January, Qihoo began cooperation with Google (NASDAQ:GOOG) in search monetization. They also started building their own search advertising network and a search traffic union. The starting market share is very encouraging for Qihoo, but it is still too early to tell if they can attain a much bigger part of the Chinese search market. We will see if they can reach their target of 20% market share by end of 2013.
Price action
Baidu is near its 52-week lows, and below both 50 day and 200 day moving average lines. It is down almost 50% from its all time high. If the $80 level does not hold, we might see lower prices in the near term.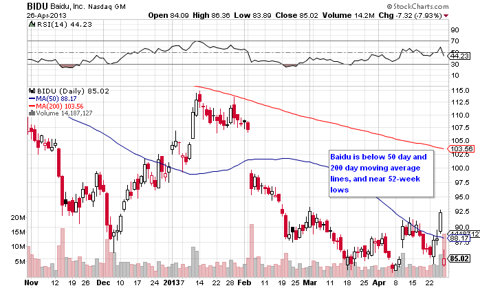 Conclusion
Baidu is facing hurdles in the last several quarters and is experiencing a significant growth slowdown and declining margins. The company is investing heavily in mobile and looking to gain share in the online streaming-video market. The competition in the search market is getting tougher with Qihoo's aggressive campaign and a 20% search market share target by year's end. Baidu will underperform the market until we see the end of negative trends in earnings, sales and profit margins.
Disclosure: I have no positions in any stocks mentioned, but may initiate a long position in QIHU over the next 72 hours. I wrote this article myself, and it expresses my own opinions. I am not receiving compensation for it (other than from Seeking Alpha). I have no business relationship with any company whose stock is mentioned in this article.