With a solid rally in 2013, the market has plenty of fully-valued stocks, but some still offer value now. General Motors (NYSE:GM) is a stock that appears undervalued and it also has catalysts in the next several months that could take it higher. As the chart below shows, GM shares have jumped from about $20 last August to around $30 per share recently. The uptrend could be poised to continue, so investors should consider a buy on dips strategy.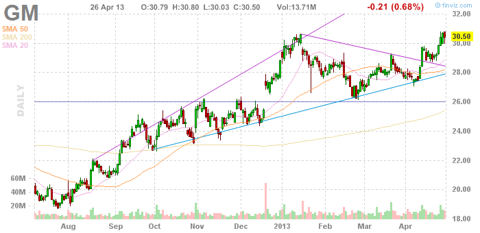 In spite of lingering global economic concerns, GM and other automakers are posting strong results in the United States. In March, GM experienced year-over-year gains of 6.4% in the United States. Morningstar analyst, David Whiston believes that GM is worth about $52 per share and he recently stated:
I don't think people realize what GM can do once they get up to speed. GM's key U.S. market is still growing, and they have a very robust practice in China.
But while he can find plenty of reasons for GM investors to be optimistic, for this analyst, it's ultimately all about the cars.
GM's car portfolio is just night and day better than it was even a few years ago.
Whiston's "fair value" estimate on the stock is $52, a healthy 85 percent higher than where shares find themselves today.
While challenges remain for GM, such as continuing losses in Europe, it has been able to more than offset those losses with strong earnings in North America, China and other areas. Strong sales could continue for GM because it has a number of important product launches coming out in the next couple of years. This includes the Chevrolet SS and the Cadillac ELR later this year, the Buick Grand National and GNX models for the 2015 model year, and an all-new Chevrolet Camaro for 2016.
The U.S. Government still has a significant ownership stake in GM, and this appears to be holding the stock back. However, this could turn into a positive catalyst in the coming months. In the past several weeks, the government has sold GM shares. The U.S. Treasury reportedly sold around 18 million GM shares, which was equivalent to about $489.9 million worth of stock. It also sold shares in January, and it plans to completely sell its stake in GM by early 2014. This could be a major upside catalyst for the stock.
Just take a look at what happened to AIG (NYSE:AIG) shares after the U.S. Government sold the shares it owned in late 2012. Back then, AIG shares were trading around $34, but have since surged to 52-week highs at over $41 per share. GM could experience a similar move higher, and that is why investors should consider accumulating this stock, especially on any pullbacks.
While the S&P 500 Index (NYSEARCA:SPY) trades for about 15 times earnings, GM trades for just around 9 times earnings. That is a large discount to the market average, and that is just one more reason why there is room for GM to move higher. Once the government has finished selling GM shares, investors are likely to find this stock more attractive, since that overhang will be removed. In addition, there is a good chance that GM will be able to reinstate a dividend after the government is out, and that would be another potential catalyst for the stock.
Here are some key points for GM:
Current share price: $30.50
The 52 week range is $18.72 to $30.80
Earnings estimates for 2013: $3.35 per share
Earnings estimates for 2014: $4.32 per share
Annual dividend: none
Data is sourced from Yahoo Finance. No guarantees or representations are made. Hawkinvest is not a registered investment advisor and does not provide specific investment advice. The information is for informational purposes only. You should always consult a financial advisor.
Disclosure: I have no positions in any stocks mentioned, and no plans to initiate any positions within the next 72 hours. I wrote this article myself, and it expresses my own opinions. I am not receiving compensation for it (other than from Seeking Alpha). I have no business relationship with any company whose stock is mentioned in this article.