The 13 closed end fund (CEF) types on average declined 2.5% the week ending 5/15/09 versus a decline of 4.6% for the S&P 500 as measured by the SPDR S&P 500 ETF (NYSEARCA:SPY). On an aggregate, unweighted basis, the weekly price decline for 641 CEFs was 2.1% for price data available. The Claymore CEF Index registered a slightly greater decline of 3.6% for the week. The Eqcome CEF Fear Index increased: prices declined 1.4% more than their related NAVs for the week. This is consistent with a 3.3% rise in the CBOE Volatility Index (VIX) which rises when the market declines.
Increased market uncertainty, a result of a series of suspect economic numbers, skewed relative performance to favor the non-equity CEF fund types. National muni bond funds eked out a fractional gain, while other debt fund types racked up losses to a lesser extent than their equity-oriented cousins.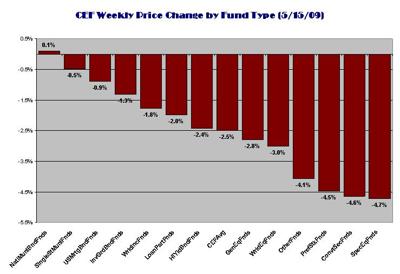 For sake of weekly comparison, both the performance of the S&P 500 and the VIX demonstrated a punk overall performance for equities. With regards to the debt segment of the markets, Vanguard Total Bond (NYSEARCA:BND), iShares Muni fund (NYSEARCA:MUB) and iShares mortgage backed securities fund (NYSEARCA:MBB) registered modest gains, 0.6%, 0.5% and up 0.6%, respectively. Gold (NYSEARCA:GLD) advanced 1.7%, while oil, as measure by the US Oil ETF (NYSEARCA:USO), fell by 3.7% on renewed concerns of economic global growth sans China.
Commercial real estate, as measured by Vanguard Real Estate Investment Trust ETF (NYSEARCA:VNQ), plunged 11.3% after several weeks of "short squeezing". Consensus that commercial real estate is the new "ground zero" for banks added fuel to the precipitous decline. Much of commercial real estate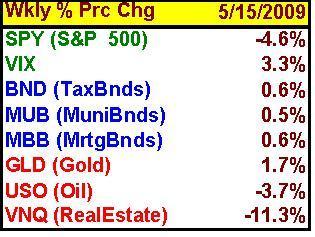 turmoil will be in the private real estate markets; public entities have already experienced significant price declines and have been fortified with new capital. (This is going to be a good sector to trade over the next 6 months and investors should consider trading the ProShares Ultra Real Estate (NYSEARCA:URE).)
For the sake of data points, Van Kampen Municipal Trust (NYSE:VKQ) was one of the better CEF performers for the week, up 4.1%. One of this week's bigger losers was in the real estate sector: Neuberger Berman Real Estate Securities Income Fund Inc. (NYSEMKT:NRO) was down 21.9%.
Focus CEF: The focus stock for the week continues to be Boulder Growth & Income Fund Inc. (NYSE:BIF), off 3.3% last week. There continues to be consistent, significant insider buying in May with another $1.3 million accumulated so far this month. This brings the total ownership by the Ernest Horejsi Trust No 1B (considered a "control person") to 17.9% of BIF. Berkshire Hathaway "A" (NYSE:BRK.A) & "B" (NYSE:BRK.B) shares comprised 24.6% of BIF's portfolio and close to 30% on an equity basis. With the BIF selling at 22.2% discount to NAV, investors are buying Warren Buffett at a discount. (Now, would he be proud of us!) While BIF's board suspended its distribution late last year—some contend to facilitate the acquisition of shares by insiders at distressed levels—it's expected that distributions will likely be reinstated in this calendar year.
Disclosure: Long GLD, USO, VKQ, NRO, SPY and BIF.