There were quite a few disappointed people who found out earlier this week that TransCanada (NYSE:TRP) now thinks that the Keystone XL, which had been expected to be in service in 2014 is now likely to slip into late 2015.
The official update from TransCanada on the Keystone XL was as follows:
On March 1, 2013, the DOS released its Draft Supplemental Environmental Impact Statement for the Keystone XL Pipeline. The impact statement reaffirmed that construction of the proposed pipeline from the U.S./Canada border in Montana to Steele City, Nebraska would not result in any significant impact to the environment. The DOS is in the process of reviewing comments on the impact statement that it received during a 45 day public comment period that ended on April 22, 2013. Once the DOS has completed its review, it is anticipated that it will issue a Final Supplemental Environmental Impact Statement and then consult with other governmental agencies during a National Interest Determination period of up to 90 days, before making a decision on our Presidential Permit application.

Due to ongoing delays in the issuance of a Presidential Permit for Keystone XL, we now expect the pipeline to be in service in the second half of 2015 and, based on our pipeline construction experience, the US$5.3 billion cost estimate will increase depending on the timing of the permit. As of March 31, 2013, we had invested US$1.8 billion in the project.
The people most disappointed by this news would have to be those who have exposure to Canadian Oil prices. In that group would be Canadian light and heavy oil producers like Suncor (NYSE:SU) and Canadian Natural Resources (NYSE:CNQ), as well as shareholders of those and other Canadian companies.
Included in that "shareholder of other companies" group would be yours truly.
But while I have direct exposure to Canadian light oil prices and I know we need pipelines to accommodate rising levels of production, I find myself happy with this further delay in the Keystone XL.
Why? Because the delay is going to give Canada an additional much needed kick in the butt to come up with other alternatives to get our oil to alternative markets.
The delay in the Keystone XL so far has already led to some significant action that appears likely to help get Canada's oil to other markets:
TransCanada's Energy East Pipeline
The Energy East Pipeline project involves converting natural gas pipeline capacity in approximately 3,000 km (1,864 miles) of our existing Canadian Mainline to crude oil service and constructing up to approximately 1,400 km (870 miles) of new pipeline. Subject to the results of the open season, the project will have the capacity to transport as much as 850,000 bbl/d, increasing access to eastern Canadian markets.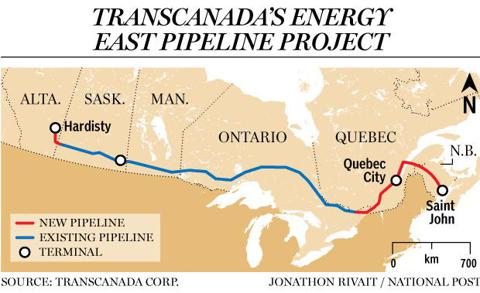 Enbridge's Line 9 Reversal
Line 9 is an existing Enbridge 762 mm (30-inch) diameter pipeline with a current capacity of approximately 240,000 barrels per day (bpd), extending from Sarnia, Ontario to Montreal, Quebec. Currently, the pipeline transports crude oil from areas such as the North Sea, West Africa and the Middle East, in a westbound direction.
The scope of the proposed Project includes reversing the flow of the 639 km-long section of Line 9 from North Westover to Montreal (Line 9B) mainly by modifying existing facilities (please see map for details).
The open season confirmed additional demand to ship crude oil -- mainly light crude oil -- on the reversed pipeline from what had been originally anticipated. As a result, we now propose to expand the capacity of Line 9B from 240,000 bpd to 300,000 bpd.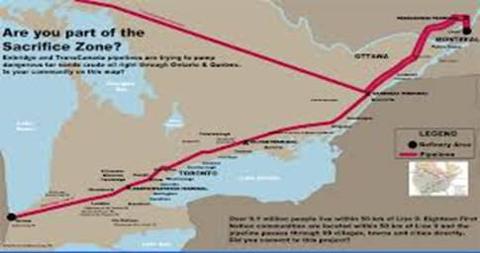 The Keystone XL delay has is also leading to some other ideas that are in an early stage, but could be significant:
Pipeline To The Northwest Territories (Tuktoyaktuk)
The Alberta government says it is in "serious talks" with the Northwest Territories to build an oil pipeline connecting the oil sands to the northern hamlet of Tuktoyaktuk, near the Beaufort Sea.
The Northwest Territories is set to manage its own natural resources by 2014, and the region needs pipelines in place to improve the likelihood that it's own significant resource base will get developed.
There is already a right of way in place for an existing pipeline, and the Northwest Territories Government is very friendly to development.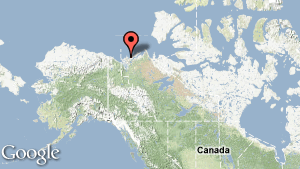 Rail To Valdez Oil Terminal in Alaska
The Valdez oil terminal is actually the closest shipping point to Asia in North America.
Vancouver-based G7G Ltd. (Generating for Seven Generations) is proposing a 2,400-kilometre-long railway running northwest from Fort McMurray, Alta. to the Trans-Alaska Pipeline at Delta Junction, which currently ships oil from the state's dwindling North Slope oil fields to the Valdez super-tanker terminal.
G7G says it has the backing of Canadian First Nations and Alaskan tribes and has conducted a $6-million study on the rail link.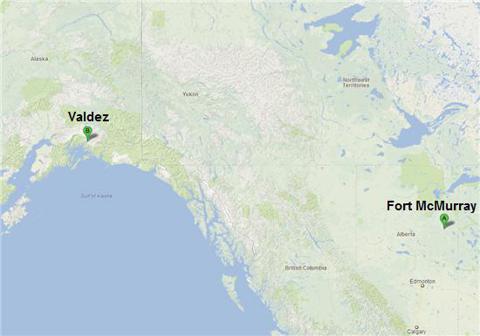 Kitimat Refinery
Canadian billionaire newspaper magnate Conrad Black is spearheading a massive $25 billion refinery project for Canada's West Coast in Kitimat.
The project's website describes the venture as follows:
The project will include a state-of-the-art world scale oil refinery at Kitimat. It may also include a pipeline between Edmonton and Kitimat, a marine terminal, and a fleet of tankers for the refined fuels. The total cost could amount to $25 billion. It will be the largest investment in BC in the history of the province. It will also provide far more permanent jobs than any other investment has done and generate very large tax revenues for the government.
If this project goes forward, it will undoubtedly include a pipeline to get oil from Alberta that otherwise wouldn't exist.
I think Canada is finally starting to get the message that having only one customer for your product isn't great. Additionally, having one customer whose demand for your product is stagnant and is also growing its own supply is really not great.
Canada needs to position itself so that its oil can get to the growing markets for oil like China and India. The longer the Keystone XL is delayed, the better, in my opinion, because that is going expedite the process of Canada securing other options.
This further delay of the Keystone XL only strengthens the wake-up call Canada was needing, and makes this other options more immediately important.
As a shareholder of Canadian oil producers, I'm willing to endure some short-term pain caused by the Keystone delay in exchange for the long-term gain of being able to get the oil to Asia.
Disclosure: I have no positions in any stocks mentioned, and no plans to initiate any positions within the next 72 hours. I wrote this article myself, and it expresses my own opinions. I am not receiving compensation for it (other than from Seeking Alpha). I have no business relationship with any company whose stock is mentioned in this article.