The utility sector has been very successful over the last two years as the Utilities Select Sector SPDR ETF (NYSEARCA:XLU) has easily outgained the S&P 500 index. The sector has been attractive to investors as the high dividends pay considerably more than the 10 Year Treasury that remains stuck below 2%. Now it is probably the time to consider utility stocks as played out, though investors shouldn't expect the stocks to crash. In fact, the stocks are likely to continue gaining and reaping decent dividends, but the likelihood of outpacing the market is greatly reduced at these levels.
Strong 2-Year Gains
For low growth stocks, the utility sector has been on fire the last couple of years. American Electric Power (NYSE:AEP), Dominion Resources (NYSE:D), and Duke Energy (NYSE:DUK) have had phenomenal gains of over 40% during that time period, compared to the S&P 500 at 22%. In fact, Southern (NYSE:SO) has been disappointing by only generating gains of 34%, though inline with the XLU. Exelon (NYSE:EXC) is the major failure in the group, with less than a 1% gain. Investors in that utility must be disappointed, as the sector left it behind.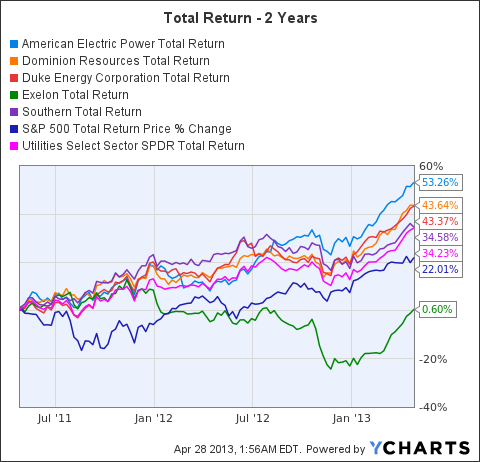 AEP Total Return Price data by YCharts
High PEs
The large gainers are starting to see substantial gains in the PE ratio to levels that aren't normal for a low growth sector. As an example, analysts only expect American Electric Power to grow earnings by 2% this year, yet the stock trades at 16x earnings expectations. Typically investors wouldn't be willing to pay 16x forward earnings for virtually no growth. Such a stock would normally see limited gains as a 3.9% dividend yield wouldn't pay investors enough return to stick around. The chart below highlights the forward PE ratios for the listed utility stocks: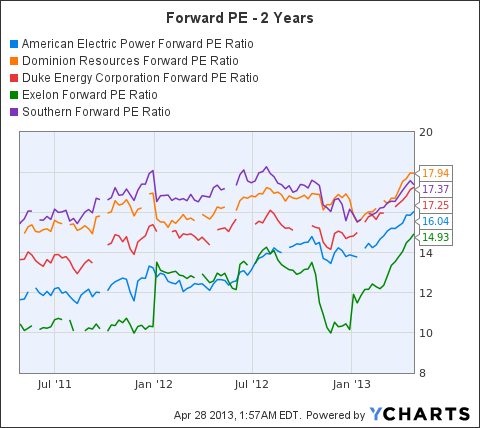 AEP Forward PE Ratio data by YCharts
Declining Dividends
The average dividend yield of the group has declined from around 5% a few years back to around 4% now. In fact, Dominion Resources has dropped to 3.7%, yet it still doubles the rate of the 10 Year Treasury Bond at 1.73%. A lot of income-starved investors will be satisfied with those yields for several years. It sure beats investing in a government bond that only yields 1.7% and could lose substantial value in a rising rate environment.
Conclusion
Utility stocks have seen substantial gains in the past few years and aren't nearly as attractive now, but investors shouldn't expect any declines in the stocks. The sector isn't likely to outperform growth stocks at these levels, but it should easily do better than bonds. Rising interest rates will only push investors out of bonds and into stocks. Those new stock investors might not load up on utility stocks, but they should buy enough to keep the prices elevated until bond rates outpace the dividend yields at some point in the distant future.
Disclosure: I have no positions in any stocks mentioned, and no plans to initiate any positions within the next 72 hours. I wrote this article myself, and it expresses my own opinions. I am not receiving compensation for it (other than from Seeking Alpha). I have no business relationship with any company whose stock is mentioned in this article.
Disclaimer: The information contained herein is for informational purposes only. Nothing in this article should be taken as a solicitation to purchase or sell securities. Before buying or selling any stock you should do your own research and reach your own conclusion or consult a financial advisor. Investing includes risks, including loss of principal.