The technology sector sure looks a lot different than it did before the end of the internet boom. First the market knocked tech stocks down from their sky high valuations to a market multiple. As revenue growth slowed and after most of a decade seeing their stocks move nowhere, tech stalwarts like Cisco Systems (NASDAQ:CSCO) and Microsoft (NASDAQ:MSFT) dropped long term resistance and started paying dividends. They have continued to increase their payouts and they have been useful to reward shareholders. These dividend policies have also been helpful for putting floors under their stock prices as well.
Unfortunately, a good portion of the technology sector has continued to have lower valuations than the overall market. The sector has also underperformed the overall market significantly in 2013 as investors favor defensive sectors like Consumer Staples, Healthcare and Utilities. The tech sector offers lower valuations and better growth prospects longer term than most of the companies within these defensive sectors. The stocks within the sector also mostly have prodigious cash flow. Pushed in some cases by activist investors, many have rolled out a new weapon to unlock shareholder value - stock buybacks. Here is a look at three tech stocks that recently announced stepped up repurchase programs that looked undervalued even before this new effort to reward shareholders.
TIBCO Software (NASDAQ:TIBX) provides middleware and infrastructure software worldwide. It offers products in the areas of service-oriented architecture and core infrastructure; business optimization; and process automation and collaboration.
Buyback announcement - The company refreshed its $300MM stock repurchase program recently. At current prices, this could remove almost 10% of its float at the current stock price.
4 additional reasons to like TIBX at $19 a share:
The 22 analysts that cover the stock have a median price target of $24.50 a share on the stock. This is around 30% higher than the current stock price.
The company has a robust balance sheet with approximately $250mm in net cash on the books.
TIBX is selling in the bottom third of its five year valuation range based on P/E, P/CF, P/S and P/B. The company has grown revenues at slightly better than an 11% CAGR over the last five years. TIBCO is expected to resume double digit sales growth again in FY2014.
The stock is at a long term technical support level (See Chart).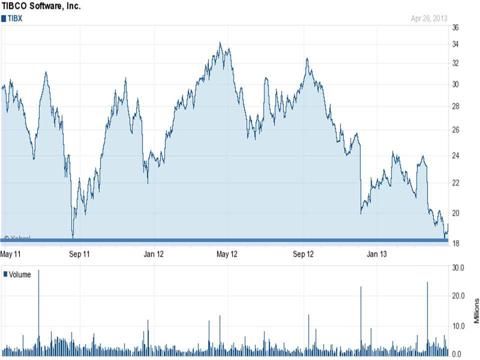 Corning (NYSE:GLW) produces specialty glasses, ceramics and related materials worldwide. The company operates in five segments: Display Technologies, Telecommunications, Environmental Technologies, Specialty Materials and Life Sciences.
Buyback announcement - The company announced this week that a new $2B stock repurchase program will replace an existing $1.5B program.
4 additional reasons GLW is undervalued at $14 a share:
The stock now yields 2.8% after recently raising its dividend payout 20%. The company has now doubled its payouts over the last two years.
GLW is cheap at 98% of book value and under 7x operating cash flow.
The stock sports a five year projected PEG of under 1 (.95) and insiders have bought some 200,000 shares in the last six months.
Consensus earnings estimates for both FY2013 and FY2014 have risen over the past couple of weeks. Corning has now beat earnings estimates for three straight quarters as well.
Any discussion of the increasing stock buybacks in the Technology sector would be remiss without mentioning the recent news from Apple (NASDAQ:AAPL).
Buyback announcement - The company just announced that it is increasing its planned stock repurchase program from $10B to $60B. To put that in perspective, $60B is enough to buy BlackBerry (BBRY), Nokia (NYSE:NOK), and Dell (DELL) at 25% premiums and still have cash left over. At current prices, this will also remove some 15% of Apple's float through completion of the program in 2015.
4 additional reasons AAPL is significant undervalued at $417 a share:
The company also paired a dividend hike with its buyback announcement and will now yield 2.9%.
AAPL is selling at the bottom of its five year valuation range based on P/E, P/B, P/S and P/CF.
Apple is no longer growing in the 40% to 50% range. However, analysts still expect to see sales gains in the low double digits over the next two fiscal years. The stock has a minuscule five year projected PEG (.49).
Subtracting its massive cash hoard, AAPL is selling at under 7x earnings.
Disclosure: I am long AAPL, GLW. I wrote this article myself, and it expresses my own opinions. I am not receiving compensation for it (other than from Seeking Alpha). I have no business relationship with any company whose stock is mentioned in this article.