Let's take a look at some of this week's top- and bottom-performing ETFs and ETNs. Keep in mind that we cull the list to have a variety of sectors and we toss out Ultra, UltraShorts, 2X, 3X, & Inverse ETFs.
Some of these names are lightly traded and may be fairly illiquid. Make sure that you research the holdings and design of these ETFs before considering any trade.
In BigTrends ETF Options Trader advisory service, Andrew Hart recommends specific real-time ETF option trades on the best-moving, most-liquid ETFs.
Click to enlarge: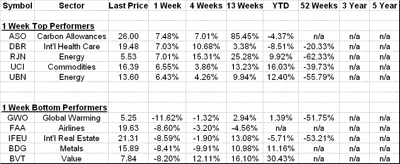 Data from May 15th, 2009 courtesy of msn money:
Some interesting niche ETF/ETN names on this week's list; such as carbon allowances on the bull side and global warming on the bear side. These are lightly-traded ETFs, so make sure to investigate the holdings and information on these securities before considering trading or investing in them.

Airlines show up on the negative side under the ETF symbol FAA. This security holds global airlines (including U.S. based). Airlines have long been a "headache" sector for long-term based investors and traders -- for example, take a look at this long-term chart of the Amex Airline Index ($XAL)
You can see that playing the broad airline index from the long side has been a huge net loser over the past 10 years. This sector is often inversely correlated with oil prices, but it also has structural problems in place that are reminiscent of (if not worse than) the auto industry.

There could be individual small companies and global airlines that may represent good long side investments or trades at any given time, but in general this sector has been a long time "dog" that would have only benefited short and put players.

Disclosure: none