We don't often think of food from an investment standpoint, let alone consider its outlook in light of a growing population. And yet fundamentally, food infrastructure inherently remains one of the most important supply chains within our economy. The slightest disruption can often lead to costs that far outweigh the initial implication. Perhaps one of the more telling graphics of this correlation can be found in a chart linking the rise of riots with the global food price index shown below.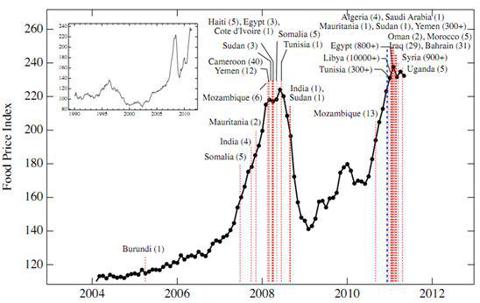 Yet unfortunately, the rise of food prices appears to be a relatively stable trend as seen in the chart above. The direction has only been exacerbated by increased volatility through one-off events such as droughts or even speculation in commodity prices. A rising middle class in developing nations has also accelerated the consumption of resource-intensive food such as meat products. All of this demonstrates that the world is going to need ways to expand the supply of food in the coming future, a task not made any easier by the limited amount of arable land.
As the amount of farmland remains scarce, the direction of the world has turned to improving yield. It should be no surprise that genetically engineered seed companies such as Syngenta (SYT) and Monsanto (MON) have become powerhouses in themselves. According to a CBS News article found here, Monsanto controlled over 95% of all soybeans and 80% of all corn grown in the United States. The prevailing forces of the markets have made farmers invest in crops designed to produce more abundantly, grow more reliably, or utilize less resources. But with the amount of land still constrained, new solutions are eventually going to be needed in the world to help improve logistical efficiency (i.e. transportation of food) or increase the overall supply of resources.
Investing In A More Efficient Supply Chain
It is this macroeconomic trend for increased efficiency in food supply that should keep investors searching for disruptive technologies that can provide a comparative advantage when it comes to output cost, quality, or capability. It is for this reason that a small $571 million renewable oil designer named Solazyme (SZYM) holds more value than investors may presently understand. As it stands, the company is more often associated with biofuels by investors rather than its predominant focus in the present on cosmetics, chemicals, and food. Indeed, the company sits on the crossroad of an evolving trend in food supply geared towards improving logistical efficiency.
The following are three key points to consider about Solazyme's process:
Provides New Access. In the large market for vegetable oils, Solazyme's technology can bypass the inefficient process of growing, harvesting, and crushing by directly utilizing a controlled industrial fermentation process.
Helps Control Volatility. Through its rapid production process and the capability to repurpose its infrastructure for an entirely different output within days, Solazyme's process can quickly take advantage of shifting prices. Because it can also utilize multiple feedstocks, the company can also spread out the risk on the input side as well.
Expands the Supply. As sugars derived from non-edible biomass become a viable feedstock over the next few years, Solazyme can even play an important role in ultimately expanding the amount of food on the planet.
Producing Products That Matter
Improving production may not mean too much if the markets have little need for what you produce. Yet this is where Solazyme actually appears to excel. Because of its capability to tailor design its oils, the company can consistently produce products that mimic the chemical compositions of existing oil profiles. This opens the doorway towards the abundance of triglyceride oil markets which the company can realistically address. More importantly, also allows the company the ability to create oils that are more beneficial to us. Through its research, Solazyme has been increasing both the quality of the product and the yield of its output in a very rapid manner. This amounts to a development process over the span of a few months that would normally take seed companies like Monsanto and Syngenta years to produce and still not achieve the same degree of change.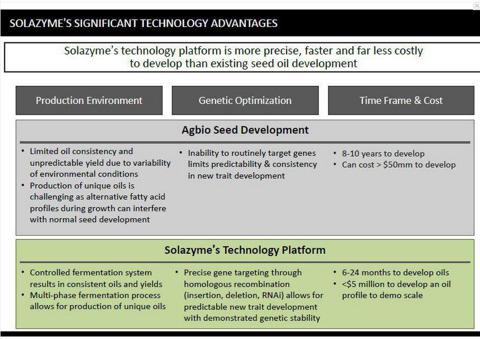 The tailored oils that have been made thus far clearly appear capable of addressing large markets. Seen in the picture below, Solazyme's partner company Archer-Daniels-Midland (ADM) conducted a standard frying study of the company's high oleic oil. The results showed that after 10 days of use, Solazyme's oil retained more frying life left at the end of the study than a premium high oleic canola oil had at the start of the study. Such a test demonstrates the cost savings new innovation can bring about to companies who regularly have to dispose of their oils after excessive use.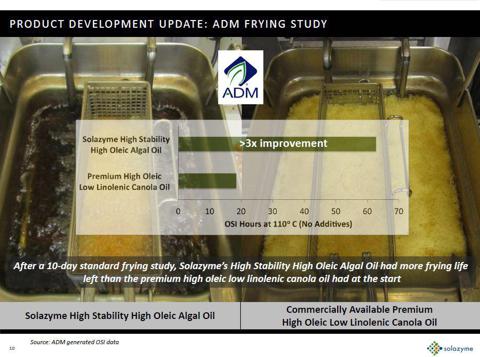 This last Thursday, Solazyme displayed pictures of potato chips made from the company's heart-healthy oils on its Twitter account stating that they carried the same great taste but with less fat. It also showed pictures of pound cake which was presumably made from the same heart-healthy oil. Such examples help convey part of the application range. But while these oils were produced using genetically modified algae, one should not dismiss the applications already underway using natural algae ingredients through the Solazyme-Roquette joint venture.
Armed with a product line that can cost-effectively substitute eggs, milk, and butter in numerous applications, Solazyme Roquette Nutritionals is capitalizing on a growing trend to replace resource intensive foods. Able to be used in everything from beverages, to ice cream, and even to baked goods, the Almagine product line carries significant characteristic advantages as seen in the chart below. Some might argue that their products actually taste better than their controls. Having tried the ice cream and cookies myself in a visit to the company's HQ last year, I too can vouch for the taste.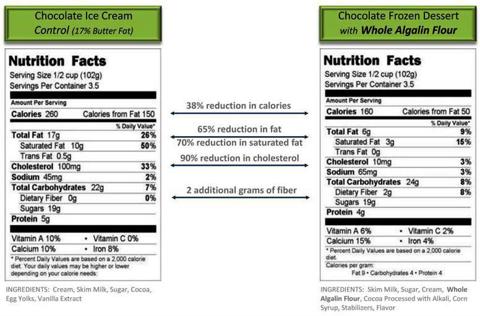 The Need For A Smooth Integration
To believe a company can bring disruptive change to the food supply chain on its own is both unrealistic and impractical. For this reason, it remains important to note that Solazyme is partnering with some of the most reputable leaders in the industry when it comes to Roquette, ADM, Bunge (BG), and Unilever (UL). What may be missed by some is that the company is largely leveraging the capabilities of its partners in order to gain significant access to the market. Quoting CFO Tyler Painter in an interview found here, he addresses how Solazyme has thus far pursued its partnerships:
"Typically, the first [question] is, can they bring capital? The cost to capital for any one of these companies is obviously significantly lower than Solazyme's. Can they bring a global supply chain logistics kind of capability that we obviously don't want to replicate, but we want to be able to leverage?

Do they have access and visibility into the end markets or what the oils for that specific market are looking at, and every one of those cases, [our partners] have all of that. But, I'll start with Roquette since it's our oldest joint venture. We entered that in December of 2010. Roquette paid a $20 million license fee to enter the joint venture. We basically, the way I would kind of simplify it is, we sold half of that business to a partner....."
In viewing the license fee essentially as a sales price, it bodes well for investors to consider that Solazyme was the partner of higher demand. With Roquette being one of Europe's largest starch processors, this may seem counter-intuitive at first considering how small Solazyme's operation currently stands. Yet this is understandable when we consider that Solazyme is likely to take a backseat to the operation of the joint venture as Roquette utilizes its market know-how in order to penetrate an industry it already largely leads. This notion is further supported when one considers that Roquette is paying for all of the capital costs of the joint venture facilities now under construction.
Likewise, we see a familiar trend of capital contribution from its other partners as well. ADM is providing up to 100,000 metric tons of annual capacity by allowing Solazyme to move into its newly-constructed facility in Clinton, Iowa. Bunge is providing 50% of the capital leading up to 300,000 metric tons of capacity in Brazil. Bunge also empowered their joint venture access to a large project financing arrangement with the Brazilian National Development Bank. Even Mitsui & Co., Ltd. and Unilever are paying Solazyme for ongoing R&D into newly tailored oil profiles.
In each of these partnerships, it remains clear that Solazyme is allowing these companies to take the lead when it comes to introducing its products to the mainstream markets. After all, the significant capital risks remain largely in the hands of the partner companies. They're significant leadership in their respective markets also helps to mitigate the risk of introducing new products.
Looking Beyond The Development Phase
With the risk of market entry largely in control by its industry-leading partners, investors should begin to wonder just who it is they're actually invested in. After all, the only real pursuit that Solazyme has retained in-house is its highest-margin market found in the cosmetics industry. Chemicals, fuel, personal care, and of course food have largely been put into the trustworthy hands of partner companies. It appears that by extension, an investment in Solazyme actually correlates to an investment in the efforts of these industry-leading partner companies as well.
At the current share price of $9.25, Solazyme now carries a market capitalization of $571 million. At the end of January, the company had approximately $260 million in cash after tapping the markets for opportunistic capital through an offering of convertible notes. This leaves the valuation of the company's operation essentially priced at $311 million. In 2012, the company was only conducting $44 million in annual revenues derived largely from research and development revenues and limited product sales. This was due to the lack of constructed commercial production facilities. With capacity now under construction (which has largely been paid for) expected to increase over 8,000% by 2014, analysts expect the company to ramp its annual revenues to $284 million by the end of 2014.
At $311 million, it's clear that investors are placing a rather low valuation on the upcoming triple-digit revenue growth. The lack of clarity over future profits may serve as an ongoing concern for some, but some may find greater guidance in the words of management. In an interview found here, Tyler Painter estimates that the company's total operating margins will ultimately be in the 25% range. This will likely be realized as the plants optimally ramp up to their nameplate capacity.
Conclusion
When it comes to sustainable food, Solazyme offers investors a rather unique opportunity to expand beyond the current supply chain's model. The company is creating value through efficiencies by introducing dynamic changes to an industry that often shifts through very slow evolutions. More importantly, it's clear to see that it's actually the current market leaders of today which are largely introducing such changes. For what is often considered a side business of Solazyme, the food and nutritionals division may actually prove to be the foundation of a very significant shift in food sourcing.
What is sure to lead the introduction of this shift is the innovation that Solazyme can harness by its ability to design unique oil profiles. The company is creating value in the discovery and development of new products that carry favorable market demand characteristics. This is seen through the health benefits, the multiple market trends, and ultimately the lower cost of product.
For investors, the most surprising aspect of the company may indeed be the lack of respect the market has thus far given to the company's shares despite its progressive landmarks to date. Despite an IPO-launch that had clearly been conducted too far away from tangible production, the company has only largely experienced positive developments since that time. This has been in stark contrast to perceived peers within a broad industry that has thus far underperformed operationally.
Whether it ultimately be due to a lack of understanding over the future prospects of the company or the overall errant association with its supposed peer group, the current standing may serve to be an ideal entry point for long-term investors. The near-term catalyst for such investors clearly remains the production start-up at the facilities now under construction. One of the several long-term catalysts for investors may ultimately be the growing adoption of Solazyme's technology when it comes to sustainable food production.
Disclosure: I am long BG, SZYM. I wrote this article myself, and it expresses my own opinions. I am not receiving compensation for it (other than from Seeking Alpha). I have no business relationship with any company whose stock is mentioned in this article.