ConocoPhillips (NYSE:COP) used to be compared to oil titans the likes of Exxon Mobil (NYSE:XOM) and Chevron (NYSE:CVX), but since spinning off the refining business to Phillips 66 (NYSE:PSX) it hasn't been a fair comparison for about the last year. Nowadays it is more appropriate to compare COP to other oil exploration companies such as Anadarko Petroleum (NYSE:APC) and EOG Resources (NYSE:EOG). I mainly hold COP in the dividend portion of my portfolio, and believe that when it is compared to its peers that it is the best option in the space.
As stated earlier, XOM and CVX should no longer be compared with COP because both of those entities still retain their refining arm under the bigger corporate umbrella while EOG and APC are strictly in the exploration and production business such as COP. Of COP, EOG, and APC, COP is the biggest of all three with a market capitalization of 72 billion as opposed to the 42 billion of APC and 32 billion of EOG.
Valuation
Fundamentally, of the three companies, COP is very inexpensive based on the trailing twelve month P/E ratio with a value of 9.97 while I believe APC is fairly valued and EOG is extremely high. But when I take a look at valuations I like to look at where the stock is going in the future and not really what has happened in the past, meaning I like to take a look at the 1-yr forward looking P/E value and the PEG ratios. COP is still in the lead with respect to the 1-yr forward P/E at a value of 9.87 while its two peers appear to me to be fairly valued but not yet expensive. The issue with COP among its peers is that it carries an expensive PEG ratio based on the current P/E ratio in comparison to its 5 year EPS growth outlook. I believe the logic behind this is that people have plowed into the stock for its juicy dividend yield driving the price up as has happened in the consumer staples sector of the stock market. In the next 5 years the company is expected to grow only 4%, as opposed to EOG's 20% growth projections. But the growth projection can very well change at any point in time if COP can find some additional oil or possibly buyout another company. I already like COP right now but if the company could make an acquisition which would boost its EPS growth for the future I would love it even more.
| | | | | |
| --- | --- | --- | --- | --- |
| Ticker | P/E | Fwd P/E | PEG | EPS next 5Y (%) |
| COP | 9.97 | 9.87 | 2.4 | 4.15 |
| APC | 17.69 | 16.28 | 1.65 | 10.75 |
| EOG | 56.72 | 16.05 | 2.84 | 19.95 |
Financials
In this arena of the comparison COP barely takes the crown for the Return on Equity measurement which measures the ability of a company's profitability by taking the amount of net income returned as a percentage of shareholders equity. Where COP wins by a really big landslide is the dividend payout. COP sports a 4.5% dividend yield while the other two don't even hit 1%. If you believe the market is due for a correction soon with the whole "Sell in May and go away" theory then I believe you might want to park your money in COP where you'll at least have some yield support that makes it more than a savings account. In fact, I'd go as far as actually putting your money in a savings account rather than EOG and APC with their miniscule dividends.
| | | |
| --- | --- | --- |
| Ticker | Dividend (%) | ROE (%) |
| COP | 4.48 | 13.09 |
| APC | 0.43 | 12.27 |
| EOG | 0.63 | 4.4 |
Technicals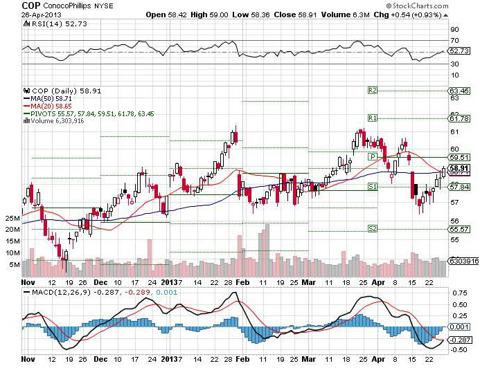 The relative strength index for COP depicts an upward trend with a value of 52, where a value of 70 would indicate that it is overbought, making a case that there is some more room to run for this stock. The regular chart shows that the stock is barely above its 50 and 20-day simple moving averages with a ceiling of resistance around $59.51 and a floor of support at a value of $57.84. I believe the stock will test resistance first as the RSI is in the upward trend along with the moving average convergence-divergence graph. The MACD chart shows a bullish upward trend showing that there is major momentum to the upside for the stock.
Recent News
COP reported on 25Apr13 Q1 earnings of $1.42 which were in line with analysts expectations.
Total production was 1.596 million barrels oil equivalent/day.
Production at the Eagle Ford, Bakken and Permian fields rose 42% year over year
Oil sands production was up 30% year over year
Q2 guidance is expected to be 1,440-1,470 million barrels oil equivalent/day
Conclusion
Slow and steady wins the race. COP shows that it is relatively inexpensive to its peers with a high dividend yield and very good near term technicals to support a good starting position right here. Though it may seem that APC and EOG may be more of high-flyers in terms of capital appreciation I am sticking to COP because of its beautiful dividend during the "Sell in May" time frame. I may evaluate again after the summer months have passed and football season has started and switch over to capital appreciation mode. But for now I like COP and will be making some purchases into it.
Disclaimer
These are only my personal opinions and you should do your own homework. Only you are responsible for what you trade and happy investing!
Disclosure: I am long COP, PSX. I wrote this article myself, and it expresses my own opinions. I am not receiving compensation for it (other than from Seeking Alpha). I have no business relationship with any company whose stock is mentioned in this article.