It is becoming ever clearer with each passing day that the odds are turning in favor of legislation being passed, paving the way for an online sales tax. Under current law today, online retailers only are forced to collect sales taxes in states which they have a physical presence, such as an office or distribution center. The law being considered would give states the ability to mandate that online retailers collect sales taxes on each transaction, based on where the consumer lives. There will clearly be winners and losers from an online sales tax. However, I have yet to see any analysis focus on the company I feel will be the biggest loser. In searching for the biggest loser, I simply had to find the e-commerce company that sells the most expensive items. Having purchased an engagement ring from Blue Nile (NASDAQ:NILE) for the exact reason of saving on sales taxes, it did not take long to realize this company has the most to lose. Arguably, an online sales tax could pose an existential risk to the long term viability of this company. A consumer might notice a 7% sales tax on a $50 purchase from Amazon (NASDAQ:AMZN), but it is not clear if this $3.50 additional cost will change buying habits. Unequivocally, a consumer buying a $10,000 engagement ring from Blue Nile, will notice the extra $700 in sales tax on their purchase. This competitive pricing edge for Blue Nile will evaporate overnight. With a business model where consumers choose to spend thousands of dollars on jewelry without seeing it first; a lack of a distinct price advantage could be the nail in the coffin for Blue Nile.
Online Sales Tax Overview
While a few states currently do not collect any sales tax and this legislation would have no bearing on them, the vast majority of states currently do collect sales taxes. In an e-commerce world that has ballooned to over $200B in annual sales, it is estimated that states are currently missing out on over $20B in annual sales tax receipts that would help plug gaping holes in the budgets of many states. Where the conversation around an online sales tax becomes interesting, is trying to pick the winners and losers from this tax. From a business standpoint, most investors and writers on Seeking Alpha as well, focus on Amazon as the company that would be hurt most by an online sales tax. This would seem to make sense as they are the 800lb gorilla in the e-commerce industry. Yet, Amazon already collects sales taxes in numerous states, including some of the most populous ones such as California, New York, and Texas. Amazon also has publicly stated that they favor a national online sales tax, although the reasons are most likely nefarious in nature due to the adverse effect the tax will have on its smaller competitors. Case in point, you have another e-commerce behemoth in eBay (NASDAQ:EBAY), that has vehemently opposed an online sales tax. They realize that as the legislation is currently written, this will impose a significant burden on their independent sellers using the EBAY platform.
Blue Nile Background
Blue Nile has been in business since the mid 1990's, and became a publicly traded company in 2004. Today, the company is the largest internet retailer of diamonds. I have personal experience with Blue Nile having purchased an engagement ring from the company back in 2005. I have nothing but positive things to say about the company. The experience was fantastic, the product offering is more diverse than any retail jewelry store you can find, and the company has managed to make selling $10,000 engagement rings sight unseen less of a daunting task for the consumer than you might imagine. All that being said, I specifically bought from Blue Nile because I was going to save significant money from not having to pay a sales tax. Using a round number, if you assume the engagement ring I purchased cost me $10,000, I saved $650 which was equivalent to the 6.5% sales tax in Florida. I shopped in a local jewelry store and compared the prices to Blue Nile. There was not much difference for comparable engagement rings. Given my druthers, I would have been more comfortable buying a ring I physically could hold versus buying one from an online jeweler that I would never actually touch until my doorbell rang and the package was delivered. In the end, the allure of saving $650 was enough for me to take that chance. I can with 100% certainty say that if the comparable ring from Blue Nile had cost the same as that in the local jewelry store, I would never have considered for a minute spending $10,000 with Blue Nile.
Blue Nile Financial Overview
The company itself is not in any danger of going out of business today. As the charts below will show, the stock has been pretty range bound for the last few years while revenue has continued to grow as earnings have bounced around: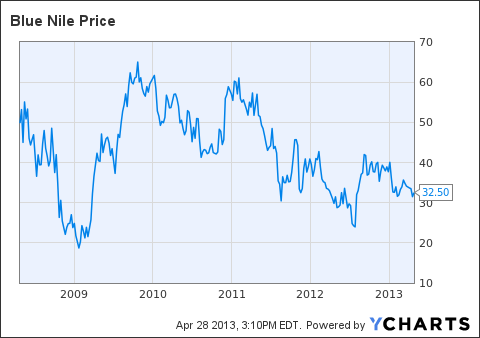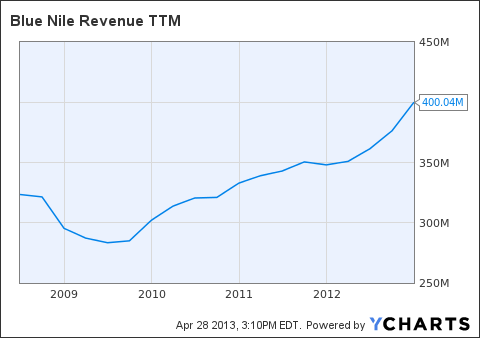 NILE Revenue TTM data by YCharts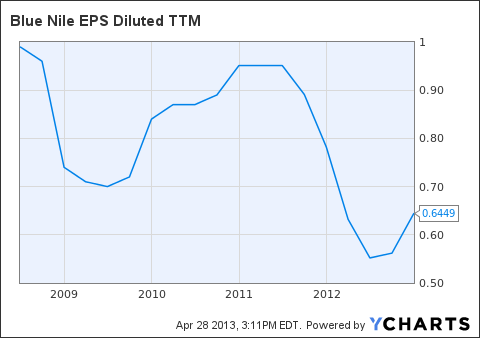 NILE EPS Diluted TTM data by YCharts
Today, the company has a market cap of slightly over $400M trading at about $32 a share. On a trailing basis, the PE ratio for the company is over 50x while the company trades at roughly 35x the forward consensus earnings estimate of $.80 per share.
The company is hardly a value, even at today's prices. The reason is that the market still believes that Blue Nile is a growth stock and the revenue growth the last few years would tend to support that thesis. However, as you begin to peel the onion back, you will immediately see how devastating an online sales tax would be for Blue Nile.
Financial Impact From Online Sales Tax
Blue Nile sells both engagement rings as well as other jewelry. However, the engagement ring segment of the business is the larger of the two and also one exhibiting the most growth. In 2012, sales of engagement rings represented almost 70% of total revenue for the company. This segment also posted growth of about 20% YoY. The jewelry, or non-engagement segment, accounted for only 30% of total revenue and grew only about 6% YoY. This is important to comprehend as the engagement ring segment represents the highest priced product sold by Blue Nile, thus the same product that would be most impacted by an online sales tax.
In 2012, the gross margin percent recognized by the company was just under 20%. SG&A as a percent of revenue was about 16%. Leaving the operating profit ratio at about 4%. These key metrics paint the picture of a number of concerning items. First, Blue Nile does not have gross margins that are world beating by any stretch of the imagination. If the company were forced to become more competitive on pricing, due to the introduction of an online sales tax, the gross margins could quickly tumble to the point where the company has negative operating margins. Second, the company already has a rather hefty overhead profile with SG&A expenses representing roughly 16% of revenue. Here is where another under the radar hit to the company will happen due to an online sales tax being introduced. Blue Nile will all of a sudden have to beef up their administrative headcount significantly. This is a company that employed only slightly over 200 employees at the end of 2012. To account for the complexity of collecting sales taxes in the 40 or so states that currently impose one, Blue Nile will incur significant costs. Redesigning the website interface to collect sales taxes at different rates in different locations, hiring new employees or outsourcing the actual collection and remittance activities associated with the sales tax, and a number of other changes the company will have to implement all cost significant money. (Above financial data from 2012 10-K)
Summary Of Investment Implications
Again, this is a company with razor thin operating margins currently. Put aside for a moment any actual pricing changes the company might have to make in order to maintain a competitive edge after the imposition of an online sales tax. The compliance costs alone will significantly erode the profitability of this company.
The pricing question, however, is the one which could ultimately doom the company. Blue Nile at the end of the day is about engagement rings, even if the company wants you to believe they are growing their overall jewelry business. The growth rates shown above bear this point out, as does the home page for Blue Nile shown below which clearly shows what product they are emphasizing: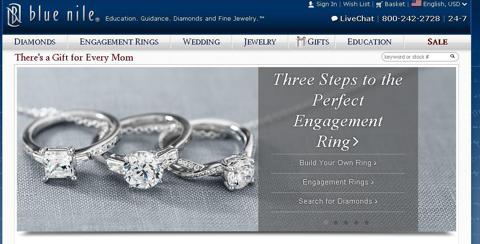 In a 2011 interview, the CFO for Blue Nile stated that the average price of an engagement ring sold by the company was $6,100. The sales tax rate by state will vary, but you can assume it will be at least 6% in most states based on where rates are currently at today. The day the online sales tax goes into effect nationwide, Blue Nile will lose a pricing advantage of over $350, based on a 6% tax rate and $6,100 average price for each ring sold. The significance of this advantage can not be overstated.
An online sales tax is not yet a 100% certainty, but it is closer to coming to fruition today than it has ever been. The timing of when the sales tax would go into effect will also be unknown until legislation is actually passed and signed into law.
From an investment standpoint, this dark cloud looming over Blue Nile should be enough to keep an investor on the sidelines. If the company was trading at a lower PE multiple, investors might feel comfortable continuing to speculate in this company. However, as the company is trading like future growth is a certainty, investors should read the sales tax tea leaves and exit their positions before the market catches onto the devastation that could occur to the business model for this company.
Disclosure: I have no positions in any stocks mentioned, and no plans to initiate any positions within the next 72 hours. I wrote this article myself, and it expresses my own opinions. I am not receiving compensation for it (other than from Seeking Alpha). I have no business relationship with any company whose stock is mentioned in this article.