Gold mining stocks have suffered heavy falls this year as the precious metal miners remain out of favor with investors. As management and cost restructuring have been implemented by many, those who were offering dividends are now looking very attractive.
One company that stands out is Barrick Gold Corporation (NYSE:ABX), the company has undergone a massive turnaround through restructuring and offers a great investment opportunity.
The global gold mining index has fallen a staggering 37% year to date, and Barrick has fallen further, down 46%. Now at $19 a share, the company is looking very attractive to both investors seeking capital growth and yield.

Source: Google Finance
Barrick Gold is primarily engaged in the production and sale of gold and related activities. They also have interests in oil, gas and copper production. The company operates in three main geographical business units; North America, South America and Australia Pacific. They own 73.9% of African Barrick Gold plc (NYSE:ABG) that owns gold mines and exploration properties in Africa.
Whilst capital expenditure has been through the roof over the past few years, they have undergone structural and management reforms. In 2012, the long term CEO, Aaron Regent was ousted and replaced with the then CFO, Jamie Sokalsky.
Poor business decisions by Barrick Gold coupled with some political headwinds in a number of countries where their mines were located, saw the share price tumble from a high of $56 in 2011 to just $19 today.
The most recent financial results were not inspiring to any investor, as revenue fell 6% to $3.44bn and net profit dropped to $847m. This was due to a production decrease of 4% and declining gold price. These figures may look to fall further as the average realised first quarter gold price was $1,663, quite far above the $1,450 an ounce now.
Even with the prospect of another drop in earnings the company has made a big effort in control costs and CAPEX.
The most recent project that has sent shares tumbling has been the development of the Pascua-Lama mine on the boarder of Chile. The project costs came in 50-60% above estimates, which equates to an over spend of $2bn. This high CAPEX is not uncommon within the mining industry as many have had an aggressive approach to increase production without consideration of profitability and cost control. Now as gold bullion prices have declined over the past two years, Barrick recently announced they may consider suspending this project. Jamie Sokalsky said, "We're serious about disciplined capital allocation. That means we need to consider all options, including the possibility of suspending the project." (Source: Reuters 24/04/2013).
This is good news for investors, all-in costs have now been reduced from $1,000-$1,100 an ounce to $950-1050 an ounce. First quarter results indicated all-in costs came to $919 an ounce. Capital spending also followed suit, falling 10% for 2013, to $5.2bn and with a new focus they have cut planned capital expenditure over the next few years by $4bn to refocus long term, more profitable production.
Gold is not the sole focus of revenue for Barrick Gold, in April 2011 they purchased Equinox, a copper mining company for just under $8bn topping an offer by Chinese giant Minmetals Resources Ltd. This further diversified the range of metal production, in 2010 gold made up 87% of total revenue and 12% was generated by copper. Whilst many believe they over paid for the assets, it shifted direction of revenue for the company.
The following chart shows Barrick's free cash flow over the past five years, and apart from in 2008, ($5bn loss, due to the removal of gold hedging contracts) it has ranged between -$400m to $400m.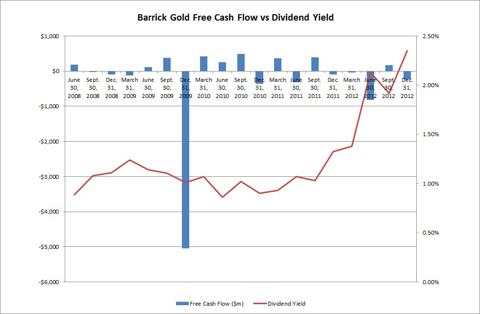 The company's ability to pay dividends does depend on the price of gold and maintaining strong revenue, however whilst free cash flow does not appear consistently high, project spending and aggressive expansion make this look worse than it actually is. Profit margins for gold miners are extremely high and in 2012 gross profit margins were 47%, 2011; 56% and 2010; 53%.
Last year Barrick Gold increased their dividend by 33%, and with 5 year dividend growth at 22%, this company is looking more and more attractive to the income investor. The recent fall in the share price to $19 has sent the gross yield available to 4.35%. Dividend cover looks to return this year and based on first quarter results annualised, it will be around 4.18 with plenty of room for growth.
Whilst many investors will have concerns with the gold price stability, if the price of gold does for further Barrick is well placed to beat off some of their competitors as the all in cash costs for gold production are fairly low. Investors will target low cost gold producers like Barrick and they may also absorb some cheap assets from other companies.
There has been an evident disconnect between the price of gold (NYSEARCA:GLD) and Barrick's share price (see below), and until gold miners return to favor with investors performance may remain subdued. That being said, for those who are long term believers in gold and have a bullish view, this company will be a great holding, offering a leveraged play. Price to earnings ratio is extremely low at 5.5, with EPS at $3.3.

So why Barrick Gold?
There are a number of other quality gold miners to choose from, Goldcorp Inc (NYSE:GG), would be my second choice, a leader in production growth and another low cost miner. The final quarter of last year saw all in costs at $910 an ounce, in line with Barrick. Whilst their fundamentals are strong, Goldcorp do not have such diverse earnings potential being purely gold miners, that said they have been much more disciplined with project spending. There are two things that separate the companies, price and yield. Currently Goldcorp trades at $29 a share, and based on last year's earnings have a P/E of 14.53. This is still fairly priced based on revenue growth, however the yield is currently at 2.08% compared to Barrick's 4.35%.

Barrick has been oversold this year and as such offers a more attractive entry point, allowing you to snap up this attractive yield.
Summary
Barrick Gold offers both value and high yield, their diverse earnings spectrum makes it stand above many of its peers, and with a more measured management team and cost restructuring their future may be shinning bright. Why not join in for the ride?
Disclosure: I have no positions in any stocks mentioned, and no plans to initiate any positions within the next 72 hours. I wrote this article myself, and it expresses my own opinions. I am not receiving compensation for it (other than from Seeking Alpha). I have no business relationship with any company whose stock is mentioned in this article.