When Synergy Pharmaceuticals (NASDAQ:SGYP) announced a public offering back on May 9, 2012, we found an opportunity to invest in a biotech company that satisfied our criteria of an ideal early-stage investment. Deeply undervalued in comparison to its peers, Synergy and its lead drug compound, plecanatide, offered a compelling value proposition in a multi-billion dollar total accessible market. Most importantly, plecanatide's mechanism of action provided a solid scientific platform from which to build. And while management has done well in executing a consistent and transparent development strategy since, it is the foundation of the science that continues to convince us that Synergy has considerable upside potential and the primary reason why we still own it.
"Best In Class" Potential
Developed by a group of scientists conducting research into the function of guanylate cyclase receptor (GC-C) agonists at Monsanto (NYSE:MON), plecanatide, Synergy's lead drug candidate, is a 16-amino acid peptide analogue of the endogenous human hormone uroguanylin, which acts as an agonist of the GC-C receptor and regulates electrolyte and water transport in intestinal and renal epithelia. While the primary physiological function of uroguanylin is to regulate the renal excretion of sodium, it also has been shown to play a fundamental role in fluid secretion in the intestine, and therefore regulates intestinal motility.
Uroguanylin and its analogues stimulate intestinal fluid secretion by turning on the GC-C receptor and its downstream target, the cystic fibrosis transmembrane conductance regulator (CFTR), a receptor that controls the secretion of fluid into the proximal intestine. Looking more closely at the compound's structure we see that plecanatide is essentially a copy of the naturally secreted hormone uroguanylin. The single difference of an amino acid allows for substantially greater stability and potency at the GC-C receptor than the endogenous hormone. As illustrated by Figure 1 below, while plecanatide mimics the naturally occurring hormone uroguanylin, Ironwood Pharmaceutical's (NASDAQ:IRWD) Linzess (linaclotide) is actually derived from the bacterial enterotoxin, E. coli, which is believed to be the cause of its primary adverse reaction of diarrhea.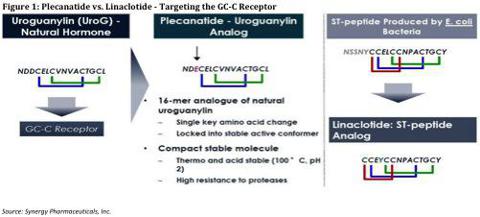 Given its superior safety profile to linaclotide, we believe plecanatide has the potential to become a "best in class" drug given the absence of diarrhea as a side effect and the substantially greater efficacy to competition.
GC-C Receptor - A More Effective Target Than Competition
Outside of the GC-C receptor class of drugs, the competitive landscape of the GI tract market includes Sucampo Pharmaceuticals' (NASDAQ:SCMP) Amitiza (lubiprostone), which is approved and marketed in the US, and Shire Pharmaceuticals' (NASDAQ:SHPG) Resolor (prucalopride), which is currently marketed only in Europe to treat chronic constipation in women. Amitiza is a chloride C-2 channel activator while Resolor is a highly specific agonist of the 5-HT4 receptor and both are characterized by poor receptor specificity.
Just last week Amitiza received approval for expanded use in the US to treat opioid-induced constipation in patients with chronic non-cancer pain. As a result, shares of Sucampo increased more than 40% to reach a four-year high. The GC-C agonist class, however, is likely to offer greater benefit to patients with significantly fewer side effects. Though Ironwood shares sold off and analysts lowered price targets last week as it reported less-than-expected revenue from sales of Linzess, some analysts continue to project total US sales of Linzess to be around $100 million in 2013 and $230 in 2014.
Monetizing the Science of Synergy - A Comparative Analysis
The most direct competitor to plecanatide is thus Linzess, which is roughly thirty-six months ahead of plecanatide having been approved in the US for both chronic constipation and constipation-predominant irritable bowel syndrome (IBS-C) and in Europe for treatment of IBS-C in August 2012. And having paved the way to approval for plecanatide, Linzess lays out a rather simple comparative picture. Through its worldwide partnership deals with Forest Laboratories (NYSE:FRX), Almirall S.A. (OTC:LBTSF), Astellas (OTCPK:ALPMY) and AstraZeneca (NYSE:AZN), Ironwood has raised $650 million, retaining approximately 40% of the drug's value from royalties. Given the fact, the market currently assigns a value of $4.2 billion to linaclotide on peak sales estimates of $2.55 billion.
According to the American Journal of Gastroenterology and the National Institute of Health, approximately 160 million people in the US and Europe suffer from constipation disorders, of which roughly 10% are considered to have moderate-to-severe chronic constipation (NYSE:CC) and constipation-predominant irritable bowel syndrome (IBS-C).
In contrast to Ironwood, Synergy currently retains 100% of the worldwide rights to its lead asset, plecanatide. More glaring is the fact that Ironwood's market capitalization of $1.68 billion is roughly 4.5x that of Synergy's $370 million. Were Synergy to be valued at a similar level to linaclotide, plecanatide would deserve a fair value of approximately $3.2 billion, translating into $40 per shares assuming $80 million fully diluted shares. Even after assigning a 50% discount to the $2.55 billion in linaclotide estimated peak sales to plecanatide, you arrive at a more conservative valuation of $1.3 billion, or $16.25 per share. Lest we forget that the above valuation does not include SP-333, which some analysts assign a value of $300 million, as it has demonstrated a solid safety profile and utility in ulcerative colitis, COPD, and asthma in preliminary human testing.
Focusing its development strategy solely on GI disorders will also increase shareholder value. We speculate that Synergy will address investor concerns and decide to segregate FV-100, an orally available nucleoside analogue for the treatment of shingles which has already shown clinical activity in a Phase 2b study, from the pipeline in a likely spin-out in order to focus on being a pure play in the GI space. It will likely consider doing so through an IPO whereby Synergy would retain certain rights to the compound and perhaps even give current Synergy shareholders share dividends of the new company.
A Catalyst-Filled Summer
On April 18, 2013, abstracts for the up-coming Digestive Disease Week (DDW) annual meeting slated to be held in Orlando, FL in mid-May 2013, were released presenting the full data set of the large multicenter Phase 2/3 clinical trial of plecanatide in patients with CIC. The abstracts provided more details from its January announcement of positive top-line data, which demonstrated that plecanatide is undoubtedly an effective agent. Most importantly, they included results on the discontinuation rate due to diarrhea on plecanatide. The discontinuation rate for linaclotide due to diarrhea was ~6% while only 3% at the 3mg dose for plecanatide. Additionally, only one patient given plecanatide experienced severe diarrhea. The presentation of the data set associated with this abstract at DDW, the year's largest gastroenterology meeting, will also include statistically significant improvements in key secondary endpoints, showing plecanatide's efficacy to the world's foremost experts in the field.
After having raised approximately $85 million in a recent public offering, Synergy is now well equipped with $117 million cash to focus on the development of plecanatide in IBS-C and its other wholly-owned asset SP-333. Phase IIb data for plecanatide in IBS-C is expected late this year as well as Phase I and Phase II data for SP-333 in ulcerative colitis. Results from the Phase I dose escalation study of SP-333, an oral synthetic analogue of uroguanylin more potent than plecanatide from an anti-inflammatory perspective, are expected as soon as May 2013. This year could thus well prove to be a transformative one for the company in which it achieves fairer value.
Current Valuation Provides An Opportune Entry Point
For deep value investors, Synergy presents an ideal investment scenario. With a healthy balance sheet and catalyst-filled summer, Synergy could begin to receive its due recognition from the investment community. While current data already demonstrates plecanatide's superior efficacy and safety to linaclotide, additional data from on-going studies will eliminate any need to conduct a head-to-head study against linaclotide for approval. The science behind Synergy is thus poised to realize fairer value sooner than later.
Disclosure: I am long SGYP. I wrote this article myself, and it expresses my own opinions. I am not receiving compensation for it (other than from Seeking Alpha). I have no business relationship with any company whose stock is mentioned in this article.