(This is the final part of a two part article and should be read after reading Part One which was issued on April 25, 2013. Also, several of the links and pasted comments below are to, and pasted from China media sites which have been run through Google translator. Due to the translator, some of these sites are slow so be patient. I have left the "pastes" as translated so as not to influence the likely meaning. The translation is very good, but not perfect. Also, Kandi translates as Condi.)
In my opening paragraphs of Part 1, I made the below statement. I am repeating it here to challenge open minded, intelligent readers who have not read Part 1, an integral part to learning and understanding the whole story.
"If you found this article, what you likely already know is that Tesla (TSLA) has $100 billion potential ten years out. What you don't know is; so Does KNDI! Now many who access this article will maybe read the first few paragraphs and then move on to other less productive things, particularly when they see the length of this presentation. My target with this article is the one percent of intelligent investors, analysts or investment funds who can afford to take twenty minutes in the "off chance", my bold claim above, has even a 10% possibility. If you are a "junky" for back up documentation on claims; good, so am I and you will get your "fix" by the end of the article."
Why Did Geely Auto (0175.HK), China's #1 Passenger Automaker, Select Nasdaq=Listed Kandi Technologies (KNDI) An Equal EV Joint Venture Partner
On Feb. 2, KNDI shareholders awakened to a press release with this headline: "Kandi Technologies Forms Joint Venture With Geely Auto to Create a New Era of EV in China" To the average US investor this might not mean much, but to the few who understand the auto business in China, this must have been a real "head scratcher". Why would China's fast growing #1 passenger car maker, the same company that helped bail out Ford in 2009 by buying Volvo and was being talked of in the US press as the lead to bail out Fisker, feel the urge to be a 50-50 partner with a "go cart" company to develop EVs in China? Well, KNDI's stock didn't do much that day, just up a few cents and even went red for a while. Distractors were saying; "it is just a "framework agreement" signed, not the actual JV, and there is no comment from Geely in the PR, so it's probably just some 'hype' announcement." Right?... Wrong!
The China media had no problem with this announcement; it was repeated thousands of times for weeks after by news outlets and websites. In a research note reconfirming its "Buy" recommendation on Geely, Nomura Securities (top investment bank in Asia) analysts Steve Man and Joseph Wong complimented KNDI's contribution to the auto giant company by saying:
"Geely announced it has entered into an agreement to form a 50/50 joint venture with Kandi Technologies (KNDI.US, not rated), to develop and market electric vehicles (NYSE:EV). We do not expect the JV will make any contributions to Geely's 2013 earnings; however, we believe this is positive for Geely in the long run.
Given the recent headlines on smog, we believe China will continue to aggressively push for the adoption of alternative vehicles, including EV, in the long term. In our opinion, Geely and other automakers must remain at the forefront in the development of EV. Since EV technology has yet to reach market wide acceptance, we believe a JV is the best strategy to minimize development costs and risks.
Kandi Technologies has embraced a concept similar to the vehicle-to grid (V2G) technology. Other than the fact that both companies are based in Hangzhou, we believe Kandi's application of V2G is a major reason for the cooperation. We believe V2G is one of the more viable concepts in the EV industry. In Kandi's case, used EV batteries are swapped with recharged batteries. Recharged, unused batteries are connected to the grid to balance loads during peak load demands."

Source: Nomura Institutional Research Note on Geely dated February 3, 2013
And; in a translated April 17th Institutional research note by Guotai Junan, one of China's top Investment Banking firms, analyst Wang Xin Yuan sets Geely's price target 24% higher, the KNDI/Geely JV was the highlight with the following translated quote:
"…Multiparty cooperation to increase joint venture electric car business is a long-term highlight…

Early company subsidiaries with condi (Kandi), 1 billion yuan ($162 million USD) joint venture companies incorporated, developed electric vehicle business, each holding 50%. It is understood that the electric cars of the future will be fed into the Hangzhou market as rentals, rent 800 yuan per month ($130 USD), there is a price advantage. Because the industry as a whole is in the early stages of development, Geely, the short failed to contribute profits, but in the long term, the public demand for clean power, coupled with government support, the electric car business is the company's long-term point. Fang Kangdi auto joint venture companies, as Condit technology (KNDI US) mainly engaged in all-terrain vehicles, karting, new energy development and design of car sales. In addition, the company increasingly close cooperation with Volvo again, helps companies accelerate research and development of high-end cars.

And on April 19th, Director of Research at Hong Kong based Kinston Securities, Huang Few, in a short translated Geely research note says:

"…In addition, the parent company of Geely Holding and Volvo Car Corporation last year to expand technical cooperation with a view to create a new generation of mid-level models modular architecture and related components to meet future market needs. The same time, the Group has also set up joint development of new energy automotive business with Condit car industry to bring new sales growth momentum."
Now if these four analysts believe that Geely's half of the 50-50 JV was noteworthy enough to highlight as a significant contributor to multi-billion dollar Geely's future growth, what on earth could the other half mean to hundred million dollar KNDI's future, particularly since KNDI's CEO was tapped to run the JV.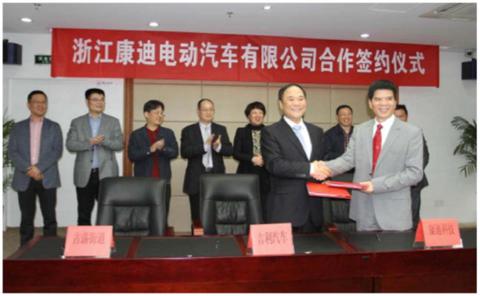 Geely's Chairman, Li Shufu (left), KNDI's Chairman Hu Xiaoming at 50-50 JV Closing
On March 25 KNDI issued a follow-up press release titled the following; "Kandi and Geely Enter Into Joint Venture Contract to Establish Zhejiang Kandi Electric Vehicles Co, Ltd. Three days later, Geely issued this press release; "Geely and Kandi Announce New Green Partnership", here are some excerpts from the Geely PR:
The new company will be formed with Geely's subsidiary, Shanghai Maple Auto, and Kandi with initial invested capital reaching1 billion yuan ($164 million USD), with each party taking a 50% share in the new company. Both parties will be equally involved in the new joint venture by playing off each other's strong points in the areas of electric car development and car production.

With increased importance placed on the development of new energy vehicles in China by the government at all levels of governance, and with consumers' ever growing environmental concerns, Geely and Kandi are aiming to bring mass market, affordable cars to the markets. In initial stages, the new company will focus on developing electric vehicle solutions for the public transport system in the Hangzhou area…

Hu XiaoMing , the General Manager of the new joint venture, remarked, "New energy vehicles are being supported by city, provincial and state-level leaders, therefore enterprises in China have a responsibility to provide reliable and convenient products and services, as well as new business models."

Geely's chairman Li Shufu commented, "Geely has been researching electric vehicles for a number of years and has accumulated a great amount of experience in this area. We aim to expand our abilities by partnering with Kandi to further the development of the electric vehicle and together exploit growing consumer demand for green cars."
The China media was really all over this with thousands of stories and re-syndications. Here is a direct translated excerpt from another article interviewing Geely's Chairman when asked Why Geely selected KNDI:
Since the acquisition of Volvo Geely past two years there are some acquisitions, mergers and acquisitions, joint ventures and new action. The targeted new energy vehicles, Why Condi as a partner?

Li Shufu told reporters, "Geely is currently being developed by major high-speed performance of new energy vehicles, with the cooperation of Condi main production city of small electric vehicles." Mr. Li said that with traditional fuel vehicles competitive, high-speed high-performance electric vehicles market advantages, on the one hand, time has not yet, on the other hand, the cost is too high.

The relatively small economy of electric vehicles, more suitable for used in short-distance transport in the city, Condi (is in the)forefront of the country in this regard, this experience is very valuable, and Condi's proposed business model is to generate economic benefits. '

In an interview with this reporter, said Li Shufu, Geely will own achievements in the research and development of new energy vehicles, the maximum possible out of this partnership to share with partners, while also several car Geely original type, by Condi electric vehicles, small electric car market pushed the city.

"Geely Panda, Geely the Global Hawk IG these models will be placed in the development and marketing of this joint venture."Mr. Li said".

, Geely's last two years in the field of new energy vehicles has an important strategic plan, and Mr. Li told reporters, will invest 2 billion injected into the field of electric vehicles, "has spent half anymore."
And from another Li Shufu China interview a few days later:
Committed to the traditional automobile manufacturing technology continues to improve at the same time, Geely Group has been quietly layout of new energy vehicles. "New energy vehicles will be the next strategic high ground." Mr. Li said that, so far, Geely has more than 1 billion in cumulative investment in research and development of new energy vehicles, some new energy Geely Automobile R & D technology, has been recognized by the relevant national ministries to the end of this year, Geely in the field of new energy vehicles will re-investment of 1 billion yuan".

However, Mr. Li also revealed that previous R & D on new energy automotive technology investment mainly concentrated in the high-tech, high-performance, and he just think (large) electric vehicles in this area do not have a competitive advantage and the EV car market is still in incubation period. "Therefore choose instead to scientific and technological cooperation with Condit, their technology has matured short, lightweight electric car start. "Solve the problem of urban traffic congestion lightweight electric vehicles, new energy vehicles to achieve a breakthrough in the market of large-scale applications." In the interview, Mr. Li repeatedly stressed this point.

"Li Shufu disclose chose Condit as a partner, but also taking into account Condi test the water in the new energy market has been more than a decade, has a rich enough sales and marketing experience to help Geely breakthrough in the field of new energy vehicles".
US investors: Wake Up! Geely's Chairman, Founder and on Forbes list of wealthiest needs KNDI "to help Geely breakthrough in the field of new energy vehicles."
A little background research on Geely's 49 year old Founder/Chairman and controlling shareholder, Li Shufu, might answer why he is such a big "fan" of KNDI. Like Hu and Musk, he is a totally "self-made" entrepreneur businessman. He formed Geely Auto in 1997, delivered his first car in 1998, and has now grown Geely to its #1 position in China Passenger car market. Here is a translated recent chronology of his achievements along with his biography. For KNDI shareholders, it should be very encouraging to see Kandi so prominently presented in this chronology..
While perusing Li Shifu's incredibly successful industry business background, the last ten words in his last quote above should "say it all" to any common sense investors. "…to help Geely breakthrough in the field of new energy vehicles." Not for a moment do I want to infer an impression that Geely felt it had to join with KNDI to assure advancement in the EV industry in China. As can be seen by this April 16th Global Times article; "Geely's first electric car-limelight of Shanghai Auto Show" Geely has now joined, with KNDI, the ranks of those few automakers who, like TSLA, have developed a pure, "built from the ground up" EV. But what I will infer is the fact that Geely, knowing full well their own capabilities in EVs, just three weeks ago had no qualms striking the $160 million 50-50 JV and heaping praise on KNDI and Li Shufu himself handled the closing.
Back To Some More KNDI/TSLA Similarities
When it comes to EVs, a major consumer concern is resale value since the most expensive single item on the car is the battery; in some cases as much as 40%. Conventional wisdom in this area states that "batteries have to be treated with care in order to get maximum life". Once an EV is in the hands of a consumer, there really is no way of knowing how that consumer has been taking care of the battery, so the moment that EV drives off the showroom floor, exceptional depreciation can be expected. In the US, the subsidy is a major incentive to purchase an EV, but this subsidy is not allowed to be used in a re-sale which further compounds the initial drop in value. Additional value depreciation should also be expected as the life and quality of next generation batteries are getting better by the month. So after one, two or three years, the new cars with the better batteries are getting longer range and more power, but the early adopter is still stuck with his first generation battery. Perhaps even more problematic; maybe lithium batteries go the way of cassette tapes in a few years and the older cars will not be compatible with the new batteries. Real or imaginative, these are serious concerns that will likely hold back consumers from being early adopters of these new generations of vehicles. How do you get around this? Simple; Lease the cars instead of selling them,
A few weeks ago, TSLA attempted to address this imminent problem by offering more of a "hybrid" lease, rather than conventional in order to not negate the subsidies available for the consumer under current law.. It affords a way out with guaranteed value after three years. While the "devil is in the details", they are not very clear as you can see in the TSLA supported chat forum at this link, it appears the guarantee is somewhere around 43% of the original cost, with a back-up guarantee from Elon Musk personally. Just out of my own curiosity, I wonder how TSLA will handle this apparent future liability on its financial statement? But under any of the circumstances, this hybrid lease should help sell more cars at this time.
With KNDI, the situation is somewhat different in that there are three ways (really four, but that will be discussed in the next section) for a consumer to possess a KNDI EV; outright purchase with battery and plug, purchase the EV with a plug and lease the battery from SG, and as in the case of the Hangzhou initial 20,000 EV leasing program, lease the car for three years which I discussed in detail in Part 1, which allows for a total "turnkey" by including unlimited battery exchanges for a total monthly cost of between $126-150. KNDI announced this latter program more than a year ago and as mentioned in part 1 of this report, this program has now been embraced by the PRC government and State Grid, as the preferred EV model for all of China. Advantage to KNDI is that all they are required to do is make and sell cars. No contingent future liabilities in any of the three options.
So for the sake of similarity, both companies have adopted a somewhat similar solution to the above mentioned inherent EV problems.
The Carshare Marketplace: CarShare Programs
A few months back, the most well-known of the early providers of an effective CarShare program, Zip-Car, was bought out by Avis. This is far from a lease, but similar to a short-term rental solution. In some cases the rental may be for less than an hour. Mainly this would be used in an urban environment where members with a card can walk up to an easily accessible compound, lot, or garage, where charged vehicles are waiting for members to slide their card through a reader which will then release, or robotically deliver the car. (Similar to a baggage cart rental we see in airports). The consumer will likely be billed by the hour for however long the vehicle is retained. When use is completed, the EV can be returned to any predestinated area.
Just two weeks ago, it was disclosed that TSLA received their first 100 car fleet sale to a CarShare provider in Las Vegas. The company itself has not said much about this, but more than likely a fleet order with no after-involvement with TSLA.
KNDI and its CEO, have revolutionized the carsharing concept in China, having already received Government approval for a KNDI designed CarShare program for 100,000 EV in Hangzhou; with expectations to roll out to all of China. This program is expected to begin shortly, and be completed by 2017. The concept is to build numerous easily accessible "Smart" high-rise parking garages, which will generally house 300 EVs on a building footprint of only 100 square meters. Here is an early KNDI produced video 3D animation of how this smart garage works.
Kandi has filed several patents on facilitating the EV specific features of the this concept. And though I have not been able to verify on the net, a reliable source tells me that KNDI also has extensive licensing rights to the Smart Parking Garages in other parts of China should this creative concept be adopted. If so, this could become another future revenue stream for KNDI.
Phase I of the program is specifically patterned after the Hangzhou "BikeShare" program. An out of town visitor arriving at the train, bus station or airport can go to the Smart Parking Garage and pick up a fully charged KD5011 for either free (if included in his bus train or plane ticket charge) or minimal charge and get use for maybe an hour or two. Additional hourly charges are added for more usage. A perfect program for urban areas that want to:

Cut down on air pollution
Reduce traffic and parking congestion of big cars
help local economy by giving visitors easy access to merchants and businesses

In Phase II, the SBT will be expanded to an outer ring around the city. This is particularly important in cities like Beijing where city access by ICE (gas powered) cars are already being rationed by odd/even license plate numbers to only four days a week (everyone Sunday). The smart garages would be surrounded by conventional parking for ICE cars. If a suburbanite needs to go into the city, he can drive to his local smart Garage, park his ICE car and pick up a Kandi "CityCar" for a small rental fee and access the city 24/7, 365 and get free parking.

On Aug. 13, 2012 the Company issued a press release titled: "Kandi Signed Cooperative Framework Agreement With Zhejiang Guoxin Vehicle Leasing Company to Promote Self-Driving Pure Electric Vehicles Rental for Public Transportation in Hangzhou Project" , thereby launching the Hangzhou 100,000 EV leasing program.
While no hard confirmation yet, it appears from various articles in the China media like this one; "In the future, like to rent a public bike rental electric cars", this concept is another primary attraction that caused Geely to decide to JV with KNDI. This makes sense due to the massive size of this project developing over all of China since Geely already has a thousand dealers throughout all of China who could service the CarShare EV's. Since neither company has any products, like buses that tie into public transport it makes further sense since most of the announcements and articles keep referring to the "public transport" business which the CarShare program is modeled to accomplish.
Manufacturing Facilities and Capacity Comparison
The primary similarity here is both TSLA and KNDI currently have existing facilities with single shift capacity to grow near term sales several fold from current levels without any significant cap ex required.
TSLA's reported current capacity which they are currently producing is stated to be approximately 400 cars per week or 20,000 per year, but as mentioned earlier, the Nummi facility, which is now the Tesla facility, was producing some 6000 cars a week for Toyota, so it should be safe to assume, with significant enough cap ex committed to it, Tesla should not have any difficulty for years to come..
KNDI's current reported EV capacity is 130,000 units a year, up from 30,000 three weeks ago with the start of production in their new state of the art custom built ChangXing facility; China's and the World's first and largest auto manufacturing facility built specifically for EV's. As you can see from their announcement below, this facility has "first phase" capacity of 100,000 EV's, and was built to KNDI specs. While ultimate capacity is not mentioned in the PR, this translated article at the time of the groundbreaking in August, 2010 gives 300,000 as its ultimate potential and this article dated Feb. 13, 2013, published by a major China real estate site confirms this by saying:
"…The Condit Group total investment of 2 billion yuan, the project designed annual production capacity of 300,000 new energy vehicles will be in long contact during the groundbreaking ceremony. "This is a good situation of the county recruit big business in the Greater China Merchants Merchants another fruit." Responsible for the introduction of the project, the Deputy Secretary of China Merchants Zhangji Wu told reporters. Before contact with Changxing, Condi Group and Shandong and Suzhou" (My comment: Could Suzhou, a city next to Shanghai be KNDI's next unannounced expansion?)
A video news clip of the opening ceremony on March 30th can be found here. As you can see by reading the full PR, while currently owned by KNDI, it is KNDI's intention to contribute this facility to the KNDI/Geely 50-50 joint venture sometime in the future. Geely's Vice Chairman was in attendance at the opening.

New KNDI ChangXing Pure EV Manufacturing Facility
I have excerpted noteworthy quotes by both KNDI's CEO and Geely's Vice Chairman below the press release headline.
Kandi Technologies Completed China's First Full Scale Production and Assembly Line Specialized for Pure Electric Vehicles
…Mr. Hu Xiaoming, Chairman of Kandi remarked, "With the unprecedented enthusiasm and unwavering support from all levels of government leaders, Kandi Changxing will take full advantage of the technology strengths and expertise of Kandi/Geely Auto in the EV area to develop pure electric vehicles that consumers can afford to buy and drive while adopting practical business models to provide reliable and convenient services to our customers. Carrying the great expectation as well as the social responsibility, we are confident that Kandi will contribute its part in building the green economy in China."

Mr. Yang jian, Vice Chairman of Geely Automobile Holdings Limited congratulates the completion of this new production and assembly line and commented, "We have full confidence with our partnership with Kandi to further expand in the electric vehicle market. With years of exploration, Geely has accumulated rich experience and technological reserves in R&D and marketing of electric vehicles. We believe that the pure electric vehicle industry will witness a great prospect of remarkable growth in the future".

Kandi's Massive Jinhua Home Facility
KNDI's home facility in Jinhua currently has a reported current EV of 30,000 annually, but can be expanded to an additional 300,000 as can be seen by this quote extracted from a China media piece; "The annual production capacity of 300,000 mini electric car project has completed feasibility studies…" This facility also produces KNDI's legacy business making KNDI one of China's largest exporter of gas powered go-carts, ATV's, UTV, and other off road recreational vehicles. This facility which is currently producing some 40,000 legacy units of ATV, UTV's, Go-carts etc. a year can expand its EV production to 100,000 per year as you can also see in the above article. Hidden asset…This facility which sits on over 3 million sq. ft. with nine buildings was constructed in the early 2000's, and is carried on the company's books at around $13 million. Replacement value today is estimated at over $80 million.
Legacy Business and other…
Here we have another somewhat commonality between TSLA and KNDI. Rather than just "jumping in with both feet" like Fisker, both companies have prepared for mass production of their new generation of EVs by spending a few years making and marketing revenue producing legacy products.
TSLA Roadster. As most TSLA fans know, after producing several internal prototypes from 2004 to 2007, they contracted with Lotus in 2007 to purchase 2500 "gliders" (complete car minus powertrain) through 2012. Except for a handful of Special Edition cars, all have now been assembled and sold. This move by TSLA was not just smart from an "educational" point of view, by showcasing such an impressive EV, it also gave them loads of deep pocket credibility (and the cash flow didn't hurt either).
In the last few years, TSLA also generated revenues to help pay for the learning curve by selling powertrains and battery packs.
Prior to announcing its first mini-electric car, the Kandi CoCo in 2008, KNDI made a fast rise in the "Off Road Recreational Vehicle" (ATV, Go-cart, Dune buggies etc.) sector as a top China Exporter of Go Carts achieving 15% of the world market. Manufacture of all products that year broke the 50,000 unit barrier earning the Company some $40 million in sales and $5 million in net income and was named in the top 500 of China's machinery industry. From inception, effectively 100% of all of KNDI's products were for the export market; either by being sold directly to the foreign importer, or sold to a China based distributor for export.
Late in 2007 to early 2008, based on the weakening World economy and spiking oil prices, the company announced it was going to do three things; start producing mini-EVs, initiate sales and marketing within China and cut the stable of 50 products considerably, concentrating on only the most profitable. It also stated that it was going to continue to enhance its legacy business while preparing and starting the physical execution of its plan to enter the EV marketplace.
Revenue growth continued at a slower pace over the following years as did profitability. This perceived company slowdown did not set well with the average unknowing US investor who, due to the company's necessary penchant for understatement misinterpreted the cause of the slowdown and started to shun the stock. I say "necessary" for CEO Hu, who fully understood the politics in China, was on a mission to not just join the "cut throat" auto industry in China, but become their leader in EVs. The only way this could be accomplished quickly was to stealthily develop products and programs under the radar of competitors. He couldn't do this by "blowing the Company's horn" with rumors and high profile announcements at each accomplishment. So mistakenly, some early KNDI investors here ignorant to what was really being accomplished moved on to other more active issues.
In the next section I will explain why, until Q4 of 2012, earnings have appeared flat and weak.
Comparison of EV Products and their Development
Again, as compared to Fisker "putting all its eggs in one basket", TLSA and KNDI have each gone the route to establish a stable of EV's, both currently in production and on the drawing board. However, the route to establishing their current and future selections has gone in different directions. TSLA, enviably, was given the opportunity to access US Government loans, KNDI has had to develop and build their EVs with their own capital.
As mentioned above, TSLA started its future fleet with its Roadster which was developed with venture capital led by its CEO as its largest investor and later on added additional equity financings totaling well over half a billion dollars. In Jan. 2010, the US Government announced that TSLA along with Ford (NYSE:F), Nissan and Fisker would receive ten year, low interest DOE loans of $465 million for TSLA, $5.9 billion for Ford $1.4 billion for Nissan (OTCPK:NSANY), and $529 million for Fisker. While TSLA has now fully tapped out their loan, they recently announced their intentions of paying back the loan as early as 2017. The incentive for early pay off appears to be less dilution due to fewer Government stock purchase warrants need be issued (3,085,011) at the government $7.54 exercise price for early retirement. In the 18 quarters since 2008, TSLA has incurred some $1 billion in negative operating cash flow and $750 million in losses. (More subsidies going forward by way of the tax loss as it becomes profitable). I think it is safe to say that without the Government loan, its survivability would have been unlikely.
So what has all this investment accomplished? In the TSLA repertoire we now have a beautiful high end roadster (not currently in production) which TSLA expects to re-release with a new design in the future, two high-end versions of their also beautiful Model S and its future mysterious mid-priced Model X which could be introduced in 2014. All will be the envy of any sane driver, but a long way from Elon Musk's original goal of a few years ago in developing a "Peoples Car" for the masses. We should note that all will be competing with the International major automakers as they add to their EV fleets.
KNDI, on the other hand, has developed the "todays 'Volkswagen' or Peoples Car" (Ferdinand Porsche would be proud) for China and did it using less than a million dollars since inception of the "Peoples" money (PRC grants), while paying back four times that amount back in taxes. It was accomplished with their own cash flow generated by legacy sales, bank loans and about $25 million in public company equity raises. KNDI didn't produce just one or two EVs, to date; they have conceptualized, designed, developed and received Ministry of Industry and Information Technology (MIIT-PRC Government regulator for all EV's in China) approval for sale throughout China of nine, yes 9, pure EVs models built from the ground up; three passenger cars, one passenger van, two pickup trucks, two box trucks and one open bed truck. If you open this link, you will see each listed. If you click on the individual pictures, you will get individual pages with specs and at the bottom and a list of all the cities these vehicles are approved for sale. In addition to these nine currently approved, they are awaiting approval on their new four door mini; And, either late this year or early next, their next gen City Beauty followed by their City Cowboy. (These last three images came from a power point presentation given by the CEO to US shareholders in Atlanta last fall; here is the link to the complete presentation) But let's not forget the two lead acid battery Low Speed Electric Vehicles (LSEV) that began KNDI's EV climb, the hardtop and convertible CoCo which both can be bought in the US. KNDI also has modified versions of these two for regional use in China as well.
As I mentioned in the prior section, KNDI stock has been penalized by ignorant investors looking only at the flattening of profitability in the twelve quarter ending Q3 2012; the time span in which they have been developing this vast array of EV's; KNDI should have been lauded by its exceptional vehicle development accomplishments, while still staying profitable during this period of time instead of being ignored by the market while being subjected to the machinations of the short sellers.
Now that you have seen both companies' product lines, you should be able to understand why I said in Part 1, that though they are in the same EV space, TSLA and KNDI are not and likely never will be competitors. TSLA, even with their lower priced Model X is likely catering to a maximum of 10% of possible buyers; still an exceptionally sized market with plenty of room to grow. KNDI, who's China "Peoples Car", road approved, has a sales price between $5000 and $7000 without the battery, $7500 to $10,000 with the battery. (With the battery the cost is still some 70% less than its closest PRC approved competitor due to KNDI's vertical supply chain integration keeping over 85% of revenues on KNDI's books). Or lease between $129-$150 a month with ALL expenses, including maintenance, insurance, plus unlimited battery exchanges, provided to the lessee for FREE!. While currently limited to an urban market environment, KNDI's is priced within reach of 85% of China's 690 million city dwellers, 80% of which still do not own or lease an enclosed four wheeled passenger car.
To put the potential for KNDI's micro-EVs in startling perspective, I need only reference fellow Seeking Alpha author Harris Goldman's well done article from last October titled; "What Percentage Of The 120M China EV Bike Owners Will Kandi Technologies Convert?" Just the thought of all these "people" riding around exposed to the elements when for $130 a month they can ride in an air-conditioned "luxury" with their stereo or I-Pod blasting, makes 1 percent or 1.2 million KNDI EV's a realistic possibility for the future.
Sales and Marketing
Another partial similarity with both companies which strays from conventional wisdom in the auto industry is how they are approaching sales and marketing of their respective EVs in their home markets. To date each has concentrated on direct sales, rather than setting up franchise dealer networks. By selling direct, not only are profit margins increased considerably, but the companies can get direct feedback from consumers rather than filtered comments from dealerships. However, actual end sales are, at least for now, approached quite differently by the two companies..
TSLA, much to the disdain of the National Automobile Dealers Association (OTC:NADA), has no outside dealerships, only self-owned retail outlets mainly located in high end, high traffic, malls; where non-commissioned spokespersons explain the "TSLA experience" to any interested party, in hopes that the consumer will order a car directly from the company on-line. As you can see from the above link, NADA feels this is in violation of several state laws and have challenged TSLA in various legal venues; already. Tesla also has a network of their own service centers growing nationwide.
KNDI, who also uses the direct sales model, is currently selling their cars directly to the consumer in their home city of Jinhua under a 3000 EV local subsidy program as well as through bulk fleet type sales in Hangzhou; such as the 20,000 lease order explained earlier. Now with its Cooperation Agreement with Zoyte, dealer network numbering under 100,and the JV Agreement with Geely with 1000 dealerships, this model may change somewhat, but the bottom line is that KNDI has no interest in setting up an expensive dealer/maintenance network to sell its inexpensive EV's. The difference in how Federal and Province/City subsides work in China also likely has some bearing on how sales are generated. In the US, the subsidy gets paid directly to the consumer as first purchaser. In China, it can also be paid to registered leasing companies who in turn must lease them to the end consumer to receive the subsidy.
Ancillary Revenue Sources
As Carbon Emissions move to the forefront worldwide, the currently cottage industry of selling Carbon Tax Credits or Pollution Credits is beginning to boom; thus creating a very significant revenue source for Green manufacturing companies. In a nutshell; industries exceeding a pre-defined level of CO2 emissions will be penalized. However, they can "buy" credits from those who gain credit for producing under the limit, thereby avoiding or lessening their penalty.
TSLA has already begun to reap benefits from this revenue source by selling credits totaling more than $40 million in 2012. KNDI's time may soon come to also capitalize on selling carbon credits as its EV business grows. Lord knows there are plenty of manufacturers in China who would need to buy credits. In a video interview on April, 17, titled: "China Overtakes U.S. to Lead Green Energy Investments", green energy expert and author Ramez Naam said;
Investment in clean energy, like global economic growth, is shifting from West to East, with China leading the pack. China accounts for 30% of the world's investment in green energy, outspending the U.S.-the number two market for green energy-- by almost 2:1. That's according to a new report from the The Pew Charitable Trust based on 2012 data.

Green investments in China in 2012 rose 20% to $65 billion while they fell 37% in the U.S. to just under $36 billion.

"Clean energy will be one of the biggest industries of the next 10, 20 years, and we're handing it to China," says Ramez Naam, computer scientist and author of the new book The Infinite Resource: The Power of Ideas on a Finite Planet. Green energy will "become a multi-trillion-dollar industry."

China is not only spending more money on green energy, it's also writing laws and changing regulations will help attract more of those green dollars in the future. China is launching a cap-and-trade program in two regions this June which will go national in 2015 along with a national carbon tax, says Naam. Such policies have been debated in the U.S. but not enacted into law.
Should this come about, as KNDI's annual EV production ramps to the mid to upper six digits in the last half of the decade, it would not be hard to envision net margins increasing from a predictable 20+% by another 10% as they monetize their excess carbon credits.
Financial And Stock Discussion
Since both of these exciting disruptive innovators are now at the inflection point of monetizing their results which have taken them to the top of their respective potential trillion dollar markets; my spending any significant time rehashing their historical numbers in detail more than I already have above, would likely be a waste. The same could be said in attempting to detail future financial prognostications for several years out.
My goal with this lengthy writing is to effectively provide "Cliff Notes" of the past to the present, as well as stir the imagination of what incredible possibilities both these companies could deliver in the future; based on how well they have both performed in positioning their respective companies to date.
However, it would be inappropriate to not congratulate TSLA on its Q1 pre-announcement of its first positive net income quarter and selling more EVs in Q1 than any other domestic automaker. KNDI does not give pre-guidance, but due to the subsidy program restart not kicking in until this quarter at the earliest, and Q1 usually being their worst quarter due to the Chinese New Year, I am not expecting too much in Q1, but I have known to be wrong. My bet for Q4 for KNDI was around $16 million as I had posted on KNDI's Private Yahoo Forum and they came in with over $26 million. With the subsidies expected to begin in the next week or so, I would expect KNDI's full year top and bottom line up 80 to 100% over last year's record performance.
While investors should be looking at both of these exciting growth companies as "Story" stocks, which undoubtedly they are, on Wednesday (prior to release of Part 1) TSLA ended with a closing high of $50.47 and a $7.2 billion diluted market cap. However, not so with KNDI, closing at approximately 50% of its all-time high with an incredibly low $131 million diluted dollar market cap which hardly even does justice to their very profitable non-EV business. Case in point, without EVs, KNDI's business would be directly compared to Polaris Industries, (NYSE:PII) Polaris has a trailing 19 PE, almost identical to KNDI's. With this in mind, you have to use your own best judgment weighing Risk/Reward when buying either stock.
To continue with my theme of comparison; here perhaps, is the most noteworthy difference. I have just put together this quick table highlighting key results from each company's 2012 10K and using closing prices from Wednesday, April 24. Looking at this table, it is very easy to see the incredible "disconnect" in the two company's' stock price I spoke of in the early part of this article. Based on Wednesday's close, TSLA's diluted market cap to KNDI's is an inconceivable 55 times higher than KNDI's.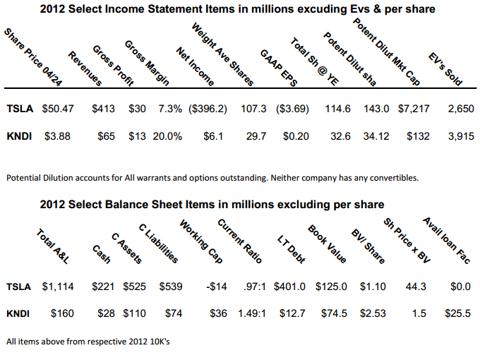 Short Selling
I normally would not even bother to mention the subject of short selling were it not that this is another similarity of both TSLA and KNDI.
Both have been under continuous attack by shortsellers. However, a noteworthy difference between the two stocks is lack of audience for KNDI vs. TSLA's very high profile. A similarity both companies have is that of an inordinately high short interest relative to "Days to Cover" (DtoC). I have provided DtoC charts below for both stocks. For the uniformed, DtoC is simply a ratio taking recent average daily volume and dividing it into the total reported short amount outstanding. Since all short sellers have to eventually cover, it stands to reason if some major positive event causes a stock to run up, should a short seller attempt to cover along with long purchasers, the move up is exacerbated in a light daily volume environment. The higher the DtoC, the bigger risk of a short squeeze.
TSLA, with its very high investor profile including a high institutional investor base and much larger float, trades with much heavier volume and has picked up a very large broad short position as is commonly known and often spoken about. So there is not much I can add to the knowledge base. Nasdaq only provides delayed short interest data twice a month, as of the middle of the month and end, and it is usually made public 8 to 10 days later. The data in the tables below shows the ratio of volume to short as reported over the last six reporting periods. The large spike in TSLA daily volume in the recent period reflects the 16 million share day on April 1, which was the main reason its DtoC has dropped by more than half this past period. Once DtoC start getting into the double digit area, the tipping point for a possible short squeeze starts seriously favoring the longs in a rapidly growing company. For these reasons, the short squeeze we are seeing in TSLA should not be surprising.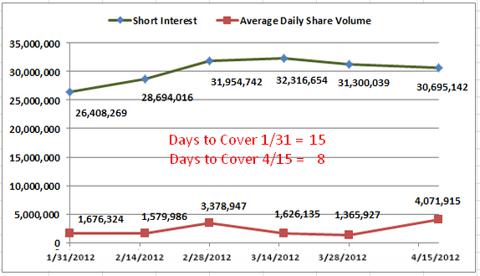 TSLA's Days to Cover Chart
KNDI, on the other hand, whose current public shareholder base is currently made up almost exclusively of individual investors, has seen its average daily volume continue to decline as the float has been sopped up by KNDI educated long term investors. Let me attempt to give some background on this subject regarding KNDI.
KNDI's volume has declined simply due to KNDI educated investors having no interest in selling shares at half the price the stock traded years before when it had one tenth the current value and potential. KNDI's 736 thousand share short position is not broad and may not look large until measured against the DtoC. Based on my 40 years as a market pro, including ten as an OTC Market Maker, it is my opinion the KNDI short position is mainly either one short seller, or maybe a second closely working with the one. This short seller has been shorting the stock several years since back in the days of ChinaPhobia. While most of those short sellers have moved on as noted by the decline from the peak of almost 1.3 million two years ago, this one has made the mistake of "over-playing his hand" trying to defend against a major light volume "breakout" and has been forced to increase the short from a low of 450,000 a year ago to this recent high
In KNDI's case, with its recent low volume and lack of attracting new knowledgeable investors due to the stock appearing stable , the short seller has been able to somewhat manipulate the stock on each recent impressive news event mentioned in the first part of this article.
As I mentioned in Part 1, the day of the pre-opening surprise Geely announcement, though the stock had not been going up before, at one point that day, the stock traded as high as $4.28 in the pre-market, opened at $4.11 and was actually down .09 after ten minutes of trading, finally closing up .08. The short has done this by using two standard strategies; one by pressing the stock down on announcements (the better the harder) and two by setting up blocking trades showing large blocks for sale just above the offer, but then canceling the block if it appears actually buying of the block is imminent.
If these strategies fail, the short seller "encourages" attack writers to assist by publishing very long articles with "scary" headlines preying on the old adage that "it is much easier to scare an investor out of a stock, than scare him into it." Once past the headline, the rest of the content in these articles is filler in most cases using ancient events, rumor, innuendo, mis- and dis-information and impressive sounding links that go to nothing pertinent (since he knows 90% of readers don't click on links anyway) and in several of these articles they have even stooped to the point of attacking me personally for writing SA article on KNDI. While the attacks may have had a one or two day affect on the stock price, in each of the last half dozen, by the third day the stock was trading higher than before the attack; and when the delayed subsequent short report appeared, the short interest became higher.
Over the years as a China stock, KNDI has had close to a dozen of these attack articles, which all say absolutely nothing any investor should care about. (i.e. No top or bottom line affect mis-posting of three wheeled trike batched with three wheeled ATV in a 10k table that is not even required by the SEC). What should be noted is that none of the attack writers have ever accused KNDI of even doing anything illegal, let alone fraudulent. A most recent piece just came out on KNDI a couple of days ago. If you want to waste your time reading it, be sure to also read the comments below the text correcting its erroneous contentions.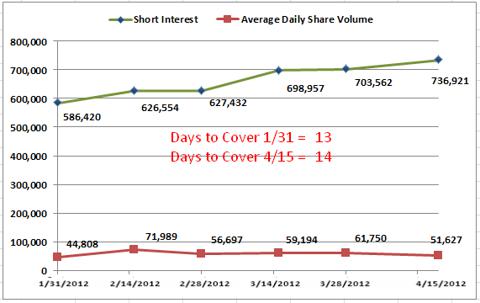 KNDI's Days to Cover Chart
A short seller knows that he cannot allow a thin stock to break out on news, no matter how good, for if he does, he will be run over by momentum traders. So he will let it open up some then spend the rest of the day trying to knock it back to cool off the momentum and take away the urgency to buy from new investors. If that doesn't work, he will attack it hard at the end of the day. As you can see from the three year chart below, for the past six months he has managed to contain the stock at or below the $4 level for whatever reason. But you do not have to be a chartist to know that in a rapidly advancing company, pressure to breech this $4 wall increases with each attempt. When KNDI finally breaches after this long a time, the move could be exceptional. Important to note. Friday's $4.09 close, though down from a high of $4.20, was the highest close since early November which could be signaling a major breakout is about to happen.
The below constraining pattern was never more obvious than on Thursday and Friday after the release of my Part 1 pre-market Thursday. It was quickly obvious to the short seller that my article was being well received by a relatively heavy volume gap opening. Over the past two days, the daily volume has been over 500% of the prior 30 days. This likely due to intelligent and perceptive TSLA followers stepping in; however, on each day, the stock was attacked in the last hour, finally closing below the Daily Weighted Average Price (OTC:DWAP)
If you are of a mind to buy KNDI in size, it might be wise to at least buy some now while it is being constrained prior to the inevitable Breakout as the chart below forewarns. Also, while it might be surprising to some for so low a priced stock, KNDI does trade listed options with $2.50, $5.00 and $7.50 strike prices currently out to December.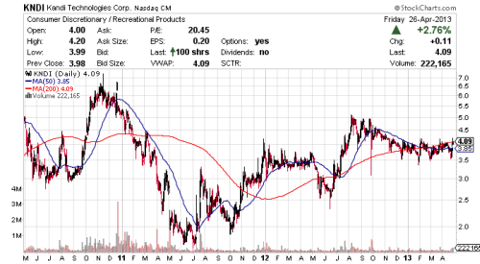 Three Year Chart Courtesy of StockCharts.com
For those who might be disenchanted in buying KNDI due to its very light volume, don't be. As you can see from the above chart, in years past when the price was considerably higher than current, it has had months where the average daily volume exceeded 500,000 shares. With what KNDI has been accomplishing over just the past few months, it is inevitable that smaller institutions will wake up, do some due diligence and initiate positions once they realize the company's logical multi-billion dollar potential.
KNDI: Nasdaq's Oxymoron
OK, so why has KNDI's stock been treated with such disrespect? Because it's a US traded China stock and herein lies the oxymoron. If it wasn't a China company, speaking for myself, I wouldn't own it. Irrespective of what less than knowledgeable American investors might feel about this, KNDI has been blessed as China's EV "golden child" because it is Chinese. Out of ignorance of KNDI, what most US investors don't realize (at least at this moment) is they have been blessed with an incredible investment opportunity not afforded to Chinese Nationals by being able to invest in their top EV Company in their second largest economy in the world who desperately needs a solution to urban vehicle pollution. In spite of this being a pure Chinese company, unless a Chinese National has a risky off-shore brokerage account, they cannot invest in US only listed stocks like KNDI.
"But isn't there a high risk investing in China stocks in the US"? There is a risk in any investment. If you look at TSLA's most recent 10K, you will see 36 pages under "Risk Factors". Kandi's 10K has only 10 pages. KNDI has been trading in the US for almost seven years now, and like TSLA, while blasted with many short selling attack articles over the years, none have ever accused the Company of fraud or doing anything illegal, just opinion and innuendo based solely on the fact that it is a China based company trading in the US which . Let's be realistic. Do you really think that China State Owned Enterprises (SOE's), like State Grid or AVIC, would invest so heavily in building infrastructure for KNDI, s exclusive products, or that the PRC Government and so many Cities and Provinces would be offering subsidies for KNDI's EV, or major automakers like Zoyte and Geely would be proudly joining KNDI in JV's, if they hadn't thoroughly vetted the Company? For a view of how KNDI is looked at in China, here is a fairly comprehensive article written on KNDI by China Auto Business Review.
Whether the China "bears" like it or not, there will come a time when China stocks will be back in favor. Already we are seeing some of the big name China stocks being recommended, at least for a look, by pundits on CNBC and Fox Business News. Wall Street legend and author of the investment classic "A Random Walk Down Wall Street", Gordon Malkiel, "got it right" in this article he wrote this some 18 months ago for CNBC; "China Stocks Cheapest 'I've Ever Seen': Index Pioneer":
"…Right now, a typical institution holds just a 1.7 percent exposure to China, according to Malkiel, based on an average 10 percent exposure to emerging markets and China's 17 percent chunk of the emerging markets pie.

Their overall exposure "should be at least 9 percent to better match China's contribution to global GDP," said Malkiel. "And that's conservative. It really should be 12 percent…"

As I mentioned, that was some 18 months ago, but more true today than when written. Over this past year and a half, yes, some China stocks have been delisted, some scams to be sure, and quite a few have done leveraged buyouts bringing themselves private. Most of the problematical companies are what is known as a Variable Interest Equity or VIE (though Institutional darling Baidu is a VIE) In a VIE the shareholder really owns nothing but a promise from the operating company to be assigned revenues and earnings. KNDI is NOT a VIE, it is a full shareholder owned C Corp where the shareholders actually vote each year at the annual meeting and their vote counts.

Basically, there are a full third less US listed China stocks today, then at the time of Malkie's article. When the sentiment does turn, which it will, it will be very interesting watching these institutions trying to find shares in a much reduced market to get up to the "12%".
In Summation
A final few comments to US investors why KNDI is now all but assured continuing success. Very simply, "As the US has a Consumer driven economy, China's economy is Policy driven". The new regime in China has inherited a massive ecological nightmare in the major cities with its pollution. As a fairly recent visitor to KNDI in China a few years ago, I traveled for nine days and eight cities. After the second day in the beautiful, new, clean city of Tianjin, I noticed even in the parks, there were no birds. I asked my traveling translator about this. She said it was the pollution. As I visited each city, the same, no birds in sight. Even the historical mid-western City of Xi'an, still had no birds. If China doesn't do something about this quickly, anarchy could erupt. The new President of China, Xi Jinping has clearly stated he is going to fix this problem, and while it is nice to know he is close to KNDI's CEO, (though KNDI did recieve its "Golden Child" status under the old regime) it would make no difference, XI and all China politicians wants ICE cars reduced and EV's increased, particularly in urban areas. In a Policy driven economy, the Government almost always gets what it wants.
Additionally, on a passenger vehicle per capita basis, China is still at only 44 cars per thousand. About where the US was in the 1930's. China cannot hope to achieve even World average levels of some 500 gas powered cars per capita without draining most every drop of available World oil due to their massive population. However, China is rich in other resources such as Hydro, wind, coal and unrestrained nuclear power plant construction to generate electricity; so, EV's make the only sense for personal mobility.
One last point on personal mobility; China is attempting to rapidly grow its GDP internally. The fastest way to do this is to increase the mobility of its consumers. Consumers are very restricted in what they can carry back from the store on their moped or bike. What China needs is to get the billion low to middle class consumers to go to the big box store and be able to buy and take home a TV or Microwave etc. KNDI's mini-electric SUV is perfect to achieve this goal.
With TSLA making new daily highs at this time, I congratulate those who have had the tenacity to support the stock while being attacked on a daily basis by non-believers; your well-deserved reward is underway.
Regarding KNDI. If you read this complete two parts article along with links provided and haven't come to the conclusion that it also has logical multi-billion dollar potential and worthy of buying a few shares, than I can only tell you thanks for earning me a penny from SA for your click.
If you are an analyst looking for a "Grand Slam" on your CV, just a reminder that KNDI is not one of those "tainted" fallen "China darlings" that has been deserted by their former broker coverage. KNDI has never had Wall Street coverage or investment banker. But it won't stay that way for long. Additional information for due diligence purposes archived back to 2007 can be accessed at this open link, courtesy of KNDI's Private Yahoo Forum.
If you are interested in contacting KNDI directly, I'd suggest emailing IR@kandigroup.com.
Disclosure: I am long KNDI. I wrote this article myself, and it expresses my own opinions. I am not receiving compensation for it (other than from Seeking Alpha). I have no business relationship with any company whose stock is mentioned in this article.