Many Seeking Alpha readers have been asking for more information on the BlackBerry Enterprise Service 10 (BES10) as information has mostly been focused on the Z10 and Q10 smartphone devices. When BES10 is fully released, it will have an impact on the smartphone industry. To evaluate the impact BES10 will have, this article will be broken into two sections: the first being an introduction to the BES10 new feature set, and the second on what the impact will be for BlackBerry's (NASDAQ:BBRY) financial results.
BES10
The Enterprise server has been revamped to enable significant new features. These start with the architecture by separating BES10 into three services: BlackBerry Device Service (BDS), BlackBerry Management Studio (BMS) and the Universal Device Service (UDS). The BlackBerry Management Studio was previously known as BlackBerry Mobile Fusion.
BES10 Express
A free software package that is aimed at small businesses and it does not require any licensing fees. There still is a requirement for Lotus Domino or Microsoft Exchange or Microsoft Small Business Server.
BDS (BlackBerry Device Service)
This service provides advanced administration for BlackBerry 10 and BlackBerry Playbook tablets. Utilizing the Balance feature on BB10 devices, applications can be deployed through the BlackBerry World storefront, which is customized for the individual corporation.
BMS (BlackBerry Management Studio)
This is a unified interface that brings most of the functionality of BES10 and previous BlackBerry servers together. IT policies and user device activation are completed with this interface. Through the MDS connection service, BB10 corporate users can access files and resources on the organization's network.
UDS (Universal Device Service)
This is the service responsible for advanced administration of iOS devices and Android devices. Due to the numbers of iOS and Android devices, and the proliferation of the BYOD (Bring your own device) movement, there is much interest in this service. Through the use of policies and profiles, a variety of options are available to IT managers. The non-BlackBerry devices with the BES10 client can lock down the devices limiting access that could compromise the organization's security. VPNs, Wi-Fi, security certificates and email can all be controlled by the corporation.
Licensing
Through the BlackBerry 10 ready program, qualified organizations can trade up their licenses to the BES10 platform at no cost. The licensing model has changed to a per seat model, similar to Microsoft's Client Access License program. This license is perpetual and does not expire. With a $99 per device one-time fee, the cost of entry is minimal. Currently there is no cost for the server software.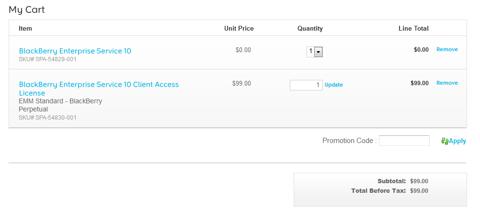 Timeline
BES10 has been released in limited functionality. With the release of BB10 devices in February, the BlackBerry Device Service was made available. The other services will be released as they are available. The following statement with dates was on the BlackBerry website:
Advanced Enterprise Mobile Management (EMM) features for regulated environments available Q2 2013. This is required for full compliance in government and regulated environments.

Advanced Unified Communication (UC) capabilities and BlackBerry® Mobile Voice System (BlackBerry MVS) will be coming to BlackBerry 10 later in 2013.
I anticipate that BES10 will be fully released in its entirety by calendar year early 2014 or late 2013. This is due to the complexity across different architectures in a rapidly moving industry. This can be recognized as an industry issue and not only a BlackBerry issue, due to Samsung putting its Enterprise solution (Knox) on hold for now. For more information on Samsung Knox being placed on hold, an article by another Seeking Alpha contributor has been written.
Revenue Implications
As stated previously, the revenue generated per seat is not overly significant, yet there are other revenue streams related to BES10. The first would be utilizing support contract services from BlackBerry. As a recurring revenue model, this allows BlackBerry to know in advance what its minimum revenue would be and if it can allow for positive cash flow. As network infrastructure shifts and the Total Cost of Ownership (TCO) changes, BlackBerry will be in a unique position. A previous article I wrote goes into it deeper.
BES10 should also drive higher sales of Z10, Q10 and future BB10 variants. While at first glance this statement may seem puzzling and even may seem to decrease sales due to iOS and Android device support, I feel corporate management from a TCO perspective will adopt more BB10 devices. Presently BES10 is setup to only support BB10 devices directly, and for older devices, BlackBerry BES 5.0 must be used on a separate server. Running two platforms on a network can be costly in terms of ongoing support, especially in a high availability server farm solution. This will make it more cost effective for corporations to upgrade legacy BlackBerry devices to the new standard, or introduce iOS and Android devices. Most corporations will likely stay with the BB10 devices due to the fact that if they are adopting the platform, they are more than likely happy with the BlackBerry services. It is a simplistic view and there are many complex reasons why they can deviate from BB10 devices, but that is not the focus of this article.
In terms of a niche market and market share, the BES10 solution will allow BlackBerry to charge a premium in their pricing model. This is apparent by their acknowledgement of releasing mid-tier products at a later date. I would anticipate that these mid-tier devices would not have the rich feature set required for corporate environments.
Jefferies Analyst Peter Misek highlighted the importance of BES10:
While most near-term focus continues to be on the phone, we believe BlackBerry's MDM opportunity is underappreciated. BES10 is currently being widely trialed by corporations even before a streamlined server-side implementation of BES10 is launched in May and BYOD sandboxing availability in June. We believe AT&T will heavily support BES10 with it possibly becoming AT&T's preferred MDM partner across all channels. We think BlackBerry's MDM software will gain traction throughout this year and see a significant ramp in revenues next year.
From Peter Misek's statement that BES10 is being tested by corporations even before it is ready for release, it is promising that corporations value the product for their environments.
It is my understanding that with the global roll out of BB10 devices, production ramp-up time frames and the BES10 roll out, the revenue for BlackBerry will be steadily increasing over the next 1 to 2 years. Although my previous hypothesis was that success would be quicker, it appears that this is unlikely. With this being said, a steady growth rate would be more beneficial for BlackBerry and the newly developing ecosystem.
Disclosure: I am long BBRY. I wrote this article myself, and it expresses my own opinions. I am not receiving compensation for it (other than from Seeking Alpha). I have no business relationship with any company whose stock is mentioned in this article.