When one talks about online Chinese travel agencies, everybody thinks Ctrip.com International (NASDAQ:CTRP), perhaps with good reason. After all, Ctrip.com is the undisputed leader in China's online travel market, having taken 45.4% of that market in 2012.
But with such a well-known name in a market desperate for growth stories, buying Ctrip.com comes at a cost. The stock trades at 29.6 times forward 2013 earnings, as well as 4.4 times TTM revenues. And it already carries a significant market capitalization, at nearly $2.9 billion.
What if there was another way to play the Chinese travel market?
As a matter of fact, there is. There is yet another quoted player which also enjoys a good market position, as we can see below (Source: China Internet Watch, Enfodesk)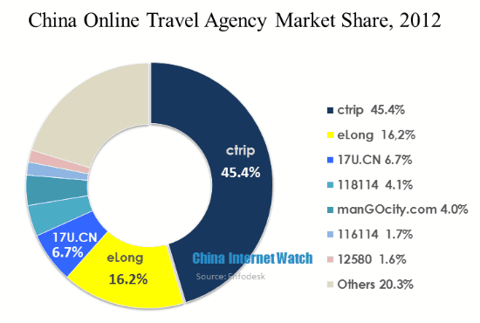 Notice the second largest player in that market: eLong (NASDAQ:LONG). eLong holds 16.2% of the market to Ctrip.com's 45.4%. Ctrip.com is nearly 3 times larger in terms of market share, and a bit below 6 times larger in terms of revenues. On the other hand, eLong is growing somewhat faster, with revenues predicted to grow 29% in the March quarter versus 19% for Ctrip.com.
In terms of valuation, eLong trades at about the same price/sales as Ctrip.com, 4.4 times, but is somewhat more expensive in terms of forward 2013 price/earnings, since it commands a 40 multiple.
Although the valuation multiples are broadly in line with Ctrip.com's, being smaller and growing faster can make it more attractive for an aggressive growth investor. eLong carries a market capitalization of $516 million.
Still a lot of growth ahead
Traveling is the kind of good which sees a hockey stick pattern of consumption as incomes rise. China is no exception, and every study indicates continued potential for the market to continue expanding. For instance, according to eMarketer.com: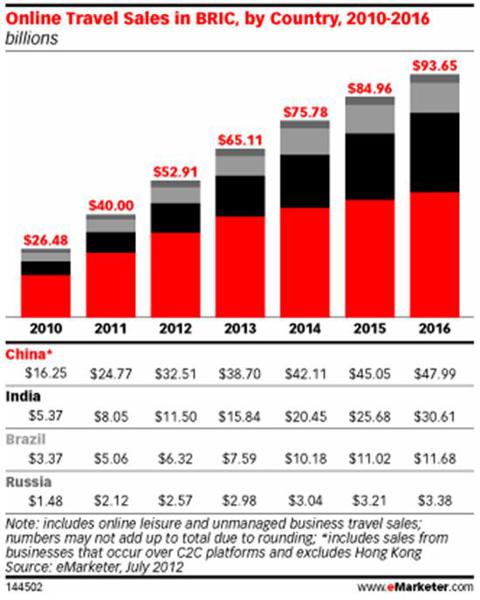 It's not a surprise that online travel will expand so much, after all China is expected to have more than double the internet users than the U.S. plus Japan combined in 2015 (Source: China Internet Watch, Boston Consulting Group). And yet Priceline.com (PCLN) is a $35 billion company and Expedia (NASDAQ:EXPE) - eLong's majority shareholder -- is a $7.9 billion company. It's likely that over time Ctrip.com and eLong will actually exceed the size of the U.S. online agencies.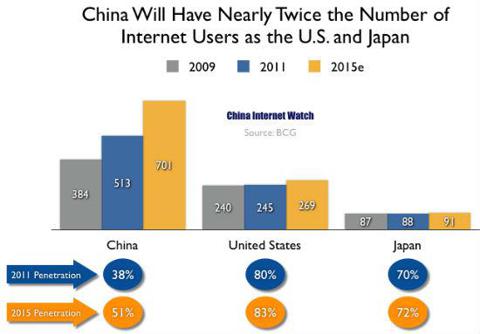 Conclusion
Both Ctrip.com and eLong seem decent growth stocks given the market potential and growth rates. Ctrip.com is the Chinese market leader, but growing a bit slower than eLong. eLong might be better for more aggressive growth investors seeking higher growth and lower market capitalizations.
Disclosure: I have no positions in any stocks mentioned, and no plans to initiate any positions within the next 72 hours. I wrote this article myself, and it expresses my own opinions. I am not receiving compensation for it (other than from Seeking Alpha). I have no business relationship with any company whose stock is mentioned in this article.