In the quest to create your perfect income portfolio, it is very important to diversify among a variety of sectors in order to limit your exposure to any one particular area of the economy. However, all sectors don't belong in a long-term portfolio (like mortgage REITs - just my personal opinion).
One of my favorite sectors is consumer discretionary stocks, which include retailers, restaurants, and some services. I love these stocks because they can provide great income while providing more growth potential than many traditional dividend plays, but with greater upside potential comes greater risk, hence the need to choose carefully.
My favorites, in no particular order are:
PetMed Express Inc (NASDAQ:PETS) - This relatively small ($256 million market cap) company does business as 1-800-PETMEDS. It sells prescription and non-prescription pet medications directly to consumers, and it currently offer about 1,200 different products. Although the share price has been on a roller-coaster ride for the past few years, I feel it is currently close to its bottom and is worthy of a look. Revenues have nearly quintupled over the past decade (see chart), and the current valuation of 16 times TTM earnings seems right, considering that the company has no debt and $57.2 million in cash on its

very healthy balance sheet (22.3% of its market cap), so when you subtract the cash, PetMed trades for just 12.5 times earnings. Not bad for a growing company with a 4.7% yield.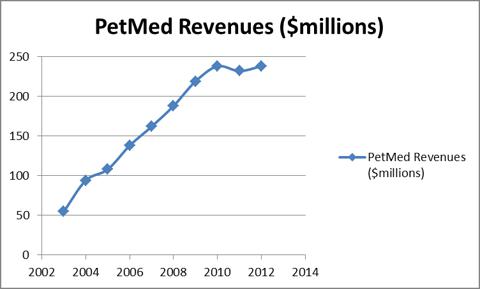 Staples (NASDAQ:SPLS) - With the merger between Office Max (NYSE:OMX) and Office Depot (NYSE:ODP) dominating the news in regards to office supply stores, not much attention has been paid to the biggest in the business, which happens to be the most financially sound of the three. Staples trades for just 9.2 times TTM earnings, and the consensus calls for a 7% annual forward growth rate. A great measure of a company is how it performs during tough economic times, and during the 2008-2011 time period, Staples revenue rose every year, by a total of 27%. Additionally, the dividend has not been cut once since the company started paying dividends in 2004, and currently yields 3.74%.
McDonald's (NYSE:MCD) - The world's largest fast food company still has tremendous room to grow, particularly in emerging markets. The company is also experimenting with higher-end and healthier products here in the U.S., and is currently in the process of introducing an egg white breakfast sandwich. McDonald's is truly a company that works in any economic environment, as there will always be a market for eating out, and McDonald's is the most affordable way to do that. Although it is relatively "expensive" at 18.8 times earnings with a 9% forward growth rate, McDonald's maintains its market-leading position and excellent balance sheet, which warrant a premium valuation. Although the 3.05% yield is not the highest in the market, the combination of growth, income and stability offered by McDonald's is hard to match.
There are many other viable options here, and this list is not exhaustive by any means. These three are some of my favorites in the sector, and between the three, offer a great combination of yield, stability, and growth potential.
Disclosure: I am long MCD. I wrote this article myself, and it expresses my own opinions. I am not receiving compensation for it (other than from Seeking Alpha). I have no business relationship with any company whose stock is mentioned in this article.