Exxon Mobil (NYSE:XOM), Chevron (NYSE:CVX), and Conoco Phillips (NYSE:COP) reported Q1 2013 earnings last week. This article will take a look at highlights from the earnings reports, company dividends increases, and the outlook going forward for the three oil companies.
Earnings Highlights
Overall, Q1 2013 was a fairly uneventful quarter characterized by relatively flat growth in production and earnings. However, underneath the earnings reports were some noteworthy individual company operational and financial developments. I'll go company by company:
Exxon Mobil
For Exxon, Q1 2013 earnings saw significant Y/Y improvements in its US downstream and chemicals segments:
US downstream earnings: $1,039 million vs. $603 million (+72%)
Chemical earnings: $752 million vs. $433 million (+74%)
No doubt these US results were boosted by low-cost refinery and chemical feedstock. This is a fundamental long-term story in the US and is why I wrote Exxon's Q1 Results Bode Well For Phillips 66 once I reviewed XOM's domestic earnings results. Phillips 66 (NYSE:PSX) is well known for its extensive refinery operations, but 20% of 2012 net income came from its chemicals operations, "CPChem" - a 50/50 joint venture with Chevron. Considering XOM's chemical earnings were up 74%, I expect PSX to post very strong results on Wednesday (May 1).
Exxon's EPS were up 6% Y/Y, mostly due to 2012 stock buybacks and fewer shares outstanding. Excluding the impacts of entitlement volumes, OPEC quota effects and divestments, production was down 1.2%.
Chevron
Chevron's worldwide net oil-equivalent production was 2.65 million boe/day in Q1 2013, up from 2.63 million boe/day in the 2012 first quarter. Although earnings were down slightly Y/Y, per share earnings of $3.18 beat street estimates by $0.19 and the stock reacted favorably.
CVX missed out on the refining gains seen at XOM due to repair and maintenance issues at two of its refineries. As a result, refined product was down 141,000 barrels/day compared to the year earlier period. Offsetting the refining issues, the company sold nearly 10.6 billion cubic feet of gas a day in Q1, up 3.2% from the year before. Nat gas prices in the U.S. rose 25% to an average of $3.11 per thousand cubic feet, the company said.
Conoco Phillips
Conoco Phillips posted Q1 2013 earnings of $2.1 billion, or $1.73 per share. The company continues to monetize non-strategic assets, reaping $1.1 billion in closed sales during Q1. Continuing production came in at the high-end of guidance - 1.555 million boe/day. Production in the Eagle Ford, Bakken and Permian was up a combined +42% compared to first-quarter 2012. Eagle Ford production alone averaged 101,000 boe/day in the quarter and exit production was 110,000 boe/day (see conference call transcript). Even more impressive was the company's Q1 margin growth. Despite realized prices being down 3%, cash margin growth grew 6% Y/Y and 4% sequentially (see slide below).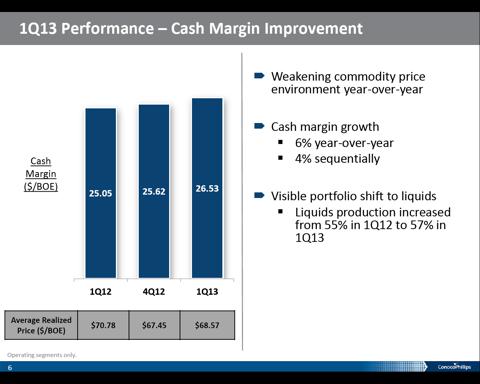 The company said the increase in margins was a result of an increase in overall liquids production (57%) and production increases from more economically advantaged fields.
Despite prognostications from the skeptics, Conoco exited the quarter with a $1 billion increase in cash-on-hand and very good cash flow performance. Here's a waterfall chart of the quarter's cash flow results: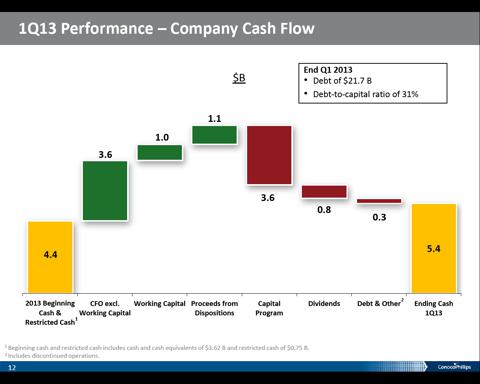 Bottom line: COP's management promised shareholders it would make the company a good long-term investment by 3-5% growth in production and margins while paying a competitive dividend. It promised to shed non-core assets and increase strategic investments. COP's Q1's results, while not exciting to some, showed me the company has a high-level of activity, is running the business very well, and executing according to plan. COP is on track to achieve management's objectives. If anything, recent results in the Gulf of Mexico along with the company's excellent acreage there show potential to be a long-term upside catalyst.
Dividend Boosts
As expected, Exxon and Chevron announced dividend increases prior to the Q1 earnings releases. Those of us hoping for a change in Exxon's exaggerated priority on stock buybacks over dividends directly to shareholders ($20 billion versus $10 billion in 2012) were disappointed. The stock buybacks continued on track for another $20 billion in 2013 and the dividend was only raised $0.06 to a quarterly rate of $0.63/share. The stock currently yields 2.86%.
Chevron was bolder and raised its dividend by 10 cents to a quarterly rate of an even dollar, or $4/year. CVX now yields 3.3%.
ConocoPhillips did not raise the dividend. It doesn't need to - COP still leads XOM and CVX with a yearly dividend of $2.64/share which works out to a current yield of 4.50%.
As a result of the earnings and dividend announcements, XOM was down slightly on the week while CVX was up +1.29% and COP was up +1%.
Outlook
All three of these oil companies continue to run their businesses very well and are heavily investing in quality long-term production growth. Domestic natural gas prices are firming. The US economy continues to grow slowly and the housing sector is improving. Despite talk of lower oil prices in the media, oil prices today are still quite high and at very profitable levels for these companies. US refining and chemical operations are the most competitive in the world due to low-cost feedstock. All things considered, the outlook for earnings growth appears favorable. That said, worldwide economic conditions are always a concern these days. In addition, there are a couple of other notable risks:
Keystone XL: Exxon Mobil announced the startup of its Kearl Oil Sand project - the initial phase of which will produce 110,000 barrels/day and is scheduled to double by late 2015. Conoco increased its oil sands production by 30% Y/Y to 109,000 boe/day. Suncor (NYSE:SU) is also increasing oil sands production. While WCS prices have firmed recently, and railroads are being used to transport Canadian heavy production, at some point soon future production (and realized prices) could be considerably influenced by the decision to go forward (or not) with the Keystone-XL pipeline.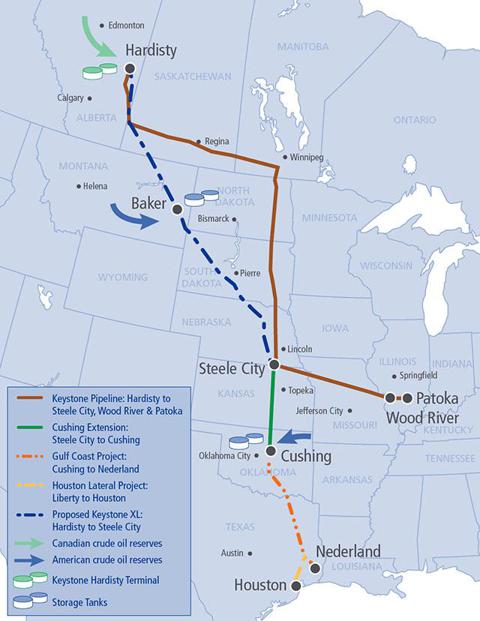 Geopolitical Watch: I wasn't aware of the depth of the existing European problem until I watched episode 4 of the new HBO program VICE. The segment on growing social unrest in Europe was an eye-opener. Extremist reaction to the economic crisis there is much worse than reported in most US media. Unemployment in Spain is 25% and almost 50% for young people. Protests in Spain are growing increasingly violent. Fascists and anti-fascists are fighting it out in Germany and Greece. This could spiral out of control. Most American investors don't realize the EU economy is larger than that of the US. A meltdown in Europe would definitely be felt in the US. Oil prices would likely fall.
Increasing US Production: Many recent articles are predicting a drop in oil prices due to increasing US oil production. I don't buy it. Why? In March 2013, 256 million barrels of oil were imported by the US (52% of total US consumption) at an average price of $108/barrel. That tallies up to over $32 billion dollars in March alone. American policymakers and environmentalists' emphasis on electric vehicles (at the cost of ignoring natural gas transportation) will keep the vast majority of Americans addicted to gasoline for transport for the foreseeable future. Domestic oil production has a long way to go before it can reduce foreign oil imports to marginal levels. As a consequence, the US will stay addicted to high priced foreign oil for years to come. And that is the main reason why the future is so bright for XOM, CVX, and COP going forward. That said, oil company investors need to keep an eye peeled on geopolitical developments: specifically Europe.
Disclosure: I am long COP, CVX, PSX, SU, XOM. I wrote this article myself, and it expresses my own opinions. I am not receiving compensation for it (other than from Seeking Alpha). I have no business relationship with any company whose stock is mentioned in this article.
Additional disclosure: I am an engineer, not a CFA. The information and data presented in this article was obtained from company documents and/or sources believed to be reliable, but has not been independently verified. Therefore, the author cannot guarantee its accuracy. Please do your own research and contact a qualified investment advisor. I am not responsible for investment decisions you make. Thanks for reading and good luck!