Additive Layer Manufacturing, or ALM for short, is the process by which solid objects, of virtually any shape, are created from a digital model. ALM creates objects by repeatedly adding layers of a given material, one on top of another, and fusing them together. ALM is superior to traditional manufacturing processes given that it produces zero waste.
As opposed to conventional manufacturing processes, which rely on the removal of raw materials to produce final products, ALM utilizes an additive process, whereby raw material/s is/are added, layer upon layer (similar to making a layer cake), until the final product emerges; thus it produces no waste.
Given that a picture (or, more precisely in this case, a video) is worth a thousand words, I am going to save readers some laborious time reading and introduce a handful of videos I have collected on the subject:
| | |
| --- | --- |
| London 3D Printer Show | An all-around look at the possibilities of 3-D printing. |
| | Complex titanium structures and a prosthetic human arm and hand made with a 3-D printer. |
| 3D Violin | A violin produced with a 3-D printer. |
| | Modern day Ming Dynasty-like artifacts made with a 3-D printer. |
| 3D Gear Cube | Shows the intricacies that can be achieved with ALM. |
| | A discussion on the manufacturing of undocumented and undetectable firearms! |
| 3D Human Skull | A detailed human skull is created with a 3-D printer. |
| 3D Replica of The Pirate Bay Ship | An intricate model created with a 3-D printer. |
| 3D Model of Yoda (Star Wars Character) | Shows the unbelievable level of detail that is possible with 3-D printing. |
Commentary
The range of products that can be produced with ALM is limited only by the size of the printer and the materials it utilizes; and the magnitude of change the technology will have on manufacturing processes and commerce cannot be overstated. ALM stands to revolutionize the way we think about producing and purchasing goods. Similar to the way in which Guttenberg's printing press and the personal computer changed the way people collect information and communicate with one another, ALM stands to change the way in which goods are produced, and the way in which consumers acquire finished goods. It is a major paradigm shift that has already begun, and for those who fear the powerful effects it will have on our society -- sadly, the genie is already out of the bottle.
For many of those who still earn a living in a manufacturing environment, 3-D printing is not good news; however, for consumers it is fabulous news. Manufacturers stand to reduce their cost of goods sold by as much as 75% or more, and those cost savings will be passed down to consumers at an accelerated pace as the technology matures. Moreover, at some point in the not too distant future, individuals will more likely than not be afforded opportunities to produce their own goods as the costs for personal 3-D printers decline. This will have a profound effect on businesses and on commerce.
Though personal 3-D printers stand to significantly reduce net costs to consumers, the technology, unfortunately, introduces a darker side to the equation as well. Given that 3-D printers do not discriminate against that which can be produced, the technology introduces the nefarious possibilities of producing undocumented, undetectable weaponry for the enthusiast and terrorist alike. For more on this subject, please reference the above video entitled "Cody Wilson Interview with Glenn Beck."
Not all, however, is gloom and doom. The technology provides some very positive benefits as well. One of those benefits is the very apparent cost savings that will be achieved through a zero waste manufacturing process. Raw material costs, however, are only the beginning of the savings. Through a new print-to-spec, print-to-demand and print for local markets business model, manufacturers stand to significantly reduce inventory and shipping costs, as well as raw material and labor costs. Indeed, the changes will be dramatic.
The road to printing paradise for manufacturers, though, is also fraught with certain pitfalls. Until now, entrepreneurs have encountered very high barriers to entry in the world of manufacturing given the significant start-up costs for most industries. However, give a creative entrepreneur a powerful computer and 3-D printer and watch imaginations soar. Furthermore, give a consumer an Internet connection and his or her own little manufacturing workstation and watch the winds of change really begin to blow. Need a new pair of shoes, a flower vase or replacement door handle for your refrigerator, simply go online, purchase the design specs, download the file and just click "print." Truly, it is a page taken directly from a Star Trek script whereby each individual possesses his or her very own replicator. Tea anyone? "Earl Grey -- hot!"
History:
The origins of 3-D printing can be traced back as far as 1976 when the inkjet printer was invented. In the mid '80s the idea of printing with materials rather than ink was born and the concept of "printing" morphed into the idea of creating new ways of manufacturing.
In 1984 Charles W. Hull, the co-founder, executive vice president and chief technology officer of 3D Systems (NYSE:DDD), invented a solid imaging process, which he called stereolithography. Stereolithography produces solid objects by successively printing thin layers of ultraviolet, curable material one layer on top of another. Hull coined the term "stereolithography" when he patented his idea under U.S. Patent 4,575,330. The patent, entitled "Apparatus for Production of Three-Dimensional Objects by Stereolithography," was filed on March 11, 1986.
In its early days, ALM (more commonly known as 3-D printing) was used primarily to design and create models, which were then used to aid in the production of goods using conventional manufacturing methods. Over time, however, print devices evolved and new materials were introduced, which allowed designers to create usable devices and components. With the introduction of these new materials, engineers and designers have been given the ability to produce complex structures with the mere click of a mouse button. For an interesting graphic on the history of 3-D printing, simply click print.
Company
Founded in 1986 by Charles ("Chuck") W. Hull, 3D Systems Corporation has, to date, the broadest 3-D printer and 3-D printer support product selection available. DDD not only sells 3-D printers, it offers 3-D software and digital content solutions to personal and professional users alike. Through its On Demand 3D Parts solutions, DDD also offers custom-made part solutions to clients who may need specialty parts made "on demand."
Like its inkjet predecessors, 3-D printers rely on consumable materials, which drive gross margins for DDD. With that fact at the forefront of managements' minds, in 2006 consumables were made proprietary to the systems DDD produces. Thus, a barrier was created for third-party material vendors who may wish to capitalize on DDD's success in this ever expanding field of technology. This action helped to anchor DDD's position in the world of 3-D printing solutions. To further protect its profitability, and its intellectual property, DDD operates under a "closed-source" model, which, primarily, relies on in-house product innovation, design and development. DDD also utilizes patent protections to limit competition and further widen its industrial moat.
Fundamentals
DDD has shown strong revenue growth over the past few years, but much of that growth has been fueled by acquisitions. Net income rose 11.43% from FY 2011 to FY 2012, and EPS rose 51.06% from FY 2011 to FY 2012, while operating expenses also increased an eye-opening 63.51%. Also of concern, is the fact that ROIC has shown a decline over the past three years, and its most noticeable drop occurred between FY 2011 and FY 2012 when the number went from 12.81 to 4.86 (a 62.06% decline!).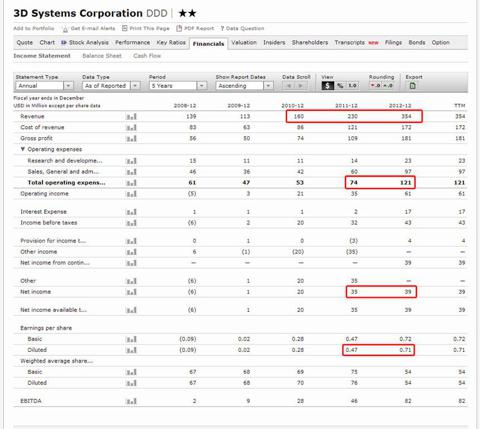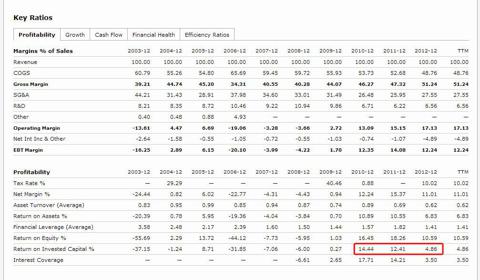 Commentary
Arguments for and against growth through acquisition have been made, and it is this author's belief that acquisitions can work if done correctly. First, certain synergies must exist. If, for example, the McDonald's Corporation (NYSE:MCD) wished to purchase Barnes & Noble, Inc. (NYSE:BKS) to capitalize on its cookbooks, the marriage between the two companies would be impractical. If, however, MCD were to make an offer to purchase Burger King Worldwide, Inc. (BKW) in an effort to gain market share, especially in areas where MCD's market share may be weak, then the deal would be much more sensible.
Second, an acquiring company cannot overpay for the one to be acquired. Though a certain amount of goodwill is to be expected, especially where intangibles are concerned, exorbitant prices rarely serve to satiate the appetites of outrageous expectations.
Third, the assumption of debt cannot be taken lightly. All too often companies assume high levels of debt from those companies being acquired. The acquirers often do so under the notion that the debt can be easily extinguished either through the issuance of new debt at lower interest rates, or through the issuance of new equity stakes, or through the "added revenues" the company expects to receive from its newly acquired source (the level of due diligence is often in question here); and all too often the assumptions are wrong. A case-in-point is Supervalu's (NYSE:SVU) acquisition of Albertson's, Inc. which took place in 2006. The deal buried SVU under a mountain of debt, ultimately leading the company to the divestiture of many of its assets earlier this year (narrowly sparing the company from almost certain bankruptcy).
Fourth, the expedient elimination of redundant, weak or non performing assets is imperative. This is usually one of the most difficult aspects of acquisitions because it inevitably equates to job elimination. The acquisition of intellectual property, and the acquisition of those individuals capable of producing or enhancing intellectual property, can be an extremely valuable proposition for many growing organizations; however, supporting roles, especially those with excess personnel, can create tremendous drags on a company's profitability -- especially where the acquiring company may have overextended its reach.
Finally, as opposed to those in mature and/or dying industries (again, SVU comes to mind), acquisitions are best suited for organizations in new, or relatively new, and growing industries.
Technically
After experiencing some very choppy trading, and a rather significant decline between early April, 2011 to early January of 2012, the company's stock price went parabolic. From December 30, 2011, to January 23, 2011, DDD went from a low of $9.53 to a high of $47.99 -- an increase of 403.57%! From its high, DDD began a rather rapid descent to a low of $27.88, which was reached on March 18, 2013. As of Friday's close (i.e. 4/26/2013), DDD's stock price was above the 50-Day MA, situated at a per share price of $34.57. On balance volume has been choppy over the past few years but it currently appears to be in an uptrend.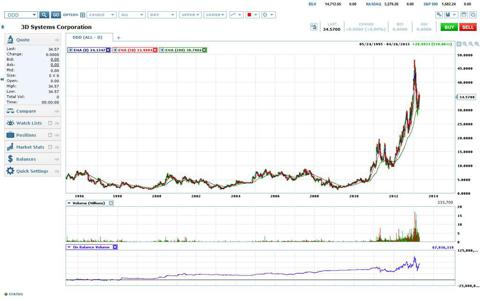 Conclusion
DDD is in a very exciting industry that could very well see some explosive growth in the decades to come. Presently, however, the company's stock price appears rich at current valuations.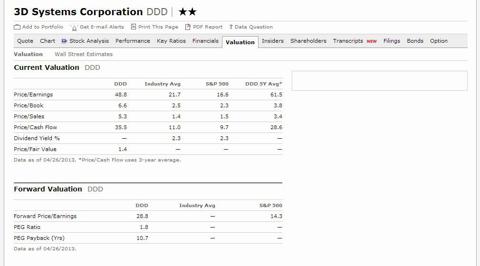 DDD, however, is an optionable stock with LEAPS extending out as far as January 2015. For those who may be interested in initiating new positions in DDD, options strategies offer viable alternatives to entering equity positions outright.
Though DDD's acquisition spree, which began in 2009, may be of some concern, the company appears to be doing a rather good job handling the absorption of the companies it has acquired. Long-term debt, as well has the company's debt-to-equity ratio, declined significantly from FY 2011, and the company's current and quick ratios are also in good shape, which indicate that it won't have any troubles meeting its short-term obligations.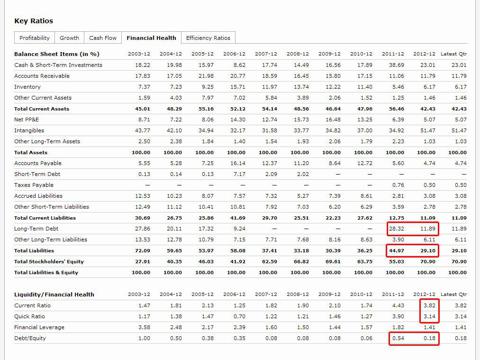 In sum, DDD and the technology it produces could very well prove to be the new technological powerhouses of the 21st century. For those who may be interested in investing in this burgeoning company, a wait, watch and "print" approach may be advisable. Nonetheless, this is not a story likely to go away any time soon.
Note: Financial data obtained from Morningstar.com and the company's most recent 10-K. Charting data provided courtesy of optionsXpress.com.
Disclosure: I have no positions in any stocks mentioned, and no plans to initiate any positions within the next 72 hours. I wrote this article myself, and it expresses my own opinions. I am not receiving compensation for it (other than from Seeking Alpha). I have no business relationship with any company whose stock is mentioned in this article.