I first learned of Medical Marijuana, Inc. (OTCPK:MJNA) in February, when anonymous, self-proclaimed short "Infitialis" called the company a "fraud heaped on top of folly." Fascinated by the story, I spent that weekend learning more about the company and other marijuana-related names, quickly concluding that the stocks were in a bubble. I have followed up with a series of articles that question the company's financials, most recently describing how Medical Marijuana, Inc. appears to have used very aggressive revenue recognition in the fourth quarter last year.
As I continue to dig deeper to better understand this company's history, I am becoming more confident that the management team has indeed been dishonest. While Infitialis raised a lot of issues about the backgrounds of some of the people involved, the article failed to point to what may be the single most alarming aspect of the story: Hemp Deposit & Distribution Corp. (HDDC) apparently misled investors in its promise to deliver assets to the company in exchange for 260 million shares and control of the company two years ago.
HDDC Takes Over
Prior to March 2011, MJNA had been run by Bruce Perlowin since 2009. According to the annual report for 2010, which was filed in April, he was serving as chairman and CEO and owned about 48 million of the 246 million shares outstanding. Donald Steinberg, president, owned about 47 million, while an entity known as New Compendium out of Colorado owned 34 million and Jim Hancock, who I believe was the CFO of predecessor company Mynewpedia, owned over 19 million shares.
In March 2011, Hemp Deposit & Distribution Corp. gained control of Medical Marijuana, Inc. It received 260 million shares in exchange for income-producing assets. It appears that MJNA shareholders were hoodwinked. Here is the description from its filing:
Click to enlarge images.

This represented the majority of the company, as there had been 246 million shares outstanding previously. The filing said very little about HDDC, but mentioned three officers described as "interim-transition":
Michelle Sides, COO (who currently serves as chairman and COO)
Jordanne Brenkwitz, secretary
David Tobias, VP Business Development (with the former team and a holder of 3 million shares)
Notice that there is no mention of former President Michael Llamas, who wasn't even mentioned in any of the press releases on the company website until Aug. 30, five months after the transaction closed. He was also mentioned as "interim president" in the company filing for Q2 filed on Aug. 26. His LinkedIn profile indicates he was named president in March 2011. Furthermore, the initial filing, which was submitted in July, was signed by Sides (COO) not Llamas. The Q2 filing stated that HDDC was controlled by Bobby Lambert, the only time he was mentioned. In the Q3 report, filed in January 2012, Lambert is no longer mentioned. For reasons that became clear later, MJNA was very quiet about Llamas' involvement.
The company did share some press releases that informed shareholders about these asset transfers. The first one from March 17 was titled "Medical Marijuana Inc Enters Into Letter Of Intent to Merge Assets of Hemp Deposit Distribution Corporation." In it, the company said that a controlling majority would be created through the additional shares of stock to HDDC, which would become a subsidiary of MJNA, and that the "HDDC shareholders" would elect a new board.
The second press release from March 24 was titled "Medical Marijuana Inc Completes Merger With CannaBANK," serving to announce the completed deal. Shareholders had no vote -- this just happened, all in the matter of days. In the "Note 8" from the quarterly filing above, the shareholders were promised unspecified assets. But, as I describe below, there was specific mention of these assets. The second press release stated: "This agreement calls for shares of MJNA to be issued to HDDC in exchange for assets which include real estate, Intellectual Properties, patents and future acquisitions."
Before I go on, I want to share the balance sheet (unaudited) included in this filing, which was as of March 31 but filed on July 5, 2011: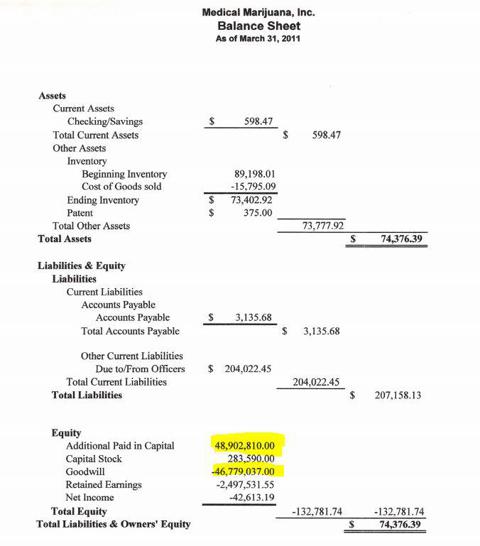 Note that the share issuance is reflected apparently as "additional paid in capital," but there is an offset of "goodwill." This comes out roughly to the price of about $0.18 per share (interestingly, right where it is now), where it traded at month-end after soaring from $0.03 to $0.05 earlier in the month (price history can be found here). The balance sheet doesn't reflect any real change in assets (total assets are just $74,000). The prior balance sheet, from year-end 2010, had shown assets of approximately $92,000 and total equity of -$109,000, both very similar to the new balance sheet.
HDDC Gets Shares, But What Are the Asset Transfers?
The filing suggested that HDDC, which was doing business as "CannaBANK," had affected two real estate transactions: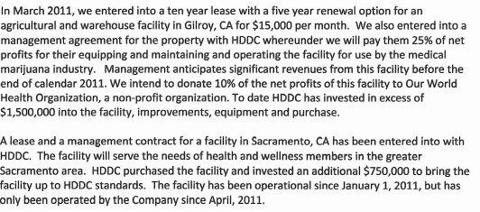 Here is a press release that followed shortly after the transaction was announced, titled "CannaBANK Transfers First Asset to Medical Marijuana, Inc." The March 29 disclosure stated that MJNA had received an asset with a management contract and that "CannaBANK anticipates this landmark facility to generate in excess of $40 million in revenue annually." Additionally, it promised that "MJNA also intends to contribute 10% of the facility's profits to the Our World Health Organization (OWHO), a non-profit organization which will join MJNA in spreading the message of better living through herbal remedies, effectively changing the world -- one mind at a time." I have never seen reference to Our World Health Organization in any other filing (beyond citing this transaction) and was unable to find evidence of its existence using Google's search engine.
Here is a second press release, titled "CannaBANK Transfers 2nd Asset to Medical Marijuana, Inc.," released on March 31. This described an asset in Sacramento in which HDDC had invested $750,000: "The facility is estimated to generate in excess of $4 million in net profits annually." Here is a third press release (from April 18), which was titled "CBD Extraction Process Patent Pending by Medical Marijuana Inc. Consortium (THC Free Product Line)" and stated that "CannaBANK Transfers Third Asset to Medical Marijuana Inc. SkinAgain Joint Venture."
Already the company had described three asset transfers, but on May 10 it described the "third, fourth and fifth" asset transfers in a fourth press release, including a 20,000-square-foot facility in Riverside county on 20 acres of land, $350,000 of equipment for the San Bernadino, Calif. (a Wellness Center), and a 50% stake in Cannabis Marketing Group (capitalized at over $200,000). The latter was supposed to launch "CannaMaps," but this appears to have never transpired. After you Google "Our World Health Organization," try "CannaMaps."
Q2 2011 Balance Sheet
Recall that the balance sheet above reflected total assets of $74,000 at the end of Q1, which was down slightly from year-end assets. Perhaps some of those first two asset transfers weren't properly reflected. Let's consider too that HDCC ended up with 260 million shares that were trading at about $0.04 before all this news broke, so let's call that $10 million and not the $46 million or so based on March 31 pricing of $0.18. With the five (or six) assets transferred, one would expect that assets on the balance sheet would have increased substantially. Indeed, they did not, as reflected in the Q2 filing (unaudited):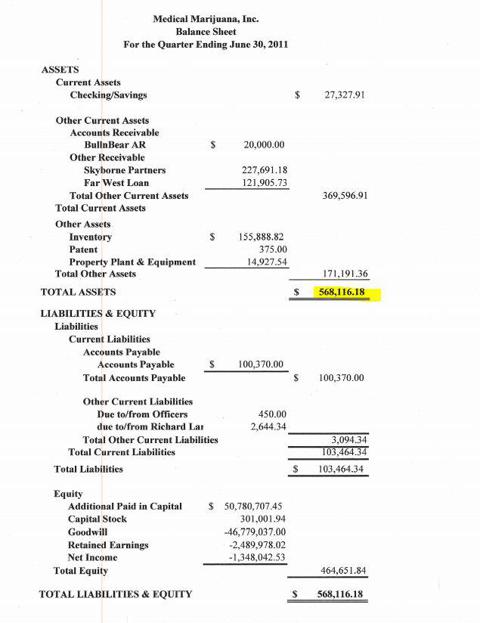 Again, no vote for shareholders, but at least the assets went up by almost $500,000 (for shares that were valued at $10 million). The assets were seemingly worth more than this, at least as they were described. Some of this was property, yet the balance sheet lists only $15,000! What kind of deal is this? The following quarter listed the same $15,000. The only audited statement that the company has ever filed shows us where we are now: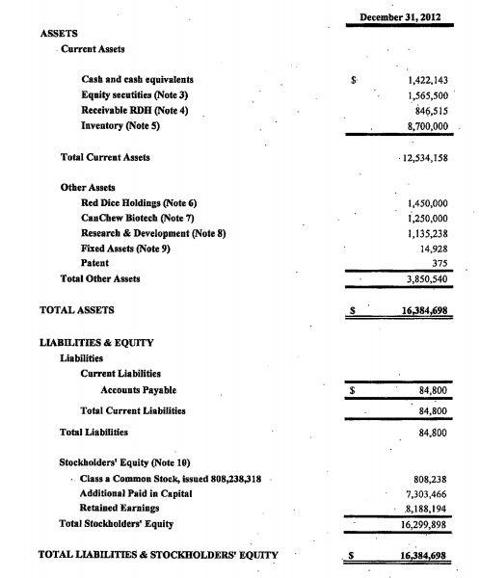 The "Fixed Assets" are still that same $14,928 dating back to June 2011. The total non-current assets are less than $4 million. This is an audited statement, and these assets that HDDC contributed should be reflected.
Misleading Investors
HDDC gained control of MJNA in 2011 with the promise of assets. Based on the balance sheet that followed the transaction and subsequent financial statements, it doesn't appear that these assets are being properly reflected in the accounting, a strong suggestion that the assets may not have been transferred. The share count subsequently soared to 808 million by the end of 2012. Somehow, HDDC was able to increase its holdings in MJNA from 260 million in March 2011 to 265 million at the end of 2011 to 412 million shares (51%). The 2012 annual report never details the source of these additional shares.
In the first of the press releases above detailing the asset transfers, there was a promise of a facility that would generate "$40 million in revenue" per year. This wasn't included in a filing, though the filings indicated "significant revenue before the end of 2011." The company failed to generate those sales. I feel badly for the non-existent non-profit that was supposed to get 10%!
The new management team had some other stories it was telling when it took over (and others it avoided, like the involvement of Michael Llamas). It put out a press release discussing share repurchases. Of course, the share count has only soared subsequently, and I have been unable to find any mention in a filing of such a program.
It was two years ago that management first discussed upgraded listing:
Additionally, Medical Marijuana, Inc. is in the process of becoming a fully-reporting company, leading to an upgraded listing of the company on the OTC Pink Sheets to OTC:QB. Medical Marijuana, Inc. has established a new investor relations team to address shareholder inquiries, making the process more fluid and transparent.
Yet another carrot dangled to investors with no follow-through. One might say that management was just being hopeful, but it said it even more strongly months later:

SAN DIEGO, CA--(Marketwire - Jul 12, 2011) - Medical Marijuana Inc (PINKSHEETS: MJNA) is pleased to announce that as of July 12, the company has made substantial progress towards achieving fully-reporting status. The OTC Pinksheets have reclassified the standing of the company by withdrawing the yield sign, which was formally on its webpages featuring MJNA's OTC stock listing. (http://www.otcmarkets.com/stock/mjna/quote)

Medical Marijuana Inc has secured the services of Securities Attorney Frank J. Hariton in matters involving compliance with regulatory standards and reporting practices. Hariton's opinion letter with respect to current Information was released online to the public on July 6 and can be accessed in the financial section of the MJNA OTC listing.

MJNA intends to release financial data for the second quarter ending June 30, 2011 on or before August 1, 2011. Additionally, MJNA plans to release quarterly financial data no later than fifteen business days following the conclusion of the preceding quarter. To correlate with the quarterly and annual financials MJNA is in the process of selecting an auditing firm to aid the company in streamlining internal controls, policies, procedures, governance and to address specific reporting requirements as well as commencing MJNA's first financial audit. Firms currently under consideration include Deloitte, KPMG US, and PriceWaterhouse Coopers.

Medical Marijuana Inc is also pleased to report the completion and first round of updates to its corporate and Hemp Network websites. These changes focus on improvement in shareholder interaction as well as increased transparency in areas such as governance and internal financials. The next round of updates unfolding over the course of the third quarter of 2011 will bring MJNA closer to its goal of greater accessibility to its online materials. Such site improvements include links to the new corporate Facebook and Twitter pages as well as the completion of the company's LinkedIn profile.

Beginning August 2011, MJNA will hold conference calls with shareholders scheduled for the second Tuesday of each month. To aid in this process MJNA currently has several investor relations firms as candidates under consideration in providing the company with tools to improve, maintain, and sustain the quality of shareholder relations. More details are forthcoming.
They didn't release that data until the end of August. Anthony Imbimbo & Associates is hardly "Deloitte, KPMG or PWC." The company has failed to deliver increased transparency.
Conclusion
You may believe in the legalization of marijuana (I do), or even like Dixie products, but these are not reasons to own MJNA. The current management team gained control of the company in 2011 and appears to have done so without delivering assets that would have justified over 50% of the company (without shareholder approval). It has been able to increase the share count and its own holdings without explanation. It has promised transparency, but failed to deliver. Up until now, I have presented facts and let readers draw their own conclusions. At this point, I feel compelled to make a recommendation: Sell your shares.
Disclosure: I have no positions in any stocks mentioned, and no plans to initiate any positions within the next 72 hours. I wrote this article myself, and it expresses my own opinions. I am not receiving compensation for it (other than from Seeking Alpha). I have no business relationship with any company whose stock is mentioned in this article.