Ask anyone what's the latest trend in the video rental business and they'd likely say digital, as giants Netflix (NASDAQ:NFLX) and Blockbuster (BBI) scramble to beef up their online rental and streaming services.
Well, according to Barron's Tech Trader Eric Savitz, they're wrong. The hottest idea in home video now? Dollar-a-day vending machines.
While online-video streaming certainly is the industry's future, video-rental vending machines are the hot trend of the economically depressed present.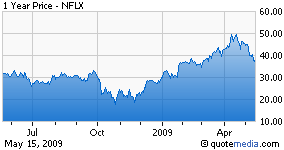 King of the kiosk hill is Redbox, a unit of Coinstar (NASDAQ:CSTR), which owns about 15,000 kiosks in supermarkets, drug and convenience stores, and Wal-Marts (NYSE:WMT). In an effort to fight back, Blockbuster (BBI) has partnered with NCR (NYSE:NCR) to acquire 2,200 MovieCube kiosks, and separately has started offering customers movies at the same dollar-a-day kiosk rate - moves that could boost sales but impact BBI's bottom line.
Meanwhile studios aren't happy. GE's (NYSE:GE) Universal Studios recently demanded Redbox stop renting titles for the first 45 days after release; destroy used DVDs; and it wants 40% of gross revenue. Redbox turned around and sued Universal for anti-competitive behavior.
If Universal wins, the kiosk business is history - which would be good news for studios, and Blockbuster and Netflix. But analyst Jason Helfstein thinks it won't, and suggests studios will be forced to impose a rental-only exclusivity period for new DVD releases in an effort to lift initial prices for rentals, which would force Blockbuster and Netflix to either raise prices or accept smaller margins.
Helfstein also thinks studios will seek more favorable terms from renters, while at the same time leveraging their ties with online content providers like Hulu. Tough times for Netflix.
:::::::::::::::::::::::::::::::
In an article today, author VFC's Stock House notes Blockbuster could potentially steal market share from Redbox if it leverages its business ties to roll out kiosk rentals of new releases before Redbox, which tends to lag.