The long awaited disclosure from Berkshire Hathaway about its holdings is online. This time however many are doubting Buffett's wisdom after his stock lost over 32% of its value in 2008 versus S&P 500's 36.7% loss. He also made some derivative bets on indexes which are misunderstood by most market participants. Year to date Berkshire Hathaway stock is down 7.75%, and is trailing the S&P500's year to date gain of 2.43% by a wide margin. Over the past 30 years however, Berkshire Hathaway has significantly outperformed the S&P 500.

There were changes in ten positions owned by Berkshire Hathaway.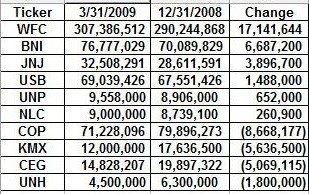 The companies where Berkshire added to positions included Burlington Northern Santa Fe (
BNI
),
Wells Fargo
(NYSE:
WFC
), US Bancorp (NYSE:
USB
), Nalco (NYSE:
NLC
), Johnson & Johnson (NYSE:
JNJ
) and Union Pacific Corp (NYSE:
UNP
).
His addition to positions in Wells Fargo and
US Bancorp
seem to have been made at particularly challenging conditions near the 52-week lows for both stocks. Once again Buffett seems to have followed his strategy of being greedy when others are being fearful, by loading up on the above stocks.
Another interesting trend is that Buffett keeps adding to his positions in railway stocks, especially Burlington Northern. The purchase of additional Johnson & Johnson is
a bullish sign
as well. Berkshire sold over
33 million JNJ shares
back in the fourth quarter of 2008 in order to generate enough cash to participate in the preferred stock offerings of several companies including General Electric (NYSE:
GE
) and Goldman Sachs (NYSE:
GS
).
The companies where Berkshire trimmed positions include Carmax (NYSE:
KMX
), Constellation Energy Group (NYSE:
CEG
), ConocoPhilips (NYSE:
COP
) and United Health Group (NYSE:
UNH
).

The most interesting trade here is his selling of a large chunk of ConocoPhillips shares. Berkshire initiated a position in COP back in 2008 when oil and gas prices were at their peak. Now it appears that he is selling the stock just before oil prices have resumed their upward trend. The Oracle from Omaha's words on his investment in Conoco are an interesting glimpse in his decision making process:
"We sold 13.7 million shares of ConocoPhillips during the first quarter and additional shares were sold subsequent to the end of the quarter. Although we expect the market price of ConocoPhillips to increase over time to levels that exceed our original cost, we are likely to sell some additional shares prior to that time and generate additional capital losses that we can carry back to prior tax years when we generated net capital gains. In 2006, we paid about $690 million in federal tax on capital gains and that payment can only be fully recovered if capital losses of at least $1.98 billion are taken in 2009."
The number of Conoco shares that Berkshire owns is most probably lower than what the filing shows. The same is true for Berkshire's position in Constellation Energy (
CEG
) as well.
Does it pay to
follow Buffett's moves
? The answer is yes it does. According to
this paper
a portfolio that mimicked Buffet's stock investments would have outperformed S&P 500 by 14.6% annually between 1976 and 2006.