Last December I noted that Samsung (OTC:SSNLF) was eating Apple's (NASDAQ:AAPL) lunch. This quarter the Korean electronics company ate Cupertino's breakfast, lunch, and dinner - and it's working on dessert as well.
As always, a picture is better than a thousand words. Based on IDC's estimated smartphone shipments, Samsung is outpacing Apple.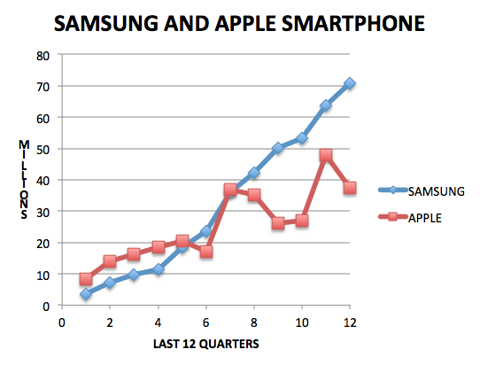 (Sourced from IDC data.)
More significant, Samsung is taking global smartphone share, going from 29% to 33% market share. And who is losing that share? LG? Huawei? ZTE? No, they are also gaining share. It is Apple who is losing out, dropping 570 basis points of market share, with Samsung the chief beneficiary. Samsung's 60.7% unit growth dwarfed Apple's 6.6% unit growth.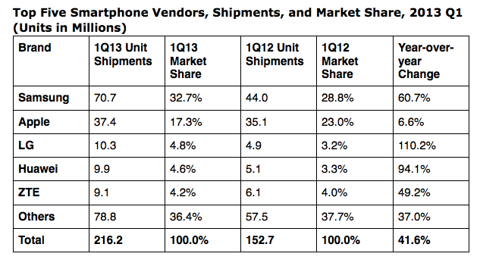 (From IDC)
Samsung's mobile segment has been on fire:
1. Quarter sales rose 50% y/y while operating profits climbed 56%, a performance reminiscent of the old Apple. Speaking of Apple, iPhone sales increased a paltry 3%. While Apple doesn't break out iPhone operating profits, overall operating income fell 18%.
2. The mobile segment at Samsung delivered a 19.8% operating margin, better than the 9.2% in year-ago quarter, and closing in on Apple's 28.8% margin.
Apple still dominates the U.S. smartphone market. That might not last as Samsung rolls out its Galaxy S4, unopposed by a new iPhone. Samsung is about to eat into Apple's U.S. share and, for at least the next quarter, there isn't a thing Cupertino can do about it.
Disclosure: I have no positions in any stocks mentioned, and no plans to initiate any positions within the next 72 hours. I wrote this article myself, and it expresses my own opinions. I am not receiving compensation for it (other than from Seeking Alpha). I have no business relationship with any company whose stock is mentioned in this article.
Additional disclosure: The opinions in this document are for informational and educational purposes only and should not be construed as a recommendation to buy or sell the stocks mentioned. Past performance of the companies discussed may not continue and the companies may not achieve the earnings growth as predicted. The information in this document is believed to be accurate, but under no circumstances should a person act upon the information contained within. We do not recommend that anyone act upon any investment information without first consulting an investment advisor as to the suitability of such investments for his specific situation.