To say that 3M (NYSE:MMM) has had a good run of late would be a bit of an understatement.
Its stock is up 16.4% this year, surpassing the returns on both the Dow Jones Industrial Average (+12.3%) and the S&P 500 (+10.7%) by a solid margin. In fact, 3M shares closed at an all-time high of $108.25 just two weeks ago and, at its current price of $103.79/share, could register new highs if it impresses markets with its first quarter earnings.
A defensive stock, 3M is usually not used to making headlines, but as the performance of the Dow in 2013 can attest, this year's market seems to prefer more defensively-aligned stocks, with the blue-chip index registering the highest returns.
As the table below illustrates, this shouldn't surprise anyone - the 'growth' stocks of yesteryear, as represented by the NASDAQ 100, are expected to see negative earnings growth in 2013. In contrast, expected earnings growth rate of the stocks constituting the Dow and S&P 500 are positively buoyant, with aggregate EPS growth rates of 10.5% and 8.2%, respectively.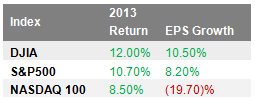 Source: Bloomberg, Reuters, Wall St. Journal as of April 24th, 2013
These growth rate forecasts were largely driven by expectations that the economy would be soft in 2013 compared to 2012 - U.S. GDP is forecasted to grow by 2.1% this year, which is around 10% slower than last year. It is also 60% slower than the world's growth rate of 3.5%. It should be noted, however, that the American economy has been surprisingly buoyant and the latest forecast U.S. GDP growth is actually 10% higher than it was just 5 months ago.
In this light, it is unsurprising that the markets are favoring more established companies, including conglomerates like 3M.
The question is, can 3M deliver enough in order to sustain its run? We take a look at the following.
1. Earnings. 3M is forecasted to report revenue growth of 4.3%, resulting in earnings of 1.65 per share, representing 3.8% EPS growth from the same period a year earlier. That trails 12.4% EPS growth projected for the S&P 500 in the same quarter.
However, 3M's growth rate is projected to accelerate over its next three fiscal quarters, resulting in full-year EPS growth of 8.9%, which is 8.5% higher than the S&P 500's full year earnings growth rate of 8.2%. More importantly, its earnings growth is more than double the 4.1% rate for its fellow conglomerates.
3M is expecting strong growth out of its Consumer and Office and Display and Graphics unit, which led growth in 2012. It will also likely see strong performance out of its health care products, with strong growth out of its Latin American and Asia-Pacific operations persisting.
Going forward, 3M is expected to post average 9.7% a year over its next five. Similar to this year, that would be faster than the S&P 500's growth. However, it will trail its industry's growth by 32.5% -- quite a significant margin. Indeed, other large U.S. conglomerates like Tyco (TYC) and Honeywell (NYSE:HON) are expected to grow by much faster rates - 16.1% and 10.4%, respectively - over the same period.
Where 3M is impressive is with its margins: its revenues might not be growing at a particularly impressive rate, but it consistently earns the same high margins - 51.9%, which are 9.3% more than its industry's, year after year.
While there are company-specific reasons for this - Tyco, for one, will benefit from base effects owing to expected EPS contraction this year - what it tells investors is that 3M is not going to be the growth leader for its industry. In fact, that's precisely why 3M is such a strong defensive play: its growth is not especially high, yet it consistently meets expectations, it doesn't surprise by very huge margins and even when it does surprise, its stock price movement is gradual rather than dramatic.
2. Valuation. Where the case for 3M runs into a bit of trouble is valuation. To wit, its current P/E of 17x earnings is a bit frothy compared to its industry's 16.4x. The same is true for its other metrics: 3M's price-to-sales is at 2.5x compared to its industry's 2x, its price-to-book value is at 4.2x while its industry's is at 3.5x and its price-to-cash flow is at 12.8x compared to its industry's 11.2x. It also exceeds the S&P 500 in all these areas.
What makes these measures tricky is that 3M isn't even particularly defensive in terms of its financial strength - its cash ratios (current and quick) are essentially in-line with its peer group, though its debt levels are slightly better.
To be fair, it is not egregiously overvalued on the basis of these metrics but, in our view, premium valuations should be assigned to companies that are growth leaders - not to defensive plays. In that regard, we believe that the run-up in blue chip stocks in the first trimester has had the effect of adding a halo to companies with perceived strong defensive fundamentals such as 3M, thereby granting a valuation premium that these did not have previously.
One thing that 3M has going for it is its high dividend yields - its conglomerate peers pay an average of just 0.2% -- less than 1/10th of 3M's 2.4% dividend yield. Its current dividend yield is also around 10% better than the S&P 500's 2.1% dividend yield.
3. Trading Momentum. 3M's performance in the year-to-date is exceptional considering that it would equate to a 49% annual return. The table below shows its annual returns for since 2008 (2013's in annualized):
Source: Bloomberg as of April 24th, 2013
Assuming 3M sustains its performance in the first trimester, it would be its best annual performance over the past five years. 2009's performance, which would come close, was not especially surprising as the stock had registered multi-year lows in the aftermath of the 2008 crisis - if anything, 2009's rally simply brought 3M back to more reasonable levels of valuation.
3M 6-Month Performance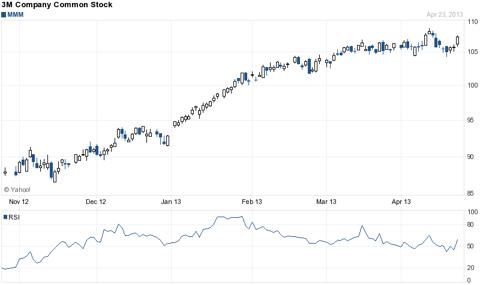 Source: Yahoo! Finance
However, as can be seen from the technical chart above, the stock isn't particularly overbought - it's only 6% above its 90-day moving average and after a moderate correction in mid-April, its subsequent price action and momentum is such that 3M has established a new base and has set itself up to new records if its earnings beat expectations. Indeed, as some have pointed out, 3M has exceeded expectations more than 63% of the time.
Interestingly, even when 3M has missed expectations, it has not fallen by much - on average by less than a 10th of a percent in the month after, which should give investors comfort when buying the stock.
Conclusion
On balance, we believe that 3M can sustain its first trimester performance, perhaps adding another 20 to 25% through year-end if its earnings report meets expectations at the top and bottom and if the firm does not change its forward earnings guidance.
Beyond 2013, however, we would rotate into other faster-growing stocks in its sector as its momentum this year is likely to falter in the face of middle-of-the-pack earnings growth.
Disclosure: I have no positions in any stocks mentioned, but may initiate a long position in MMM over the next 72 hours.
Business relationship disclosure: Black Coral Research is a team of writers who provide unique perspective to help inspire investors. This article was written Jonathan Lara, one of our Senior Analysts. We did not receive compensation for this article (other than from Seeking Alpha), and we have no business relationship with any company whose stock is mentioned in this article.
Additional disclosure: Black Coral Research is not a registered investment advisor or broker/dealer. Readers are advised that the material contained herein should be used solely for informational purposes. Investing involves risk, including the loss of principal. Readers are solely responsible for their own investment decisions.