We remain in the "Yellow Flag Flying" mode, anticipating choppy prices ahead. We are very close to switching to "Red Flag Flying," indicating lower prices ahead and this change could come any day.
So now the question is, "What goes up must come down, or does it?"
I asked this question last Sunday and this past week we got at least a partial answer with the S&P sliding -5.0% and the Dow and Nasdaq -3.6% and -3.4% respectively during the last trading week.
For the week, the Wall Street Sector Selector Ultra Portfolio gained +1.3% while the Standard gained +0.2% with one position in each.
Many of our indicators have turned down and we stand just fractions from a confirmed downtrend in the major market indexes and many sectors.
The View from 35,000 Feet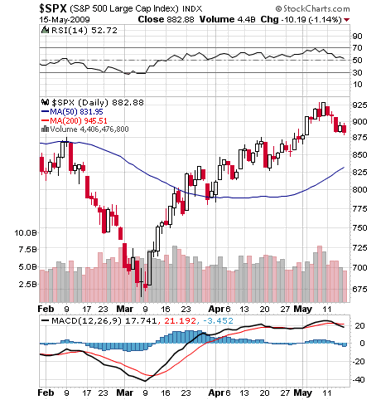 In the S&P chart above we can see that the index dropped back from its peak and now rests on firm support at about the 875 level. MACD has turned negative to a "sell" signal but the market is still above its 50 Day Moving Average and slightly less overbought.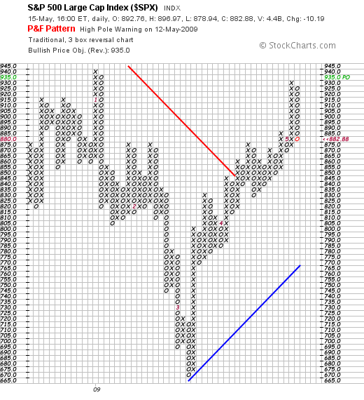 In the P&F chart above we see the "High Pole Warning" generated on May 12th, indicating that demand has left the market and supply is at least temporarily in control and we see the column of Os coming down close to the major support levels of 870-875.
A break below 870 would be a sell signal but would still leave the market well above its bullish support line at 770.
Many other indicators are pointing towards "sell" and so this will be a pivotal week in the life of this bear market rally.
On the fundamental side of things, the news continued to be "less bad" but decidedly more mixed this past week.
Six of the country's largest insurers, including household names like Prudential (NYSE:PRU), Hartford (NYSE:HIG) and Allstate (NYSE:ALL) qualified for TARP funds of more than $20 Billion in total, and 1100 GM dealers out of 6,000 got their pink slips from GM as their franchises were being pulled.
Nearly 800 Chrysler dealerships are being closed as well, and total job loss estimates from these actions range as high as 190,000.
The EuroZone GDP declined by -2.5% in the 1st Quarter, the largest decline on record, and US industrial production was down -0.5% as it posted its sixth straight month of decline.
Oil (NYSEARCA:USO) took its biggest weekly decline in three months this week but consumer confidence was up from its 3 decade low posted last November. The average price of oil is forecast to be $50/bbl for the rest of this year and next and then rise to $70/bbl in late 2010 as the world economy recovers.
On balance, it looks to me like the rally is clearly running out of steam and if support levels are broken, we could see more significant downside ahead. If support holds, then very likely we're in for a period of sideways consolidation.
The Week Ahead:
Monday: May Homebuilders Index
Tuesday: April Housing Starts
Thursday: Weekly Jobless Claims, April Leading Economic Indicators, May Philly Fed.
Sector Spotlight:
Weekly Leaders: Long Bonds (NYSEARCA:TLT) SPDR Russell/Nomura Small Cap Japan (NYSEARCA:JSC) iShares MSCI Chile Index (BATS:ECH)
Weekly Laggards: Financials (NYSEARCA:IYF) Real Estate (NYSEARCA:IYR) SPDR KBW Regional Banking (NYSEARCA:KRE)
This week leads us into Memorial Day weekend, the unofficial start of summer. I hope you have some nice plans for the "lazy, hazy days" ahead. Before summer even starts, I know it will pass all too quickly which, of course, is true for life itself.
Disclosure: None