Introduction:
Apple (NASDAQ:AAPL) has been receiving large levels of competition from Samsung in recent months. They are currently losing market share to their rivals, and need to do something about it urgently in order to prevent further losses. The iPhone maker appears to have made plans to begin production for the next-generation of its noteworthy device by the end of the second quarter of the year, according to the Wall Street Journal. With production likely to begin in Q2, the company is also rumored to be developing a cheaper version of the iPhone, which could be launched in the second half of the year. The Journal speculates that the cheaper iPhone will be featuring a display near the size of the iPhone 5 but will be using a casing made of a different material. Apple has been getting killed on the street, and a low cost iPhone could certainly be an alibi for the company. At the end of the day, Apple must continue its level of breakthrough innovation in order to remain unseated by Samsung (OTC:SSNLF), Google (NASDAQ:GOOG), or Microsoft (NASDAQ:MSFT).
Breakup of Smartphone Global Market Share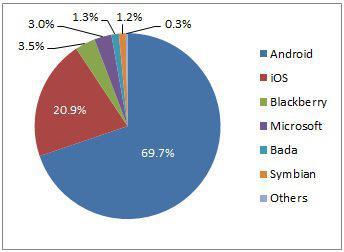 Source: Theanalysthub.com
Apple's Rebuttal To Samsung's Galaxy S4:
Apple's decision to launch its next generation iPhone earlier than scheduled could mean that Apple has chosen to collide with Samsung's recently launched Galaxy S4. Last year, the Galaxy S3 was a huge success for Samsung, as it helped bring in nearly 20 million units of sales in the first three months of launch at a pace that dramatically outran the predecessor device, the S2. With around 33.5 million units sold, the Galaxy S3 impressively sold nearly as much as the iPhone 5 or the 4S did in the last two quarters combined. The remarkable success that Samsung was able to generate with its line of Galaxy S products in an industry that has been dominated by Apple since inception is an important matter of concern for the iPhone maker.
Furthermore, Samsung gave Apple an explicit warning of its product by hosting the S4 launch event for the first time in the U.S., a usual stronghold for Apple. In response to this, Apple may therefore be looking to decrease the upgrade cycle of the iPhone to give Samsung less of a window to steal its market share with the S4. Nevertheless, speeding up the development process of the next generation iPhone will be not be easy, and Apple needs to ensure to not compromise on user experience and satisfaction in order to launch it sooner. To speed up the next generation iPhone's development, Apple will need to release the iOS 7 for developers sooner, or else it also risks launching the iPhone without apps optimized for the latest operating system.
Apple Needs A Cheaper iPhone For Penetrating New Markets:
In terms of the more affordable iPhone, launching one this year will drastically begin to utilize the enormous growth potential of emerging markets where 3G penetration is low and where the regularly priced iPhone is way too expensive without the subsides of carriers. It also will help Apple in its battle with Samsung that has resulted in a lack of choices for Apple's smartphone portfolio to employ an effective marketing strategy and regain smartphone market share that has been lost over the course of past year.
The first quarter of last year ended with Samsung taking a strong lead in the smartphone market, that it has continued to maintain since then. For the full year of 2012, Samsung accounted for over 30% of global smartphone sales, impressively increasing its lead over Apple whose market share has remained unchanged at around 19%. The increase in market share that Samsung has recently attained is predominantly a result of the number of more affordable Android smartphones it has filled both emerging and developed markets with.
A Low Cost iPhone Has Tremendous Success Potential In China:
Apple is currently negotiating with China Mobile (NYSE:CHL) for a deal to expand further into China, but in the event that a deal is not reached, Apple hasn't performed too badly in China so far. Revenues from greater China, including mainland China, Hong Kong and Taiwan, accounted for 15% of Apple's revenues for the fiscal year. This brought Apple's FY 2012 revenues from the region to about $24 billion, growing 80% over FY 2011.
Even though Apple has managed to achieve this through iPhone deals with China Unicom (NYSE:CHU) and China Telecom (NYSE:CHA), it will need the grasp of the world's largest wireless carrier to reach an overwhelming majority of the Chinese populace. China Mobile, with close to an astronomical 700 million mobile subscribers, controls nearly 65% of the Chinese wireless market. A deal between Apple and China Mobile, seems quite probable, but will likely be less lucrative in comparison to deals that Apple has made in the past. Despite having less profitability, the deal would indeed open up necessary opportunities for drastic improvements in unit volumes and demand, something that Apple has recently begun to somewhat lack.
Q2 Earnings Results:
Apple reported solid second-quarter sales and profit that met analyst estimates, while giving a sales forecast for the first quarter that were below expectations. It also announced it would return an extra $55 billion in cash to shareholders as part of an expansion of the capital program it released a year ago. Apple CEO Tim Cook, addressing analysts and investors on an earnings calls today, also said that new products were in the works, including in "exciting new product categories", and that the company would be expanding its distribution. Even so, he didn't give timing for those releases, though his comments suggesting it won't be soon.
"Our teams are hard at work on some amazing new hardware, software and services that we can't wait to introduce this fall and throughout 2014," Cook said.
When asked whether that means no new products before that, Cook said he didn't want to get into specifics.
"We have some really great stuff coming in the fall and across all of 2014."
And while he didn't rule out the idea that Apple might introduce a 5-inch version of its iPhone to tap into the high-end market Samsung and other smartphone makers are mining, Cook said Apple won't compromise on display quality. The iPhone 5, introduced last year, has a 4-inch widescreen, Retina display. Without any new releases on the horizon, many will likely continue to speculate about whether Apple really does have another breakthrough product up its sleeve.
Apple will begin buying back shares under the program this month. It's also raised the amount of its quarterly dividend by 15 percent to $3.05 a share. For the second quarter ended March 30, sales rose to $43.6 billion from $39.2 billion a year ago. Ultimately, earnings for the quarter were at $10.09 a share. Analysts on average were expecting $42.59 billion in sales and profit of $10.07. Second-quarter gross margin was 37.5 percent, at the low-end of the range Apple forecast, as analysts were hoping for 38.5 percent.
Apple sold 37.4 million iPhones, up from 35 million units last year. iPad shipments, helped by demand for the iPad mini, rose to 19.48 million units, up from 11.8 million on in the 2012 second quarter. Sales of the Macintosh computer fell to 3.95 million unit from 4.02 million a year earlier.
The Marginal Implications Of A Cheaper iPhone:
Apple's margins have brought some doubt to investors, as they have lost stability in recent years. The company is willing to do whatever it deems necessary to solve this situation, but hopefully it is not at the expense of the phenomenal customer experience Apple has provided over recent years.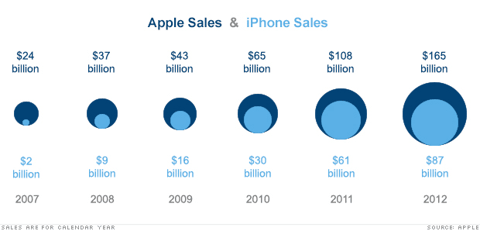 As Apple has evolved, so has the level of revenue that the iPhone generates for the company. Last year, iPhone sales accounted for more than half of Apple's total revenue, which goes to show that Apple needs to continue its level of breakthrough innovation that leaves customers craving their products with a deep lust. If unable to do so, Apple's durable competitive advantage is reduced significantly, as they have no real economic moat other than benefiting from a mild cost advantage and network effect. As such, Apple's potential decision to develop a low cost iPhone remains a great opportunity to recover from the nosedive it has taken in recent months. A study released by Morgan Stanley demonstrated Apple's stock performance in correlation to marginal activity, further illustrating the serious need for Apple to fix its problems regarding constrictions especially in iPhone margins.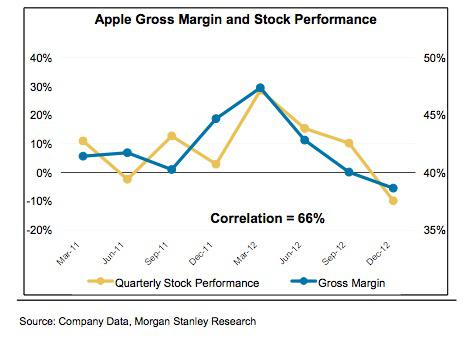 As of now, analysts are expecting the potential device to have an A5 chip, a 5-megapixel rear camera, and five color options of black, white, blue, red, and yellow. Analysts also expect the device to potentially carry a 4-inch retina display.
Granted, Apple's gross margins are exceedingly strong, hovering near 40% over the last two years.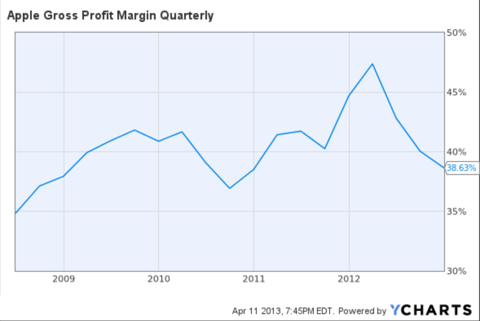 Recently however, gross margins have been on a downtrend, which is a lingering concern over how profitable Apple will be in the long run. Obviously, Apple needs the largest level of marginal protection that it can achieve, in order to prevail over its competitors. It cannot be losing its edge, especially at such an important time. Agreed, the manufacturing costs of Apple's goods will fluctuate and efficiency always has room to improve; however, a product that has greater appeal to wider demographics while costing substantially less to produce will be essential to promoting healthy marginal growth, not restricting it. A cheaper iPhone can fit these needs, as it would likely have a plastic exterior and a less developed electronic system. While Apple uses an A6X chip in its iPhone 5 and aluminum as a casing, a cheaper iPhone would likely have the electronic system of a previous iPhone model. Not only would this drive sustainable gross margin growth, but it would help make Apple's pipeline more versatile and appealing to a wider levels of demographics. Taking into account that a low percentage of the population purchases a new cellular device each year due to economical and practical reasons, a cheaper iPhone allows Apple to market to far more potential customers, subsequently penetrating different international markets.
A marketing tool Apple's competitors have been using against it recently is that both companies have similar products, but that the competitor offers the product at a much more economical price. With the addition of a low-cost iPhone into Apple's pipeline, Apple is also able to collide directly with competitors on this argument, as they could then claim that their own products are economically friendly as well. Apple has also recently announced that there is lacking demand for their products, so what's better to solve a problem such as this one than offering a product with the same level of the "wow" and "cool" factor? The iPhone would certainly appeal to a much wider demographical spectrum, and considering the fact that iPhones comprise just over half of Apple's revenue, a newer introduction in this category would certainly push gross margins forward over time. Lower-income demographics are likely to be intrigued by such offer, and the possibility of purchasing an iPhone for this demographic increases overwhelmingly. Ultimately, no matter what model an iPhone is, it has such a cool reputation, all thanks to the legacy of Apple's strong brand name.
Conclusion:
At the end of the day, Apple has yet to produce the vital signs investors seek, not showing that the company is going about handling its lack of demand and marginal problems effectively. Apple must understand that it needs to compromise for its lack of smartphone innovation over the last year, as it is the segment that drives more than half of the company's revenue. People don't typically buy a new smartphone each year, so Apple begins to lack consumer confidence in its products unless it releases an enhancement so revolutionary that people just can't live without. Unfortunately, that really hasn't been the case recently, as both I and many others note very subtle differences from the iPhone 4S and the iPhone 5. Giving a newer phone an enhanced camera and a faster chip will not gravitatemass amounts of people toward Apple stores. For that to happen however, a groundbreaking product must be unveiled, such as the first generation iPhone or iPad. Apple was able to create something we as consumers never even believed could possibly exist, and we were itching to have their stunning product. To make up for this, an introduction of an iPhone that people from greater percentages of demographics can obtain helps to offset the loss of volumes from a reduced level of "wow" factor. As investors wait for Apple to innovate another mobile device we all thought we couldn't live without, investors cannot continue bearing the sufferings that Apple is causing, as a large piece of the puzzle for solving this mess truly is a cheaper, more affordable, iPhone.
Disclosure: I am long AAPL. I wrote this article myself, and it expresses my own opinions. I am not receiving compensation for it (other than from Seeking Alpha). I have no business relationship with any company whose stock is mentioned in this article.