Textron, Inc. (NYSE:TXT) might not be a household name for many investors, but some of the brand names it manufactures are very well known and very cool. Textron is a leading maker of aircraft, defense and industrial products, and more. This manufacturer of Bell Helicopters and Cessna planes has annual revenues of about $12.2 billion and it employs around 33,000 people around the world. It also owns "E-Z-GO", (golf carts), "Greenlee", (for professional-grade tools and test instruments), "Jacobsen", (turf-care products, including professional turf maintenance equipment and specialized turf care vehicles), "Kautex", (a leading supplier to the automotive industry of windshield and headlamp washer systems, engine camshafts and other products), "Textron Financial", (which provides financing for aviation and other products), and "Textron Systems", (which makes unmanned aircraft systems, advanced marine craft, armored vehicles, intelligent battlefield and surveillance systems, intelligence software solutions, precision smart weapons, and other products).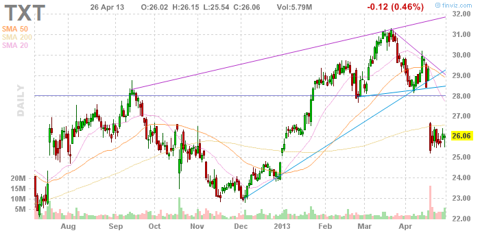 As the chart above shows, Textron shares have been in an uptrend since December and recently traded for about $31 per share. However, after the company announced earnings, the stock experienced a pullback which appears to be a buying opportunity. This stock has a 200-day moving average of about $26.50 and it is trading close to that level now. This is a key support level which means the stock might not have much downside left and in fact, it could even be poised to rebound. After a drop from $31 to current levels, this stock is oversold, and it appears to be a solid long-term holding.
Bell is one of the most famous brands of helicopters and it makes
models for both private and military use. Cessna is also one of the
best-known aviation companies and it makes Citation business jets,
Caravan single-engine utility turboprops, and Cessna single-engine
piston aircraft. While Textron does sell to the U.S. military which
has potentially been impacted from recent budget cuts, it is well
diversified and positioned to take advantage of the growth in private
aviation in both helicopters and business jets.
For the first quarter of 2013, Textron reported earnings from continuing operation of 40 cents per share, which was below consensus estimates of 47 cents. Revenues for the quarter came in at $2.855 billion. The company saw some weakness in demand for business jets, but it had growth in unmanned aircraft systems and weapons. Demand for business jets might have been impacted from all the "fiscal cliff" talk that came at the end of last year and the start of 2013, so it could be picking up since the "fiscal cliff" did not play out. Also, business and private jet travel appears poised for growth in the long-term, especially as emerging market businesses and consumers see more prosperity.
Analysts expect the company to earn about $2 for 2013, and $2.40
per share in 2014. This puts the price to earnings ratio at just 13 times earnings for this year and only around 11 times earnings for 2014. It also has a solid balance sheet with about $701 million in cash and roughly $4 billion in debt. With some of the best known and highest quality brands in the industry, this company should be trading at a higher price to earnings multiple and the long-term growth prospects for this diversified conglomerate remains strong. That's why investors should consider taking advantage of the recent pullback and buy this cheap stock.
Here are some key points for TXT:
Current share price: $26.06
The 52 week range is $21.97 to $31.30
Earnings estimates for 2013: $2.02 per share
Earnings estimates for 2014: $2.40 per share
Annual dividend: 8 cents per share which yields .3%
Data is sourced from Yahoo Finance. No guarantees or representations are made. Hawkinvest is not a registered investment advisor and does not provide specific investment advice. The information is for informational purposes only. You should always consult a financial advisor.
Disclosure: I have no positions in any stocks mentioned, and no plans to initiate any positions within the next 72 hours. I wrote this article myself, and it expresses my own opinions. I am not receiving compensation for it (other than from Seeking Alpha). I have no business relationship with any company whose stock is mentioned in this article.