ETF Spotlight on the iShares High Dividend Equity Fund (NYSEARCA:HDV), part of an ongoing series.
Assets: $3.3 billion.
Objective: The iShares High Dividend Equity Fund tries to reflect the performance of the Morningstar Dividend Yield Focus Index, which tracks a group of U.S. equities that have provided relatively high dividend yields on a consistent basis, and Morningstar screens for company quality and financial health.
Holdings: Top holdings include AT&T (NYSE:T) 9.0%, Pfizer (NYSE:PFE) 7.2%, Microsoft (NASDAQ:MSFT) 7.1%, Johnson & Johnson (NYSE:JNJ) 7.1% and Chevron (NYSE:CVX) 6.5%.
What You Should Know:
BlackRock's iShares sponsors the fund.
HDV has a 0.40% expense ratio.
The ETF has 75 holdings and the top ten make up 62.9% of the overall portfolio.
Holdings are weighted by their share of total dividends paid to investors.
The fund has a 3.22% 12-month yield.
Sector allocations include health care 24.2%, telecom services 17.5%, utilities 14.6%, consumer goods 13.7%, technology 12.5%, oil & gas 6.5%, consumer staples 3.7%, industrials 3.3%, basic materials 2.1% and financials 1.5%.
HDV is up 5.7% over the past month, up 12.4% over the last three months and up 17.1% year-to-date.
The ETF includes qualified dividend payers, so real estate investment trusts and master limited partnerships are excluded.
"Morningstar equity analysts rate firms as having wide, narrow, or no moats; no-moat firms get the boot," according to Morningstar analyst Samuel Lee. "A moat is a structural advantage that allows a firm to reap excess returns on its invested capital. Moats prevent new entrants from overrunning unusually profitable opportunities. Since they realize their advantages over long horizons, markets have tended to underprice them."
The Latest News:
America's two largest companies by market-capitalization, Apple (NASDAQ:AAPL) and Exxon Mobil (NYSE:XOM), have increased dividends, reports Steve Schaefer for Forbes.
Technology stocks have been increasing their dividend payouts.
According to Moody's Investors Service, tech companies are expected to make $44.4 billion in dividend payments over 2013, up 35% year-over-year, reports Steven Russolillo for the Wall Street Journal.
"Tax-inefficient access to overseas liquidity, operational requirements, uncertainties related to the technology sector in general and company-specific strategic considerations will continue to keep payout ratios relatively low," Moody's warned.
iShares High Dividend Equity Fund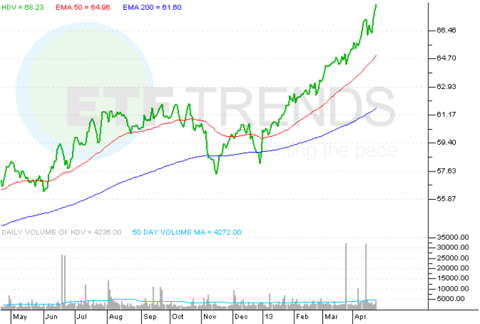 Max Chen contributed to this article.
Disclosure: I have no positions in any stocks mentioned, and no plans to initiate any positions within the next 72 hours. I wrote this article myself, and it expresses my own opinions. I am not receiving compensation for it. I have no business relationship with any company whose stock is mentioned in this article.