Intel (NASDAQ:INTC) and Microsoft (NASDAQ:MSFT) reported earnings results in April that raise concerns about their ability as PC (personal computing) companies to reinvent themselves as leaders in the mobile technology space. Both companies are attempting to play catch-up by pursuing a hybrid approach that does not further cannibalize their declining PC business. Initial attempts to straddle the bridge between the PC and tablet world have not been very successful. It remains to be seen if ultimately this strategy will be effective. Will Intel and Microsoft be able to forge out a market-niche that exploits the best of both PC and mobile technologies or have these companies missed the proverbial mobile boat?
Death of the PC?
Former Morgan Stanley technology analyst Mary Meeker presented an 88 slide presentation on the status of the Internet at Stanford University last December. One technological transformation Mary Meeker highlights is the "re-imagination" of computing devices from desktops and notebooks to tablets and smartphones.
According to IDC, first quarter 2013 global PC shipments suffered their steepest decline since the data was tracked. PC makers shipped 76.3 million units in the first quarter, representing a decline of 14% year-over-year. Gartner is projecting a 7.3% decline in the traditional desktop and laptop category this year to 315 million units. Tablet shipments, by contrast, are expected to grow 69.8% year-over-year to 197 million units. Based on Gartner's projections, sales of tablets will outpace those of PCs by 2017.

There had been hope that the introduction of Microsoft's new Windows 8 operating system would help invigorate the PC market, but it has received a lackluster reception. Through the end of March, Windows 8 commands only 3.1% of the PC market. By contrast, Windows 7, after 5 months of public availability, had already captured 10.5% of the market.

One key factor driving the adoption of tablets is their lower price. A predicted surge of smaller, lower priced devices in the tablet market has caused IDC to increase its 2013 forecast for the worldwide tablet market.
But there is also a so-called "halo effect" being created by smartphones which is also helping fuel tablet adoption. Users are familiar with mobile apps and are familiar with mobile operating systems. One perfect example of this is in developing market countries, where people are moving to computing from the phone, not the desktop PC. According to Gartner analyst Carolina Milanesi, this makes tablets a "more natural upgrade path."
On the other hand, Ted Schadler with Forrester Research predicts that "PC's, like cars and shoes and dishwashers, are here to stay." One of his key arguments is that people want the "best tool for the job." Making a spreadsheet, writing a blog and creating a presentation are still easier on a computer than a tablet. His analysis argues:
PCs don't go away, but the replacement cycle is longer
There is no post-PC era, just a multi-device, "right tool for the job" era
The multi-device era will be very competitive and not all players will survive the shift
Computers are not going away, they will just get better, be connected to more things, more agile in being the "right tool for the job," and better integrated with the other devices in your life
Intel
Intel management admits that they did indeed miss the boat on the mobile device chip trend. They are now trying to play catch-up with competitors such as Qualcomm (NASDAQ:QCOM), Nvidia (NVDA) and ARM (NASDAQ:ARMH). ARM's microchip designs are found in 95% of the world's smartphones and tablets.
Intel hopes to gain traction with the release of its new 22nm mobile chip design this summer which will incorporate 4G-LTE capabilities. These quad-core, 22nm chips, code-named Haswell, will offer longer battery life and improved graphics capabilities. Intel is pushing the idea of hybrid notebook/tablet devices. Haswell's "North Cape" prototype has a full HD detachable touchscreen display and performs a screen size switch for tablet mode.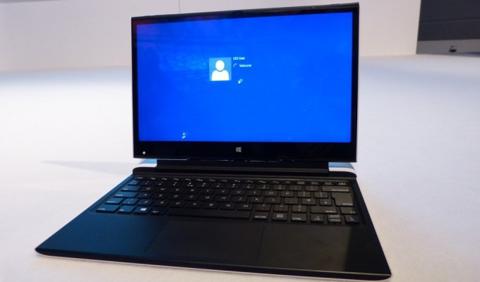 Intel reported EPS in-line at $0.40 per share on revenue of $12.59 billion which was also in-line with consensus. The company also reaffirmed low single digit FY13 revenue growth and gross margins of 58%. PC revenue declined 6.6% sequentially and was down 6% year/year. Many analysts do not expect Intel to make meaningful progress in either handsets or tablets in the near future and are sitting on the sidelines ahead of the Haswell launch. Potential gains in mobile have not really been factored into estimates, so any successes in mobile would provide upside opportunity.
Microsoft
Several manufacturers (Microsoft, ASUS, Dell, HP, Lenovo, Samsung) have launched Windows 8 combo tablet-laptops or "convertibles" which combine touch screens with full size keyboards, promising the best of both worlds. Microsoft's offerings, the Surface RT and Surface Pro, have encountered poor consumer reception, selling only a little over 1.5 million Surface devices to date, which was much less than projections. One thing hampering the Surface's appeal is the lack of apps. There are much fewer than for Apple or Android tablet devices. Nvidia's CEO cited the absence of key Microsoft software on the Surface, such as Outlook, as one of the reasons for the Surface's low sales.
Microsoft has already somewhat conceded that Windows 8 has been less than a glowing success and promises its next-generation OS, dubbed Windows Blue, will address some of Windows 8's shortcomings. Microsoft CFO Peter Klein, who is stepping down in June, stated the obvious about Windows 8 when he said "the best is yet to come."
In fact, it is rumored that Microsoft may be planning a big Windows 8 u-turn, allowing users to bypass the much hated Start Screen and bring back the much-loved Start Button. Lenovo and Samsung have already released Start Button replacements for Windows 8. Privately, some OEM manufacturers accuse Microsoft of "destroying the PC industry and handing millions of customers over to Apple."
Microsoft reported 3Q earnings of $0.72 per share which was $.05 better than the Capital IQ consensus. Revenues increased 17.7% year/year to $20.49 billion, which was light of the $20.51 billion consensus. Analyst response to the quarter was mixed. The results continue to raise concerns about the environment for PCs and the slow uptake for mobile devices such as Windows phone and Surface tablets. Although the Street recognized the weakness in Windows sales, some were upbeat regarding the results for the enterprise business, Server and Tools, Business Division, as an offset.
Conclusion
Whether or not Intel and Microsoft will be able to transform themselves into mobile companies remains to be seen. It is pretty clear that mobile devices are here to stay. Both Intel and Microsoft have tons of cash on their balance sheets which could ultimately fund this effort either organically or via acquisition. But only time will tell if these tech bellwethers can regain their past glory, or if they will be permanently supplanted by the mobile bellwether companies of the future.
Disclaimer
The opinions expressed above should not be construed as investment advice. This article is not tailored to specific investment objectives. Reliance on this information for the purpose of buying the securities to which this information relates may expose a person to significant risk. The information contained in this article is not intended to make any offer, inducement, invitation or commitment to purchase, subscribe to, provide or sell any securities, service or product or to provide any recommendations on which one should rely for financial, securities, investment or other advice or to take any decision. Readers are encouraged to seek individual advice from their personal, financial, legal and other advisers before making any investment or financial decisions or purchasing any financial, securities or investment related service or product.
Information provided, whether charts or any other statements regarding market, real estate or other financial information, is obtained from sources, which we and our suppliers believe reliable, but we do not warrant or guarantee the timeliness or accuracy of this information. Nothing in this article should be interpreted to state or imply that past results are an indication of future performance.
Disclosure: I am long AAPL, ARMH, QCOM. I wrote this article myself, and it expresses my own opinions. I am not receiving compensation for it (other than from Seeking Alpha). I have no business relationship with any company whose stock is mentioned in this article.