Lately there has been a lot of talk about defensive sectors such as consumer packaged goods being "overvalued" and "over-owned." In March, I myself wrote an article highlighting limited upside and plenty of downside for defensive names. The conclusion of that article was that defensive names had more downside risk than up, but that it was also possible the run-up in their prices was part of a larger recovery of these stocks to their historical valuations.
Beginning in 2007 and 2008, many brand-name packaged goods companies fell well below their historical Price/Earnings (PE) ratios and did not stop dropping until they hit their "Fair Value," often times slipping below Fair Value.
And until recently, these well known companies have been trading well below the PE ratios they normally fetch. That seems to be quickly ending. Sure, a 25% gain for a steady company like Procter & Gamble, in under one year, may seem staggering at first glance. However, when we consider where it was coming from, the move does make more sense. Similarly, 30% price appreciation in under one year for a company like Campbell Soup may lead many to scream "overvalued!" In fact it may just be recovering to its normal valuation.
This article is going to focus on some of the best consumer packaged goods companies that grow their dividends consistently. Here is what all the below packaged goods companies have in common: during the Great Recession they dropped well below historical valuations and traded at or even below their intrinsic "Fair value." This trend continued until about mid 2012 when they finally began recovering to historical P/E multiples.
Terminology: What Is "Fair Value?"
In determining "Fair Value," this article will use F.A.S.T. Graphs, which in my experience is the most convenient way to look at fundamental valuations. In this article, we will consider a combination of two ratios. First is the PEG Ratio, which is the Price / Earnings ratio divided by growth. This number is often used to value higher growth companies.
For companies with slow growth to no growth, this article will use the "Graham Number" to determine Fair Value:

Where V stands for the stock's value, EPS stands for Earnings Per Share and "g" stands for reasonable growth expectations for the next seven to 10 years.
For companies with some growth, Fair Value will be determined by both the PEG Ratio and Graham Number. For companies with less growth, we will consider only the Graham Number in determining Fair Value. In the below graphs, Fair Value will be shown as a green space bounded by a solid orange line. Historical P/E ratios will be a solid blue line.
Colgate-Palmolive (NYSE:CL)
Our first stock, Colgate-Palmolive, is a consumer products company
operating in oral, personal and home care and also has a pet care business. It is best known for Colgate, the leading brand of toothpaste, mouthwash and dental floss. In addition to dental hygiene, it also provides well-known personal care products such as Palmolive, Irish Spring, Lady Speed Stick and Sanex deodorants.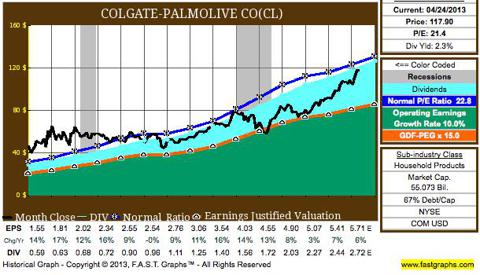 Well above its orange line, at first glance it may look like Colgate is overvalued. However, it was only up until the "Great Recession" that Colgate began trading according to its "Fair Value." Before that, it traded along its historic Price/Earnings ratio. What may look like an overextended run for Colgate over the past two years is actually the company returning to how the market valued it before the Great Recession.
Reversions to the mean involve sometimes going over the mean. Will this be the case with Colgate? Possibly. A continued run into the mid $130s would signify a reversion above the mean. At that price I would seriously consider selling. At a current price of $117, the "easy money" has already been made.
On the other hand, Colgate does have some ways to go before it hits P/E resistance. The company's increasing dividend is in demand, as is the characteristic of a stable and growing name brand business. There is still some upside here.
Clorox (NYSE:CLX)
Clorox is a maker and seller of brand name consumer and professional

products. Some of its brand names include the namesake bleach and cleaning products, Clorox Healthcare, HealthLink, Green Works, Pine-Sol, Fresh Step cat litter, Glad bags, Kingsford charcoal, Hidden Valley and K C Masterpiece dressings and sauces, Brita water-filtration products, and Burt's Bees natural personal care products.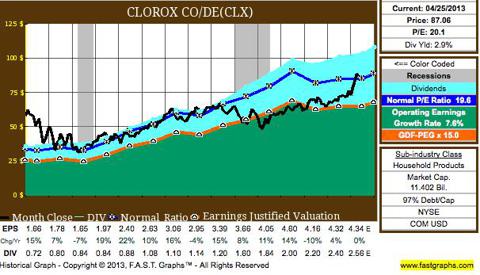 Recent price action here is similar to Colgate's. In 2007 Clorox diverged from its normal P/E and began trading according to Fair Value. It wasn't until 2012 that Clorox returned to its normal P/E as a means of valuation. Unlike Colgate, Clorox has already reached its normal P/E ratio and is now slightly above it. That's not to say that Clorox is overvalued. By its historical valuation, Clorox has simply hit its normal price.
So the question becomes: will the historical Price to Earnings act as resistance or as a floor? Time will tell. But one thing is for sure, Clorox is a recognized brand name, which has grown its dividend and cash flow steadily. Its current yield of 2.9% is decent and the dividend growth behind it will continue to attract income investors. Because of this, there is no reason to think Colgate cannot maintain this P/E multiple.
Campbell Soup (NYSE:CPB)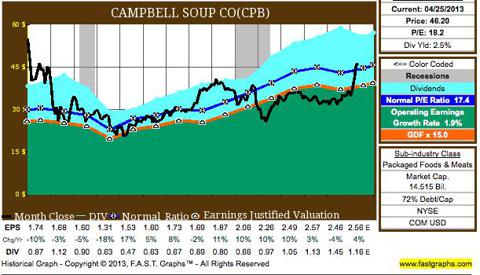 Campbell Soup Company is a maker and seller of branded convenience

food products. The most well known is its namesake soup.
The Campbell graph looks a lot like Clorox's. The stock's sudden jump from Fair Value up to Historical P/E has given patient investors a nice capital gain in addition to the healthy, growing dividend. While now may be the time to be cautious on Campbell, the company has traded well above normal P/E before and could do so again.
Time will tell weather or not the historical P/E acts as some kind of fundamental support for the stock. If Campbell can continue to grow its dividend, I believe historical P/E can act as fundamental support.
General Mills (NYSE:GIS)
General Mills is a producer and seller of branded consumer foods sold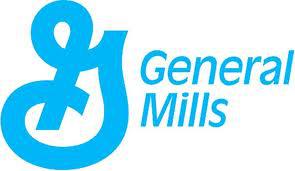 through retail stores. The company markets its food in more than 100 countries. In addition, the company sells ready-to-eat cereals through its Cereal Partners Worldwide joint venture. In February 2012, General Mills acquired Food Should Taste Good, a natural snack foods company based in Needham Heights, Mass. In 2012, it acquired a 51% interest in Yoplait S.A.S. and a 50% interest in Yoplait Marques S.A.S. In August 2012, it acquired Yoki Alimentos SA.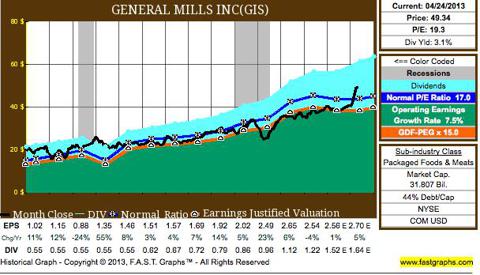 General Mills is an example of a packaged goods company now trading above its historical P/E ratio. This higher stock price is supported by its most recent, double-digit dividend increase. So this might be well-deserved. There's still no doubt that this iconic brand is fully priced, however. If General Mills can continue growing earnings and dividends above inflation, the blue line could be new support. We will see.
Even if the stock is entering a new bull phase with historic P/E acting as support, General Mills is moderately overvalued here. How low the stock goes on a pullback will be a telling sign.
Kimberly-Clark (NYSE:KMB)
Kimberly-Clark makes and sells a range of products made from natural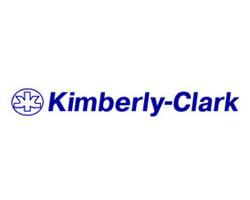 or synthetic fibers. Its products are brand names such as Kleenex, Scott, Huggies, Pull-Ups, Kotex and Depend. Kimberly-Clark is a global company, selling products in most countries around the world.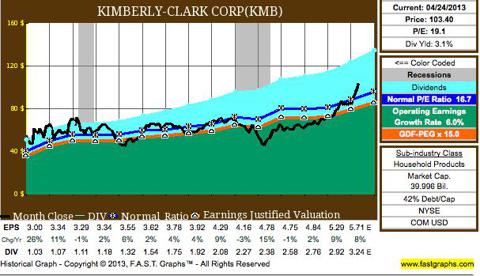 Kimberly's chart should be an encouraging one to those heavy on consumer packaged goods companies. It now trades well above even its historical P/E ratio. While this is a bullish sign for the whole sector (could Clorox, Colgate and Campbell follow?), Kimberly Clark also looks somewhat overvalued and due for a pullback here. The stock has not sustained itself well above its own historical P/E ratio. Therefore, Kimberly is not a stock you should buy right at these levels. Its most recent dividend increase was quite good, however, and if it can maintain this pace I believe the stock will continue higher in the long run.
PepsiCo (NYSE:PEP)
PepsiCo is a global food and beverage company. It makes and sells a
range of salty, convenient, sweet and grain-based snacks, carbonated and non-carbonated beverages, dairy products and other foods. In December 2010, the company acquired a majority stake in Russian food and beverage company Wimm-Bill-Dann.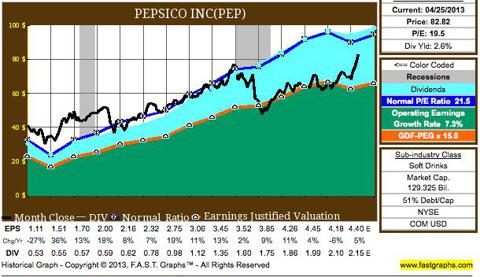 Of all the companies highlighted here, PepsiCo is the one with the most fundamental room to run. Like the other packaged goods companies, PepsiCo has seen its stock price jump as of late. But unlike the others, it is not yet close to its historical P/E multiple, around where it has tightly traded until 2008. PepsiCo still has some catching up to do: at its average P/E multiple the price would be the mid 90s.
One reason PepsiCo is not there now may be due to slower dividend increases than other companies here. This year PepsiCo raised its dividend between 5 and 6 percent, a notch less than the others. Here, we can see the true premium coming with dividend growth; or the lack thereof for companies that don't. But in this environment, I still believe PepsiCo will get there.
Procter & Gamble (NYSE:PG)
Procter & Gamble is focused on providing consumer packaged goods.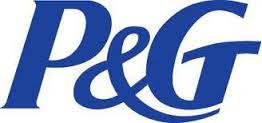 The company's products are sold in more than 180 countries. Some of its brand names include Crest, Gillette, Head & Shoulders, Olay, Old Spice, Scope, Bounce, Bounty, Charmin, Duracell, Iams, Pampers, Tide and Vicks.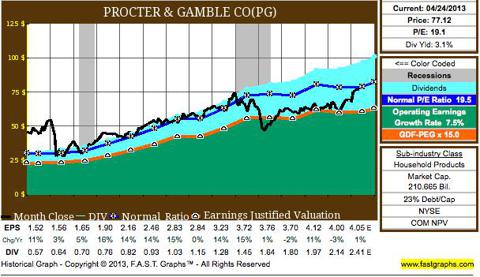 Procter has just about recovered to its historical P/E ratio. The stock could continue rising like Kimberly Clark and General Mills. Right now it is hard to say. Like the other consumer packaged goods names, however, I believe this move to historical P/E is a long-term one. Investors will continue to buy and hold Procter for the slowly but steadily increasing dividend and earnings.
Dividend growers are in demand, and so the new valuations do make sense. I believe this shift represents a long-term move into companies that are stable yet grow dividends faster than inflation. With its most recent 7% dividend increase, Procter certainly fits this criteria. A bull market trend for packaged goods companies would mean they will not only return to historical norms but could also fetch a premium for the next several years.
Conclusion
Defensive sectors such as packaged goods have been on a tear lately. There's no doubt that the gains for these slow-and-steady companies have been anything but slow-and-steady. But before we chalk these moves up to "irrational exuberance" and declare "a bubble," consider the structural changes going on.
There are a large number of people on the cusp of retiring in the United States and many other Western countries. Many of them really need income. Most of them will not find what they need in bonds, where 10-year U.S. Treasuries are well below 2%. What these folks need is safe income and payout growth, which can at least match inflation. And that's exactly what all these world-class companies provide. Therefore, it makes sense that they at least trade at their historical P/E multiples, and perhaps even a premium.
Going Forward
What we are seeing, I now believe, is a structural shift that will last for a while. Personally, I wish I had bought more of these when they were still cheap. A number of these stocks are due for a pullback, and when they do, where they bottom out will be a telling signal.
It is true that these companies have all benefited from raw commodity costs dropping recently; the lower input costs are boosting their profits. A rise in commodity costs, conversely, could cause some negative sentiment and a drop in prices, just like it did in 2011 and early 2012. If any significant pullback comes around, especially if these stocks drop meaningfully below their historical P/E multiples, I will be there as a buyer.
Stay Tuned
I have previous written articles mentioning a number of these stocks and have singularly focused in on a few, as well. In the future, I will be making updates when material and relevant.
Disclosure: I am long CL, PEP. I wrote this article myself, and it expresses my own opinions. I am not receiving compensation for it (other than from Seeking Alpha). I have no business relationship with any company whose stock is mentioned in this article.