By Sumit Roy
Even as other oil benchmarks decline, WTI is up for the year.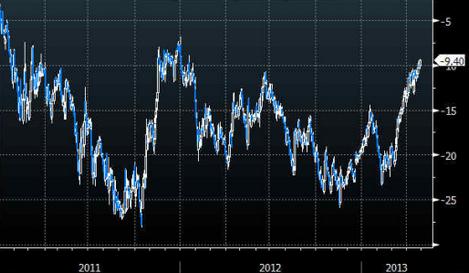 Although global oil prices are down between 5% and 10% since the start of the year, the widely followed West Texas Intermediate (WTI) is actually higher in the period. In turn, we've seen a narrowing of the spread between WTI and other crudes. The most popular spread, the one between Brent and WTI, fell below $9.50 today for the first time since January 2012.
WTI's outperformance stems from speculation that new pipeline and rail takeaway capacity from the Midwest will alleviate the glut of oil in the region. While stockpiles of oil at Cushing, Okla., and the broader Midwest region remain high currently, most analysts believe new pipelines will drain the excess by the end of the year. That would push the WTI discount to as low as $5.
The most notable upcoming pipeline expansion is the Gulf Coast Pipeline Project. This will initially ship 700,000 barrels per day of crude from Cushing to the Texas Gulf Coast, starting either in Q3 or Q4 of this year.