The recent run up in oil prices to near $60 per barrel is both surprising and concerning to me. While oil pulled back some last week, it still trades in the $55-$60 range. It is dangerous to make a near term directional call on oil prices. Doing such is more speculation than investment. However, the latest report called the Short Term Energy Outlook (STEO) released last week by the U.S. Department of Energy (DOE) paints a picture of falling demand, stabilizing production, and building inventories. To me, the data compellingly supports a correction in oil prices in the coming months. Even $55/barrel oil is high in the presence of falling demand despite all the talk of "green shoots" in the economy.
There are a few basic arguments supporting the rise in oil prices:
U.S. deficit spending & Federal Reserve policies are flooding the world with dollars, devaluing the currency which will ultimately lead to inflation.
Low oil prices cause new drilling projects to be delayed or cancelled, ultimately shutting in capacity.
OPEC has been steadily reducing capacity to bring supply in line with demand.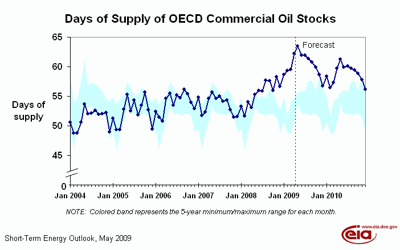 In the long term, these may all be true. However they each play out over very different timeframes. For example, decisions to drill new wells and bring new production online can take multiple years to carryout. It is true that the U.S. Treasury is issuing debt at an astounding rate but even the most recent numbers last week indicate that inflation is at zero. Some day, all this money will flow through to the economy and spark inflation. In the meantime the world is awash with excess oil.
The above chart from the DOE STEO report shows stocks of crude oil inventories to be far outside normal range in terms of number of days supply. The total inventories in the OECD (industrialized countries) has not been this high since the mid 1980s.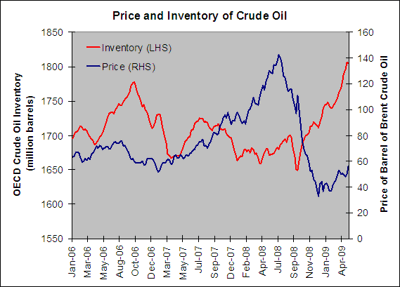 Rising oil inventories were understandable in the face of falling prices and/or falling supply. However, it is not so logical in the face of increasing prices which has been the case since the beginning of 2009. The most recent spike in inventories near this level was the fall of 2006. At that time crude oil prices corrected more than 20% from their Aug '06 high above $75/barrel.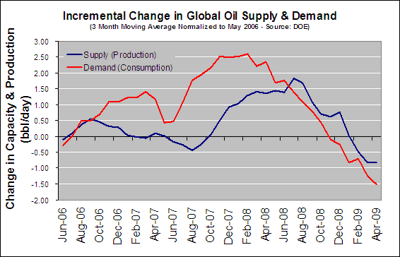 The summer of 2006 was the last time that global oil supply (production) and demand (consumption) was roughly in line at just over 84 million bbl/day each. The period that followed (shown below) was a consistent period of demand outstripping supply due to global growth. This gap in supply launched a run up in price for crude oil that lasted until July 2008, about the time supply caught up to demand.
Supply stabilizing but demand is still falling. The cross over point in mid 2008 was reached partially because of increased supply but also because U.S. demand consumption, which had peaked in December 2007, began a decline that has yet to cease. Since that period, the world has been in a steady decline as one region after another throughout 2008 peaked in their consumption of energy. Supply has been curtailed, mostly by OPEC output cuts but demand has continued to fall faster.
As reported last week, OPEC supply is no longer falling yet the demand outlook from the International Energy Agency continues to weaken. Oil producers once before tried to hold production constant last November in the face of falling demand and rising inventories. What followed was a sharp drop in crude oil prices from the low $50/bbl range to a recent low of $32/bbl in the final week of the year.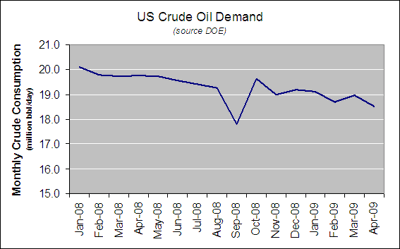 U.S. energy demand is still declining. The chart above shows that U.S. consumption of oil is still declining. The same is true for most industrialized nations. The sharp drop last September was followed by a recovery in October leading to a view of stabilizing demand through December. However, the view of the first four months of 2009 paints a picture of continued decline.
As shown in the first graph, the DOE forecasts inventories will drop starting in June. Whether this is believable depends on whether they are forecasting the correction to be driven by a decrease in supply or an increase in demand. If the correction is predicated on an increase in demand, where is it from?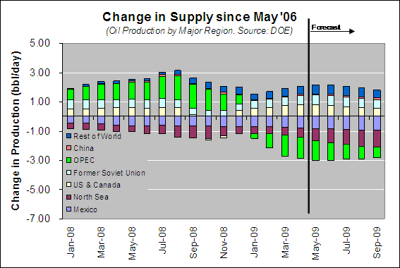 A look at the supply side of the equation (graph above) shows few surprises. Since the middle of last year OPEC countries (mostly Saudi Arabia) has gone from providing excess capacity in 2008 to reducing capacity this year. Going forward though, this OPEC reduction is expected to moderate. Additionally, the argument that low prices have caused producers around the world to stop producing has yet to be validated. Production tin the U.S. and the former Soviet countries is on the rise. Only in Mexico and the North Sea is production presently in decline.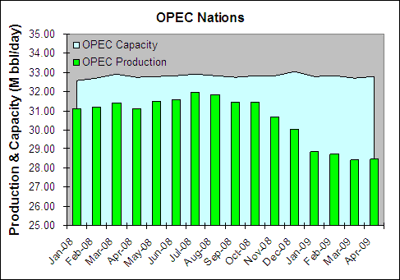 It is plausible that Mexico and the North Sea are suffering from reduced capacity but the same is not true for OPEC. The data as tracked by the U.S. Energy Department show that, while the OPEC production has been reduced by three million barrels per day, the production capacity remains intact to soak up demand when it returns.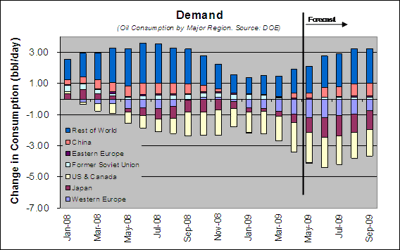 It turns out that the DOE forecast of a near term inventory correction driven primarily by demand growth returning as early as June. The demand growth would be driven only a small amount by China (which is happening) but rather improvements in Western Europe (less plausible) and a return to robust demand in rest of world. Asia other than Japan and China is holding up well but is it healthy enough to provide demand growth that is twice that of stimulus-driven China?
So, if not demand, what is behind the recent run up in prices? We are, in the form of mutual funds and ETFs. Investors have been heading back into commodities (particularly oil and gold) since March when the Federal Reserve began quantitative easing and the U.S. Administration began describing trillion dollar deficits for the next decade. However, unlike gold funds that often buy bullion and physically store it, index funds place bets through futures contracts but that must be closed out before taking delivery. Stories abound of oil stored at sea by the tanker load but more often than not traders and funds cancel out of contracts about a month ahead of delivery.
According to a recent study by the CME Group of dynamics of various trader groups on commodities markets, index funds tended to enter the market 75 days prior, exit 25 days prior. Then contracts are rolled over to the next month. Eventually, though, this can have the effect of bringing too much oil to market and, if OPEC has stopped reducing production, a price correction is the only way to remedy this.
Therefore last Friday, I took a short position in oil. There are a number of ways to do so. About as many ETFs in the energy space bet on declines as bet on oil price increases. These include PowerShares Crude Oil Short ETN (NYSEARCA:SZO), PowerShares Crude Oil Double Short ETN (NYSEARCA:DTO), and Direxion Daily Energy Bear 3X Shares (NYSEARCA:ERY). These have single, double, and triple leverage respectively. In my case, I took a slightly different tack by buying at the money puts of double long ETF: Proshares Ultra Crude Oil ETF (NYSEARCA:UCO).
The reason for this position is that leveraged and inverse ETFs erode in price over time due to their mechanics of daily rebalancing. Thus, by buying the puts on a long ETF, I am taking a short position on both near term oil prices and the construction of leveraged ETFs. Please see this article on the issues with leveraged ETFs.
I don't describe this short term trading position in detail because I am vain enough to believe people following suit will help my position. I am quite clear I don't reach enough folks for that to happen. I do, however, believe that the analysis can be helpful as it shows: 1) fundamentals suggest oil prices will head lower in the near term, and 2) hedges against inflation are difficult to get just right. ETFs are useful but they have their problem over a longer period. The switch from governments fighting deflation to fighting inflation could happen this year or maybe not until late next year. Long term I am bullish on oil (and other commodities) but only when there is evidence that demand is increasing, or at least no longer falling.
Disclosure: Short oil through put options (UCOSI) on the Proshares Ultra Crude Oil ETF (UCO).