Kansas-based Sprint Nextel Corporation (NYSE:S) reported first quarter earnings last week. Sprint, the third-largest U.S. wireless carrier, reported a narrower net loss on flat revenue compared to the year-ago quarter. Sprint is losing wireless subscribers while its shareholders assess proposals from Dish Network Corp. (NASDAQ:DISH) and Tokyo-based SoftBank Corp. (OTCPK:SFTBF).
With the recent increase in share price and these M&A proposals, investors are wondering what to do with shares of the stock. In this article we will address that question by analyzing some of the M&A proposals and comparing the key metrics and key credit ratios of Sprint and its peer firms, AT&T (NYSE:T) and Verizon (NYSE:VZ).
Personally, I believe that if I made a speculative investment in Sprint, I would be locking in profit; this is because I think that the SoftBank deal will close. Also, I would have bought it around $2 per share and/or around $5.50 per share; consequently, at over $7 per share, I would have generated a large enough return on investment. However, some investors might disagree with me.
To begin, let's analyze some of the M&A proposals:
Sprint, SoftBank, DISH & Clearwire
SoftBank is proposing a cash and stock deal for Sprint.
DISH is also proposing a deal to acquire Sprint.
Sprint is attempting to purchase the remaining outstanding portion of Clearwire Corp. (CLWR).
The Sprint and SoftBank deal should close, as should the Clearwire and Sprint deal.
Sprint formed a Special Committee of independent directors to review and carefully evaluate the proposal received from DISH and whether it is likely to lead to a Superior Offer.
Sprint's board of directors approved the SoftBank Merger agreement; the deal will be discussed at the June 12, 2013 shareholder meeting. SoftBank has experience taking market share from larger competitors in mature markets and the "New Sprint" would be financially stronger.
Sprint's management thinks the Clearwire deal will close. However, while there probably are some synergies from the Clearwire deal that would be accretive to Sprint's operations, it isn't a long-term solution to Sprint's woes.
The SoftBank deal should lead to Sprint benefiting from economies of scale while the DISH deal increases DISH's scope. Sprint's investors should prefer the SoftBank proposal as it is likely the better long term strategic option. Also, I favor continued industry consolidation and believe Sprint's Clearwire proposal is the best offer available to Clearwire.
Key Operating Metrics
The key operating metrics, that will be analyzed are total wireless postpaid connections and postpaid ARPU and ARPA.
Verizon (VZ) and AT&T (T) are used for peer company comparisons.
images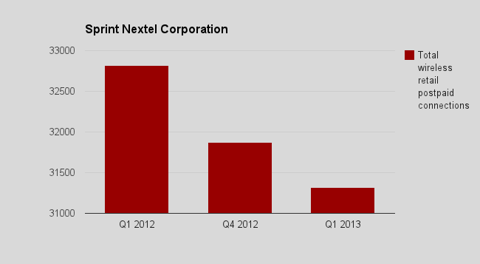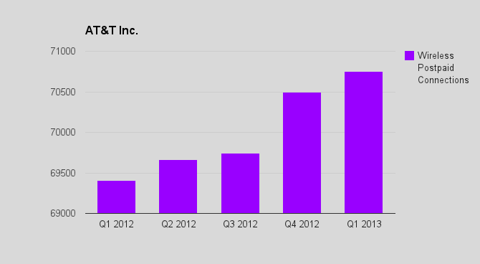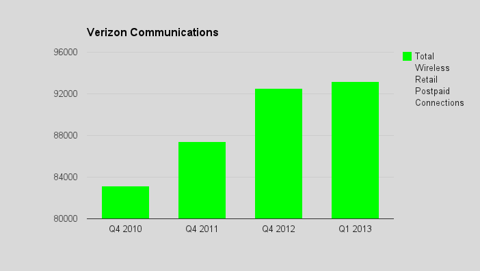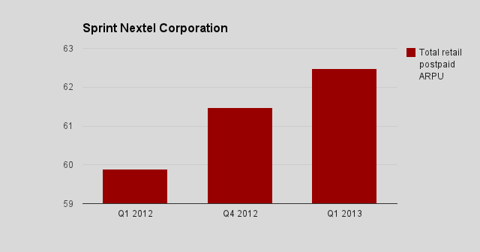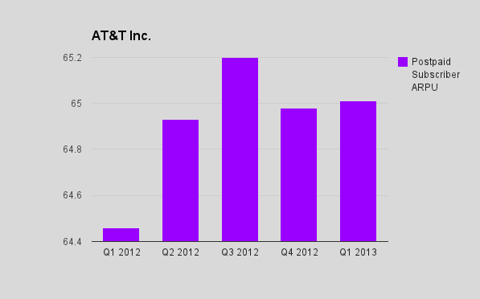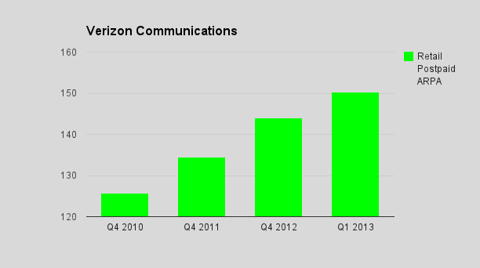 Sprint subscribers are paying prices that are roughly equal to Verizon and AT&T subscribers. Additionally, Sprint is losing customers to AT&T and Verizon. Further, Sprint has fewer subscribers than AT&T and Verizon.
The decline in Sprint's subscriber base is bearish for the share price. I don't see any evidence that Sprint is able to stem the decline. The SoftBank deal may be able to help Sprint compete with AT&T and Verizon, but, for my money, Sprint would have to show me the results.
Credit
The credit ratios that will be examined are financial leverage ratio, current ratio, and debt-to-equity ratio. Again, AT&T and Verizon are the peer company comparisons.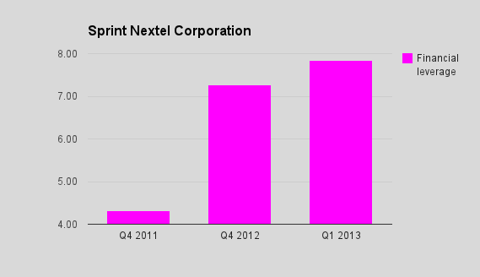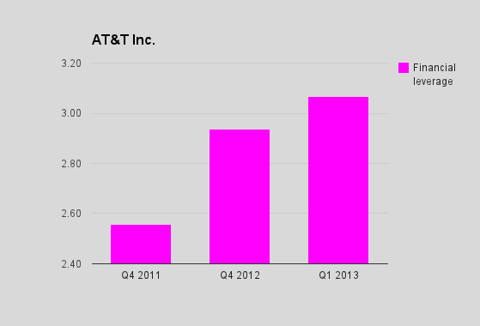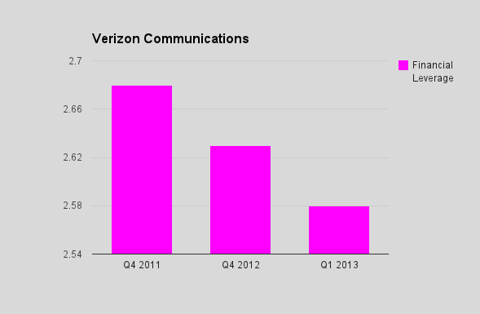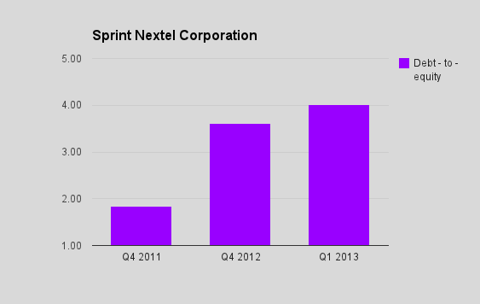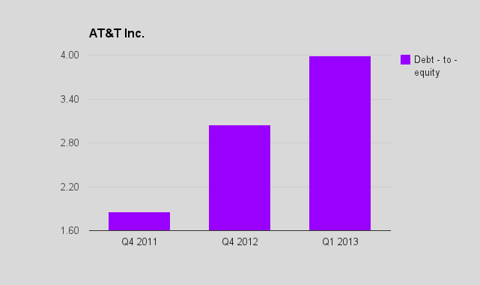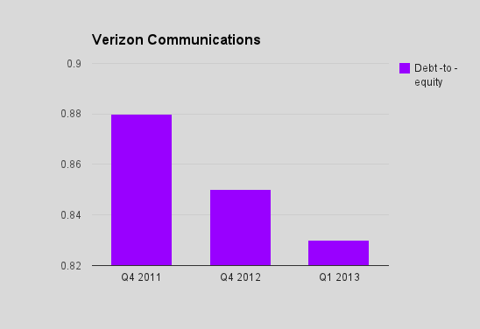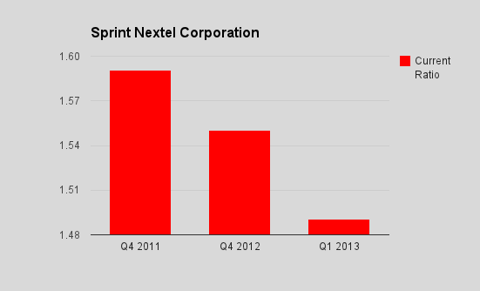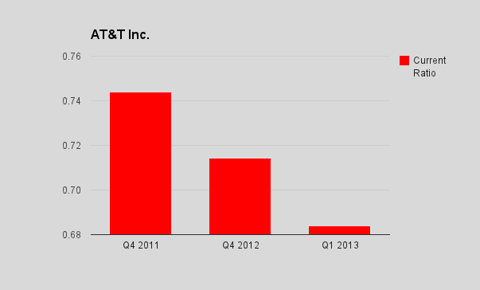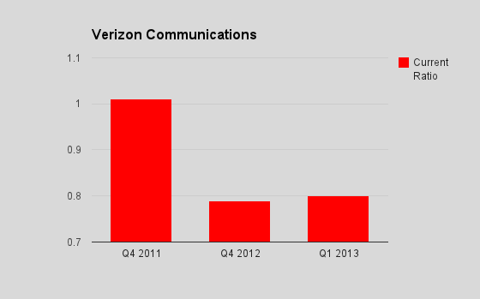 Sprint's financial leverage ratio and AT&T's financial leverage ratio are trending higher. Verizon is the only firm deleveraging. Also, all three firms' liquidity, as measured by the current ratio, is trending lower.
Sprint's financial leverage ratio is too high for me to invest my money in the firm. Also, I don't think Sprint will be able to build its network, compete with the larger rivals, and pay down the debt level. SoftBank or DISH would have to appropriate funds for deleveraging the wireless carrier while continuing to upgrade the network.
Conclusion
I believe that Sprint is a speculative investment. Its share price has risen substantially and the SoftBank proposal could make Sprint a stronger competitor, but I personally would not put new money in and if I were long I would be ringing the register. Sprint has to show me that it can compete in the wireless carrier industry before I invest in its common shares.
Disclosure: I have no positions in any stocks mentioned, and no plans to initiate any positions within the next 72 hours. I wrote this article myself, and it expresses my own opinions. I am not receiving compensation for it (other than from Seeking Alpha). I have no business relationship with any company whose stock is mentioned in this article.