By Cagdas Ozcan
The recent fall of gold provides a good opportunity for first time investors to start investing in gold. It is also possible to benefit from the potential bounce in the gold market by investing in stable gold companies. Yamana Gold (AUY) is among those companies. While there are many gold miners to choose from, Yamana is relatively more stable with healthy financials. Therefore, it is less risky compared to the rest. But despite that it is still important to assess the company's performance. In this article I also analyze its competitive edge and compare it with its peers.
Company profile
Yamana Gold is considered as one of the top gold producers worldwide with a well-diversified asset portfolio. It is also famous for having one of the lowest cash costs and lower cash operations in the industry. For the fiscal year 2012, Yamana remarkably increased its gold production by 20% in a span of 2 years.
The output in 2010 was only 1 million gold equivalent ounces [GEO]. Last year, it was able increase its production to 1.2 million gold equivalent ounces. Yamana is now eyeing further increases in its production at a yearly rate of 1.75 million GEO by 2014. But for this year, it aims to end the fiscal year 2013 with 1.4 million GEO.
Yamana and Its Peers
Three of Yamana's large peers are Barrick Gold (NYSE:ABX), Kinross Gold (NYSE:KGC), and Goldcorp (NYSE:GG). All of these gold stocks were heavily affected by the April 2013 gold crash. All gold shares fell along with the market, making gold more attractive to buyers at the current cheap price level. While there are many ways to invest in gold, Yamana is one of the options with great potential for earnings.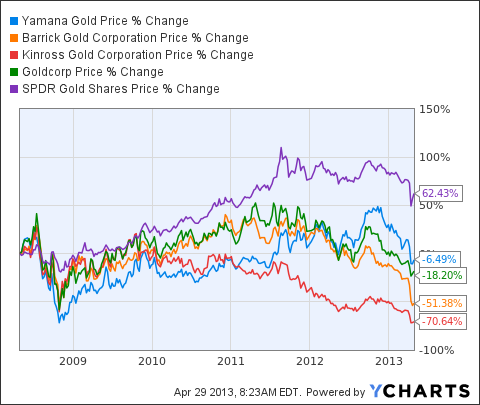 There are many parameters to consider when evaluating the investment viability of this stock. One of them is the share performances during the market fall down. Some stocks fell sharply on April 15 to 17 when the market plunged towards the lowest point in two years. But there are others that made a modest fall.
From the start of the year towards the lowest price point, gold shrank by 16.7%. Yamana contracted more than the market with a return of -31.9%. Barrick lost even more at -50.5%. Meanwhile, Goldcorp and Kinross returned -27.5% and -49.3%, respectively.
While knowing the extent of the fall can help, it is helpful to know how the stocks recovered from the fall. From the lowest price point of the year, gold has rebounded by about 8%. Yamana bounced back more than the market at 12%, while Goldcorps' bounce is only 10%.
Compared to the gold market, Yamana contracted more but the company was also able to rebound higher than the market. Year-to-date growth of Yamana is -28.3%, while gold has a return of -14.3%. Therefore, Yamana did not outperform the market. However, it bested some of the competitors like Barrick. Yamana also performed better than Kinross. Among the 4 gold stocks mentioned, Goldcorp has the least negative growth, followed by Yamana.
In terms of market capitalization, the largest stock is Goldcorp with a market cap of $24 billion. Barrick is second with $19.1 billion market capitalization, while Yamana trailed behind Barrick at $9.3 billion. Kinross, on the other hand, has a market cap of $6.4 billion. Barrick may be bigger than Yamana, but its share performances versus the market and the competitors are not motivating.
Yamaha, on the other hand, performed better than Barrick during the market fall-down. This makes it more reliable and relatively stable compared to Barrick, even if its market capitalization is lower than Barrick. But between Yamana and Goldcorp, the latter is bigger with better performance.
However, Yamana's prices are almost half the price of Goldcorp. Therefore, you will get almost twice the number of Yamana shares compared to the number of Goldcorp shares. This gives you higher chances of getting bigger gains as the stock is more liquid.
Going to the financials, taking a closer look at the net income would be highly beneficial. Goldcorp and Yamana are the only ones that reported net income in 2012 at $1.8 billion and $442 million, respectively. Barrick ended with a net loss of $677 million, while Kinross posted a net loss of $2.013 billion. From an earnings point of view, the choices are now down to Goldcorp and Yamana.
While Goldcorp has a bigger net income than Yamana, its total liabilities are also bigger. Goldcorps's total debt was $8.5 billion at the end of 2012, while Yamana only had $3.4 billion in total liabilities. Nonetheless, Goldcorp still ends up having more stable debt/equity ratio at 3.42. Yamana, on the other hand, has a debt/equity ratio of 9.74. This means that Yamana is more aggressive in its financing. It also means that its potential to make gains is higher, but with higher risk as well.
What Analysts are Recommending
The consensus of many analysts is the same for both Yamana and Goldcorp. Out of 19 analyst firms, 15 advised a buy while 3 recommended a strong buy for Yamana. Only one analyst firm voted for underperform. For Goldcorp, 12 recommended a buy while 4 are strong buy. Just like Yamana, one analyst also voted for underperform.
The gold market today has started to correct. It is projected that the correction will continue towards or even beyond the level where it took the plunge. As the market bounces, so too will Yamana. This creates a good chance for investment in gold amidst a down market.
Disclosure: I have no positions in any stocks mentioned, and no plans to initiate any positions within the next 72 hours.
Business relationship disclosure: Efsinvestment is a team of analysts. This article was written by one of our equity analysts. We did not receive compensation for this article (other than from Seeking Alpha), and we have no business relationship with any company whose stock is mentioned in this article.