This article provides a brief review of the latest trends in the Japanese market. Overall, we expect yen depreciation to continue in the next weeks. There is a strong psychological barrier at the $1/¥100 level, which is constantly being challenged. Unless there is a sudden positive macroeconomic announcement in the next weeks, we believe this barrier will persist.
Macroeconomy
No inflation so far: The biggest announcement last week was the March CPI data release, where the core price index fell 0.5% year to year. Considering that the Bank of Japan has a target of 2% by 2015, the need to at least continue the quantitative easing program at the same pace for the next months is evident.
Early signs of inflation: Although prices continue decreasing, the rate of change is rising, which reflects the short-term effect of Abenomics. The Bank of Japan states:
The three-month rate of change in domestic corporate goods prices (adjusted to exclude the effects of seasonal changes in electricity rates, same hereafter) is rising, reflecting movements in foreign exchange rates.
The following graph depicts this process by showing changes in the Domestic Corporate Goods Price Index from a quarter earlier: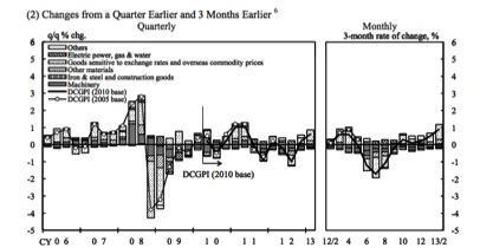 Strong export numbers: Japanese exports increased 1.1% last month, compared with March 2012, beating the Bloomberg consensus of 0.2%. Japan's trade deficit shrunk to ¥362.4B, compared with ¥777.5 B in February.
Consumer Confidence: Japanese consumer confidence set a new 5 year high in mid-April. This is reflected in private consumption, which is increasingly resilient. According to the latest report from the Bank of Japan, consumption of goods rose in January-February, relative to the fourth quarter. The Bank of Japan expects consumer confidence to continue strengthening in the next months. However, the yen has not reacted significantly to improvements in consumer confidence, indicating that traders are mainly focused on news regarding quantitative easing and inflation.
Optimistic Projections: The Bank of Japan announced on the same day that it expects the economy to gradually accelerate to 1.6% growth in the fiscal year that ends in March 2016. However, the optimistic projection was not supported by better-than-expected inflation.
Nikkei 225: Remains bullish, despite the worse-than-expected inflation announcement.
It seems that investors and analysts are aware of the long-term mechanisms set in motion and will be patient, as no early signs of inflation have emerged so far.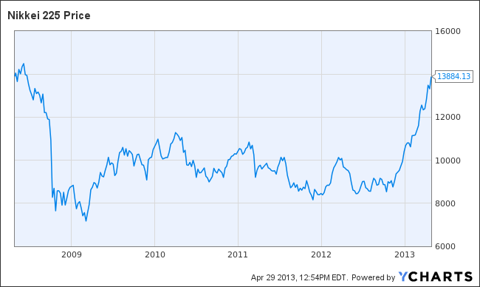 The index has a strong correlation with USD/JPY movements since November last year, and we expect this trend to continue. The inflation announcement last week did not hurt the inflation expectations amongst investors.
Naturally, the biggest Index gainers are export-driven companies: Fast Retailing Co. (OTCPK:FRCOY), Asia's biggest apparel retailer, which is said to be responsible for a sixth of the 49% advance in the last 2 years according to Bloomberg; Toyota (NYSE:TM) Motor Corp (here is a detailed explanation about the firm performance and the yen), Mitsubishi UFJ (NYSE:MTU) Financial Group Inc., Honda Motor Co. (NYSE:HMC), Japan Tobacco Inc. (OTCPK:JAPAF) and NTT DoCoMo Inc. (DCM).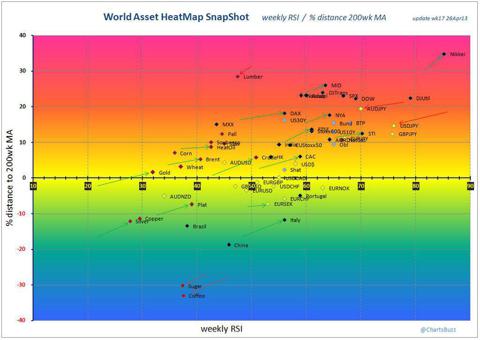 Source: ChartsBuzz pic.twitter.com/ZFgwNNu0u8
USD/JPY
Last week yen depreciation continued, helped by some macroeconomic external events, like speculations in the U.S. regarding the bond purchasing program, European economics (uncertainty in Italy) and weak data from China. The JPY was able to enforce against almost all of its traded counterparts. It advanced 0.5% towards the U.S. dollar, helped by market speculations that the Fed might slow down the bond purchasing program (currently $85 B). The EUR also tumbled 0.4% versus the yen, trading at $1.27.25.
The current market sentiment is bullish and, according to Dukascopy, the majority of technical indicators are sending "buy" signals.
Emerging Pattern: Ascending Triangle.
Early May Summary
Hopefully, we will see more early signs of inflation in the next weeks.

Nikkei 225 Bullish, as inflation expectations remain intact.

Yen depreciation won't stop. Our USD/JPY view is Bullish-Neutral.
Calendar
Day
GMT
Event
Relevance
April 30th
4:00
JPY Vehicle Production (

YoY

) (March)
Low
April 30th
5:00
JPY Annualized Housing Starts
Medium
April 30th
5:00
JPY Housing Starts (YoY)
Low
April 30th
5:00
JPY Construction Orders (YoY)
Low
May 1st
1:30
JPY Labor Cash Earnings (YoY)
Medium
Disclosure: I am long QCOM. I wrote this article myself, and it expresses my own opinions. I am not receiving compensation for it (other than from Seeking Alpha). I have no business relationship with any company whose stock is mentioned in this article.