We've now pushed through the heart of earnings season. Most of the large names have reported, with just a handful of big names left to report. Earnings season can have a large impact on any stock, but it also can have a large impact on short interest. Today, I'm here to cover five names that I believe are at a critical point in terms of short interest. All of these names have seen either a recent rise in short interest, or are close to a yearly high in short interest. My goal here in this article will be to discuss the short-term factors that could greatly change short interest in these names.
Apple (NASDAQ:AAPL):
Apple changed the game for short sellers with its fiscal Q2 report. Yes, while the company beat on both the top and bottom line for Q2, Q3 guidance was dreadful. It was not a surprise to me that Apple guided so low, as I had been detailing a kitchen sink quarter for weeks. Yes, Apple's guidance may have been slightly weaker than I was expecting, but remember, they also beat by $1 billion in Q2. That extra billion in revenues during Q2 would have been in my "normal" forecast for Q3. Short sellers were also happy that Apple's gross margin forecast was even weaker than Q2, and Q2 came in at the low end of the range. This really doesn't have much to do with Apple being dead or anything, it's more of a product mix shift. Apple's lower margin products will generate more revenues in fiscal Q3, which will impact margins. When Apple starts releasing new iPhones, margins are expected to pick back up.
But ignore the quarterly numbers for a minute, because the biggest news was that Apple more than doubled its cash return plan. Apple increased its dividend by 15% to a new quarterly payout of $3.05. This stock was yielding about 3% annually when Apple reported, but due to the stock's movement since then, the yield is now 2.84%. It's still much higher than it was two weeks ago, and almost double (it was at 3%) what the yield's low point was when Apple was above $705.
Many investors and analysts were looking for Apple to raise its dividend even more than that, but Apple decided on something else. Apple decided to increase its stock buyback from $10 billion to $60 billion. This $50 billion raise is huge, because Apple's market cap is around $400 billion right now. Apple will be retiring a huge amount of shares, which will help boost the stock and earnings per share. Apple is in the process of issuing debt to pay for some of this, but with interest rates low, it's a great idea for Apple.
In my opinion, Apple's short interest is at a key fork in the road. While the 20.1 million shares short in mid April is a relatively low amount of the 940 million or so shares outstanding, where do we go from here? You might have thought that the shorts would have loved Apple's low Q3 guidance, but as long as Apple launches a full slate of new products later this year, those revenues will come. The key question for shorts is do you want to be short this stock, now with a 15% higher dividend and a massive buyback program behind it? I wouldn't be surprised if short interest pops higher at the next update, but that we go down from there. This is truly a key point in Apple stock history.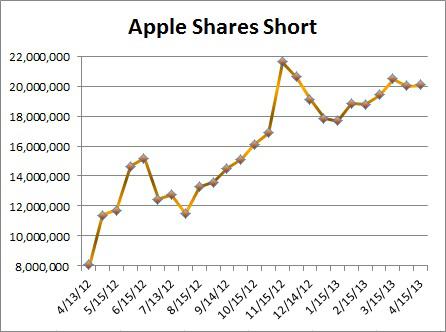 It's also interesting to note that Apple's days to cover ratio continues to increase, which I detailed last time we got short interest data. As you can see from the chart below, the days to cover ratio was above 1.5 at the latest round of data. Unless we get a huge increase in Apple short interest at the next update, the days to cover ratio is likely to come down a little. That's because Apple's volume has picked up since the earnings report, and volume is the denominator on the days to cover ratio. Over the past year, Apple's days to cover ratio has gone from 0.31 to 1.51. While that still represents a small amount of shares short and a small amount of time for all shorts to cover, that's still a great move in percentage terms.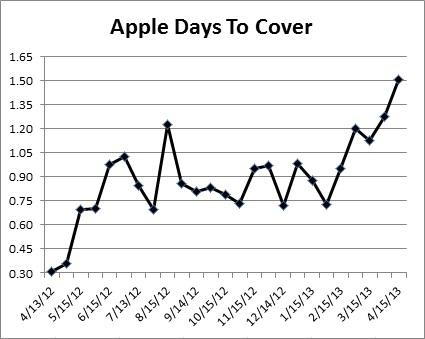 Netflix (NASDAQ:NFLX):
The streaming giant soared past $200 last week as the company's Q1 came in at the high end of the subscriber and revenue range, and earnings blew past estimates. It appears that Netflix's original "House of Cards" is surely bringing in subscribers, and Netflix was actually able to improve margins for once. Q2 guidance was not spectacular, but it wasn't terrible either. Q2 is Netflix's weakest quarter of the year in terms of subscriber adds, but they already launched another original series in April, and are re-launching "Arrested Development" in late May. If Q2 comes in decent and Q3 guidance looks good, it would not be surprising to see this name take another run at $300. That will continue to shock many in this market, but who ever said the market was logical?
That brings us to a critical point in Netflix short interest. After hitting a new yearly low at the end of March, short interest spiked by almost 700,000 shares in the first two weeks of April. That rise of about 9.25% was most likely due to non-believers looking to short Netflix into the earnings report, especially those that thought the 4 billion hours streamed information was meaningless, like myself. I still don't think hours streamed is a strong metric to focus on, because whether a user streams 5 hours a day or 10, they are still paying the same rate. In the end, it's all about subscriber growth.
It would seem logical that right after the Netflix earnings report, a number of shorts were forced to cover, which probably led to the super spike we saw. But with the stock rising back over $220, you can assume a new round of shorts will likely enter the picture. Will we see a new short interest low or is short interest headed higher? The key to that question in the short-term may not have anything to do with Netflix at all. One man has the power to change the entire Netflix picture in an instant, and that is Carl Icahn. With Icahn sitting on huge profits, one must wonder if he will eventually start to lock in some of those gains. I've argued in the past, and I still believe so today, that there is a 10%-15% "Icahn premium" built into this stock. If we find out that Icahn is selling, this stock will certainly drop, and you can expect short interest to rise at that point.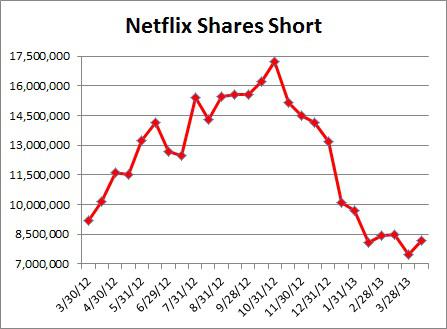 Microsoft (NASDAQ:MSFT):
While everyone agrees that the PC industry is extremely weak right now, you may be surprised to find out that Microsoft is very close to a 52-week high. Microsoft shares are up nearly 24% from their December 5th 2012 low, but it is important to also note that short interest is at a yearly high as well.
When Microsoft announced fiscal Q3 results, the report was okay. It wasn't great, but it wasn't terrible, and that has helped to boost shares. Microsoft missed slightly on revenues, but beat on the bottom line, and reduced fiscal year operating expense guidance, which is good. Shares have continued to go higher after a $2 billion investment from ValueAct Capital.
While PC struggles have definitely hurt, Microsoft is more than just Windows and Office. The company will be launching its new version of the Xbox next month, and ValueAct founder Jeffrey Ubben thinks Microsoft can flourish in the hybrid cloud world. Microsoft has also entered the tablet space, and while they are miles behind Apple in terms of unit sales, the tablet space is one where Microsoft can grow.
Like many other large technology names, including two other names in this article, Microsoft short interest has doubled over the past year. Like Apple and the name to follow, the number of shares short represents a very small percentage of the total number of outstanding shares. However, as more money is pushed into this market, and we continue to hit new highs, a larger portion of the market is becoming bearish. It may not seem like much to see 120 million shares short on a name with over 8 billion shares outstanding, but short interest has doubled. That's something worth watching, and I have Microsoft on this list because of it. Microsoft is now close to its 52-week high, and I'm curious to see at the next update whether the earnings report and ValueAct investment have shorts continuing to pile in, or running for the exits.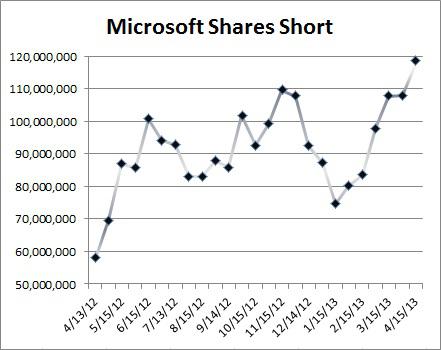 Intel (NASDAQ:INTC):
Another tech name that is off to the races is Intel. The chip giant is making a run at $24, a level not seen since the company's revenue warning in September 2012. Like Microsoft, Intel is up almost 24% since its 52-week low, and short interest is certainly rising. However, Intel's short interest has nearly tripled in the past year. Even with a small decline at the mid April update, Intel's short interest remains very high.
The question in regards to Intel is did the company do enough with its Q1 earnings report to chase away the shorts? Like Microsoft, Intel's quarter was not great, but it wasn't as terrible as many thought it would be. The same was true of Q2 guidance, which was not as bad as feared, and that has sent shares higher. I've long since maintained that like Apple, Intel is a second half of 2013 story in terms of revenue and earnings improvement. The stock is starting to price some of that in, as investors have sent shares up 10% in a month.
I think that the small decline in short interest seen at the mid April update could be a sign of things to come. I would not be surprised to see another decline when we get the next update in a couple of weeks. Intel still has a dividend around 3.8% annually, and that is something that shorts will shy away from. Intel's short interest briefly dipped after the Q4 report, but then rose to a new high as investors digested the weak Q1 guidance. Intel's margins were very weak in Q1, but it expects margins to rebound in the second half. If Intel can just have a decent Q2, these shorts will start to run for cover. Intel doesn't need to do anything great right now, it just needs to not be terrible. That's what happened with the Q1 report and Q2 guidance, and it remains to be seen what impact that will have on short interest.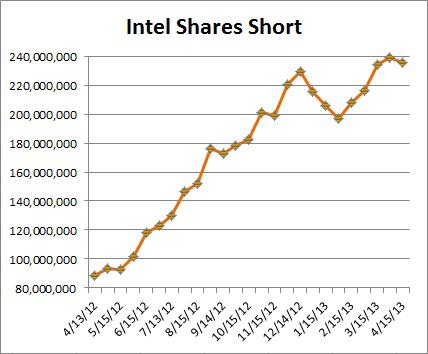 Philip Morris (NYSE:PM):
The cigarette giant saw a pop in short interest prior to its earnings report, which to me seems logical given the stock's rise to new highs. Philip Morris rose to a new high of $96.60, but then pulled back on currency and debt issues. That seemed like a great entry point for investors, and the stock has since risen towards its highs again.
Philip Morris remains a value investor's dream, paying a large dividend and buying back $6 billion in stock per year. That has certainly chased away short sellers for now, but the company has added a lot of debt to return this capital to shareholders. If they continue to borrow, there will likely be some consequences down the road.
It might not seem like much, but short interest in Philip Morris is up more than 57% over the past three months. As you can see from the chart below, this is the highest short interest point in Philip Morris during 2013. I'm guessing that short interest declined a little after the earnings report as short sellers took the opportunity to cover at lower prices. However, I think that short interest will be back on the rise as prices are again going up. If Philip Morris takes a run at $100, expect short interest to rise back towards that 15 million to 20 million level. While that isn't much for a company with more than 1.6 billion shares outstanding, it's a good way to judge sentiment in the stock, and probably will show a pullback is coming.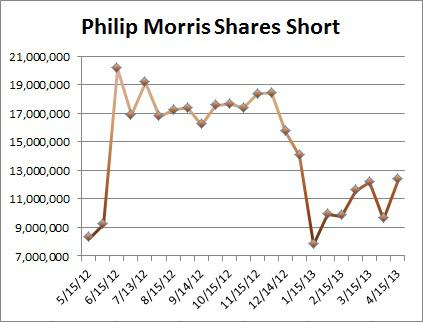 Final Thoughts:
All five of these names are at key pivot points when it comes to short interest. Most of these names have seen short interest jump over the past year, with short interest at or near highs. A couple of these names have recently risen to 52-week highs, and that may account for some of the jump in short interest. All five names have already reported earnings, so those reports will be fully digested soon.
It might not seem like much when a name only has 10 or 20 million shares short against billions of shares outstanding. However, it is important to watch how that short interest is trending. If short interest is rising quickly, it means that investors are getting bearish quickly. For some names, high short interest can turn into a massive short squeeze, and Netflix is a great example of that. I will be eagerly awaiting the next round of short interest in these names, and so should you.
Disclosure: I have no positions in any stocks mentioned, but may initiate a long position in SOXS over the next 72 hours. I wrote this article myself, and it expresses my own opinions. I am not receiving compensation for it (other than from Seeking Alpha). I have no business relationship with any company whose stock is mentioned in this article.
Additional disclosure: Investors are always reminded that before making any investment, you should do your own proper due diligence on any name directly or indirectly mentioned in this article. Investors should also consider seeking advice from a broker or financial adviser before making any investment decisions. Any material in this article should be considered general information, and not relied on as a formal investment recommendation.