On Monday April 29th it was announced that Duke Energy (NYSE:DUK) would be considering various acquisition opportunities in Peru. Peru is one of the many South American countries where energy demand is expected to double within the next decade, and as a result the company feels as though it could be a good breeding ground for possible acquisitions.
According to Duke Energy's General Manager in Peru, Mark Hoffmann, "There are a number of funds that have gone into the sector that are financing facilities and as it is natural for these types of funds to disinvest after a period of time, we are looking for anybody that may be looking to leave the market or to cash out of their investments."
In the wake of the company's search for a potential acquisition within Peru, I wanted to examine several catalysts behind my decision to consider a long-term position in this income producing energy play.
Recent Performance: On Monday, shares of DUK, which currently possess a market cap of $52.81 billion, a P/E ratio of 24.38, a forward P/E ratio of 16.31, and a PEG ratio of 5.85, settled at $75.17/share at the end of the trading day.
Based on its closing price, shares of DUK are trading 2.62% above their 20-day simple moving average, 5.61% above their 50-day simple moving average, and 14.31% above their 200-day simple moving average. These numbers indicate a short-term, mid-term and long-term uptrend for the stock which generally translates into a buying mode for traders.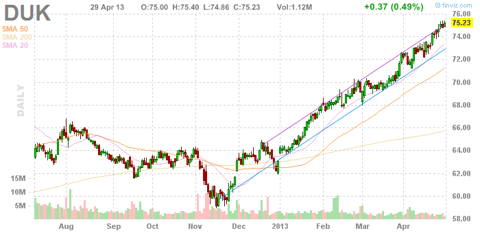 Solar Acquisitions: On Wednesday April 10th it was announced that "Duke Energy (though its subsidiary Duke Energy Renewables) had acquired two commercial solar power projects near Twenty-Nine Palms, California from project developer Solar World. The twin projects, named Highlander Solar 1 and 2, will be run as a single operation and collectively generate 21 megawatts of renewable energy, enough to power more than 4,000 average homes each year." One of the great things about this particular acquisition is the fact that it enhances Duke Energy's portfolio of solar energy resources.
According to Duke Energy Renewables president, Greg Wolf, "Highlander enlarges our footprint in a key U.S. renewable market while delivering affordable, zero-emission solar power to help the state's customers meet their renewable energy goals."
One of the things investors should keep in mind is the fact that with the addition of Highlander, Duke Energy Renewables now owns more than 100 MW of generating capacity at 15 U.S. solar farms and has invested more than $2.5 billion to grow its commercial wind and solar businesses since 2007.
Dividend Behavior: Since May 15 2008, DUK has increased its quarterly dividend a total of five times by an average of $0.012 per increase each time. From an income perspective, the company's forward yield of 4.09% ($3.06) coupled with its payout ratio (currently 99.00%) and its continued annual increases could equate into a very viable income option for long-term investors.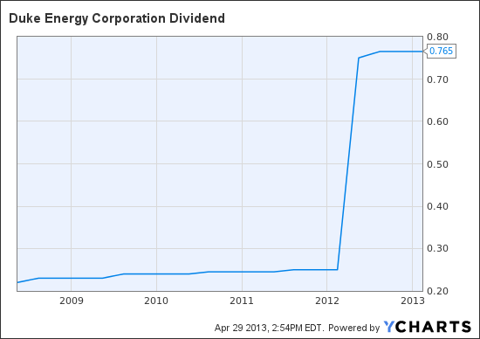 DUK Dividend data by YCharts
Conclusion: There are two primary strategies to consider when it comes to Duke Energy, and they are an income-driven strategy given the company's forward yield of 4.09%, and a growth-driven strategy given the company's current acquisition-based strategy related to solar energy facilities. If DUK can continue to enhance its solar energy portfolio and couple that strategy with its recent dividend behavior, I see no reason why the company should not be considered a viable investment over the next 12-24 months.
Disclosure: I have no positions in any stocks mentioned, but may initiate a long position in DUK over the next 72 hours. I wrote this article myself, and it expresses my own opinions. I am not receiving compensation for it (other than from Seeking Alpha). I have no business relationship with any company whose stock is mentioned in this article.