The healthcare sector touts impressive demographic data suggesting a continued rise in the 80+ population. This extra demand is bolstered by the government's continued support of Medicare and Medicaid which survived sequestration unscathed. The healthcare REIT sector is fundamentally desirable and investors know it as evidenced by the average FFO trading multiple of 18.1. This article will detail Brookdale Senior Living (NYSE:BKD) as a value-friendly alternative to gain exposure to a powerful industry. We will begin with an overview of the sector's valuation over the past year to demonstrate the importance of value when investing in healthcare stocks.
Historical healthcare valuation
Among healthcare REITs, there is a powerful correlation between cheap valuation and subsequent performance. I would posit that it is a causal relationship as well. Each healthcare company has similar access to the industry's powerful fundamentals, so by buying those with the lowest trading multiples, you get the most bang for your buck. Let us examine this fundamentally driven trend over the past year.
The entire sector has performed favorably, but the cheap REITs have substantially outperformed. Four in particular have exemplified the aforementioned correlation.
In June of 2012 Sabra Healthcare (NASDAQ:SBRA) was the cheapest before rising over 70% to its current multiple of 15.9. Medical Properties Trust (NYSE:MPW) was next in line as the cheapest, and it too exploded to a healthy valuation. Such movement left Omega Healthcare (NYSE:OHI) as the value champion which in turn rose from under $23 to over $32.
As the sector became overvalued, AVIV REIT (NYSE:AVIV) went public at $20 which made it the cheapest healthcare REIT. In just over a month, it now trades above $25.
When seen as an aggregate, the correlation between value and performance in the healthcare sector looks like this.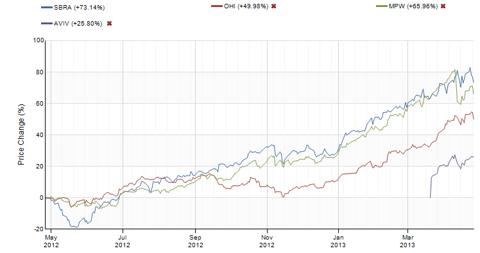 Data from SNL Financial
While OHI, MPW and AVIV are arguably still decent values, they lack the extremely cheap valuation that has brought their investors so much success. There is, however, one healthcare company that has remained cheap despite the industry's strength: Brookdale Senior Living.
Overview of BKD
Brookdale is a REOC that offers a variety of senior housing products. Its units can be broken into the 5 categories shown below.

It has a market cap of $3.3B which places it in the middle of the pack by size. A fair amount of leverage allows it to have over $4.6B of assets despite only around $1B of equity. These assets are distributed over the units listed above and across the entire US.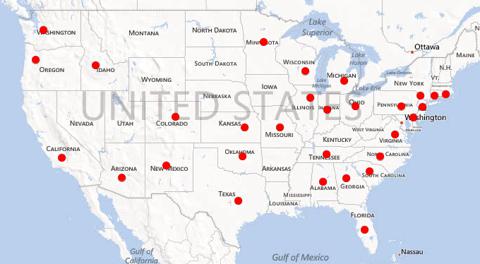 Unlike the healthcare REITs which mostly lease out their properties, BKD functions as an owner, operator, and manager.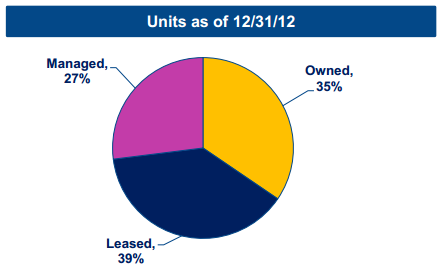 BKD can be considered the premium package of senior housing as its facilities have amenities that go above and beyond medical needs. It caters to the wealthier portion of the 80+ population and consequently gets much of its revenues from private pay.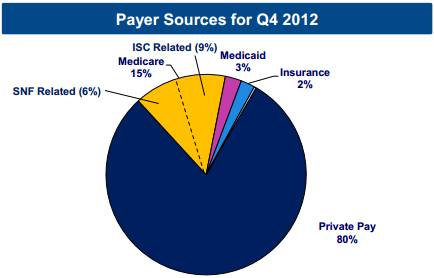 This affluent consumer is the key to its first catalyst of outperformance.
Outperformance catalyst #1: an increasingly wealthy demographic
In addition to the rising number of 80+ seniors, a greater percentage of them have substantial wealth. According to a March 2013 presentation, the number of 80+ seniors making over $50,000 a year is projected to rise 34.6% by 2015. It just so happens that the average annual rent charged by BKD is just over $50,000, so the 34.6% increase translates directly into its potential customer base.
One may view an investment in BKD as an interest rate hedge as rising interest rates would tend to bolster the income of retirees, further facilitating demand for its high-end senior living units.
Outperformance catalyst #2: a healthy acquisition pipeline
While the healthcare REITs seem to be able to make nice acquisitions of their own, BKD has a unique angle from which to acquire. Much of its leased portfolio comes with purchase options at the end of the term. On Jan 15th, BKD announced the acquisition of 12 communities for $162.1mm and each was acquired through exercising a purchase option.
Since these leases were written back when the environment was not as strong, the price was considerably cheaper than would be charged today. Each was acquired at a cap rate greater than 9%.
In addition to external growth, BKD is well positioned for increasing profits in its current portfolio.
Outperformance catalyst #3: organic growth
Its internal growth can come from two sources: leasing and ancillary services.
Leasing:
Brookdale has been quite successful with leasing in recent quarters, but it has way to go.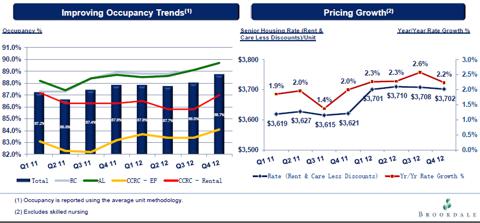 Both rates and occupancy have been steadily improving. I expect the demand growth from demographics and affluence to afford continued improvement. Such progress seems to be supported by conservative new supply among senior housing.

Ancillary services:
Beyond getting more residents and charging more rent to each, BKD is further profiting by providing extra services. Brookdale offers a variety of therapies aimed at improving quality of life. As many of these are not medically necessary, government reimbursement has been difficult to attain, but most are paid for through private pay. With all services being performed in the on-site clinics or in the patient's units, costs are minimal and margins are strong. In 2012, ancillary services contributed $47.8mm to revenues.
The Buy Thesis
Brookdale Senior Living is significantly cheaper than the healthcare REITs as it trades at an FFO multiple of 11.07. In contrast, healthcare REITs trade at an average multiple of 18.1, with even the cheapest (OHI) trading at 13.3. BKD has numerous fundamental catalysts which allow it to excel in the present environment and take advantage of favorable industry trends going forward. I believe BKD is an excellent play on the healthcare sector, but we must also consider its risks.
Risks and Concerns
Healthcare is traditionally considered to be a defensive sector as its demand remains strong even during recessions. This benefit does not apply to BKD. Its quality of care goes well beyond the medically necessary and there are cheaper sources of care. If the economy does not support sufficient income streams, Brookdale could lose occupancy and be forced to cut rates.
Healthcare also comes with political risk as cuts to Medicare or Medicaid could damage income. While BKD has reduced exposure to this risk due to its high private-pay component, it remains a material concern.
Additionally, healthcare investors need to be concerned about regulation changes to standards of care. Such changes can raise the cost of providing certain services. In my opinion, BKD has a reduced risk here as its premium quality healthcare would likely already exceed the new standard of care.
Conclusion
Since healthcare companies each have access to the favorable industry fundamentals, valuation seems to be the driving factor of outperformance. Its cheaply-valued peers have already outperformed, leaving Brookdale next in line. I am very bullish on its economic prospects, but less on its near-term stock performance. Until the dividend craze winds down, I doubt the non-dividend paying BKD will outperform. However, as it continues to grow earnings, it will become an increasingly irresistible value. Investors could buy now for a long-term investment, or wait for the dividend craze to end for faster capital gains.
Disclosure: 2nd Market Capital and its affiliated accounts are long OHI, MPW, SBRA and AVIV. I am personally long OHI and AVIV. This article is for informational purposes only. It is not a recommendation to buy or sell any security and is strictly the opinion of the writer.
Disclosure: I am long OHI, MPW, SBRA, AVIV. I wrote this article myself, and it expresses my own opinions. I am not receiving compensation for it (other than from Seeking Alpha). I have no business relationship with any company whose stock is mentioned in this article.