As the ETF industry has exploded and investors have poured cash from traditional mutual funds into these investments, a number of interesting ETFs have popped up attempting to establish market share.
One interesting sector consists of socially responsible ETFs, which generally invest in companies with positive and ethical environmental and social policies. These funds will often avoid companies engaged in alcohol, tobacco, firearms, and gambling.
A number of socially responsible ETFs have been launched and have attracted significant investment dollars, indicating there is a market for investors looking to gain exposure to environmental and other socially responsible securities.
Here's a quick summary of a few of the socially responsible ETFs on the market.
iShares KLD Select Social Index Fund (NYSEARCA:KLD): KLD seeks to mimic the performance of the KLD Select Social Index, which maximizes exposure to positive environmental, social, and governance factors while exhibiting risk and return characteristics similar to the S&P 500. This ETF's largest holdings are Johnson & Johnson (3.4%), Microsoft (2.5%), and IBM (2.4%).
iShares KLD 400 Social Index Fund (NYSEARCA:DSI): This ETF tracks the Domini 400 Social (NYSE:SM) Index, which is similar to KLD in that it seeks exposure to companies deemed to have positive environmental, social, and governance factors. DSI's largest holdings are Microsoft (3.9%), Johnson & Johnson (3.8%), and Proctor & Gamble (3.7%).
PowerShares WilderHill Clean Energy Portfolio (NYSEARCA:PBW): This ETF seeks to track the performance of the WilderHill Clean Energy Index, which invests in companies that focus on greener and generally renewable sources of energy and technologies that facilitate cleaner energy. PBW's largest holdings include Fuel Systems Solutions Inc. (4.4%), Yingly Green Energy Holding Co. Ltd. (3.8%), and Trina Solar Ltd. (3.7%).
Claymore / MAC Solar Energy Index ETF (NYSEARCA:TAN): TAN seeks to replicate the performance of the MAC Global Solar Energy Index, which typically invests in companies that produce solar power equipment products and services and materials and components suppliers. TAN's largest holdings include Meyer Berger Technology AG (9.6%), First Solar Inc. (6.6%), and SMA Solar Technology(6.1%).
AirShares EU Carbon Allowances (ASO): Okay, so it's debatable whether this ETF should be included as a "socially responsible ETF," but the underlying assets are directly related to carbon emissions, so I thought it was worthy of inclusion. ASO is a commodity pool that seeks to provide returns corresponding to the performance of a basket of exchange-traded futures contracts for European Union Allowances (EUAs). EUAs entitle the holder to emit one metric ton of carbon dioxide. ASO's holdings consist of unleveraged long positions in European Climate Exchange Carbon Financial Instrument Futures Contracts.
First Trust ISE Global Wind Energy (NYSEARCA:FAN): Based on the ISE Global Wind Energy Index, FAN invests in companies around the world that are active in the wind energy industry. More than a quarter of FAN's investments are in Spain, with EDP Renovaveis SA (9.4%), Vestas Wind Systems (9.1%) and Iberdrola Renovables (7.7%) being the three largest individual holdings.
The above is by no means an exhaustive list of all socially responsible ETFs on the market today, but hopefully it provides an idea of the types of funds out there.
Trends to Watch
Environmentally friendly sentiment has gained significant momentum in recent years, due in large part to public outrage over record high gas prices last summer. Despite significant media coverage and broad-based popular support for the concept, however, many socially responsible funds have performed dismally over the past year.
As presented below, the ETFs mentioned in this article are down over the past year. In a sign of hope for our society, KLD and DSI have outperformed the Vice Fund, an actively managed mutual fund that invests in defense companies, casinos, tobacco and liquor manufacturers, and other "sinful" enterprises.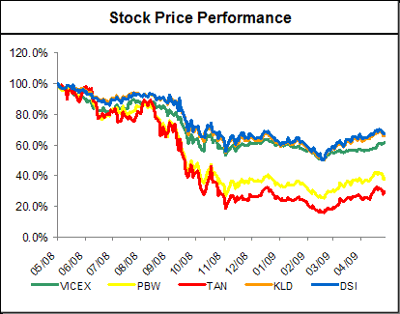 There are several reasons to be optimistic going forward. President Obama has committed to developing alternative sources of energy over the next decade, sparking optimism that "clean energy" stocks and funds could take off as the government commits funding and other resources. Also, with public outrage over corruption on Wall Street and soaring fuel costs, companies with an ethical reputation may be rewarded in the future.
Disclosure: No positions