After a relatively calm 2012, gold (NYSEARCA:GLD) has been in the spotlight this year. The shining metal is down more than 10% year-to-date after multiple years of consecutive rise. Gold gets a lot of publicity. Many traders and analysts express their opinions about the fate of gold prices. The drop in the price of gold has caused a spike in interest and demand for physical gold. For example, US Mint had ran out of its smallest gold coins.
GLD is rebounding from its recent lows, and gold miners (NYSEARCA:GDX) are rebounding too. GDX is down more than 36% year-to-date. Some gold stocks have lost more than 50%. It is useful to look at the most punished stocks. Often they are the ones that outperform. I've taken 5 stocks that trade above $5 to exclude the most speculative ones. These stocks are Allied Nevada Gold (NYSEMKT:ANV), IAMGold (NYSE:IAG), Barrick Gold (NYSE:ABX), Kinross Gold (NYSE:KGC) and Eldorado Gold (NYSE:EGO).
| | | | | |
| --- | --- | --- | --- | --- |
| Stock | Trailing P/E | Forward P/E | P/B | Performance YTD |
| ABX | n/a | 5.06 | 0.86 | -44.62% |
| ANV | 22.75 | 5.17 | 1.71 | -60.74% |
| EGO | 17.00 | 12.26 | 0.90 | -41.56% |
| IAG | 5.88 | 7.37 | 0.53 | -54.40% |
| KGC | n/a | 7.88 | 0.63 | -43.45% |
(data sourced from Yahoo! Finance)
Barrick Gold has suffered a lot during the sell-off in gold. It was also affected by the problems on the Pascua-Lima project. The construction activities had to be suspended because of environmental requirements from Chilean government. As ABX states in its recently published first quarter report, it is unable to fully assess the impact of the delay on the capital budget, operating costs and schedule of the project. Investors do not like uncertainty. ABX is the most undervalued stock if judged by forward P/E. It is the second miner by market capitalization. Barrick Gold pays a dividend that currently yields 4.15%. I would recommend to consider buying ABX in the $18-$20 range.
ANV is the stock that was punished the most. The company has had operational issues and has changed its CEO. The fact that ANV has reported first quarter operational progress did not help the stock. Management's discussion of preliminary first quarter results has helped lift the stock for 34% in one day. However, the stock has fallen even lower following the wave of commodities sell-off. The stock has a very attractive forward P/E. The ability of the company to deliver expected results is the main question. The company has changed its COO too, and is focused on operational progress. ANV is the only stock of these five that does not pay dividends. I think that ANV is attractive at current levels.
EGO is the most expensive stock if judged by forward P/E. It has also experienced the least downside this year. EGO pays a dividend that yields 1.87%, the worst result of the four stocks that pay dividends. I think that EGO is the least attractive of these five companies.
IAG is the leader by trailing P/E. This fact is important, because forward P/E is based on estimates. Estimates do change over time. If we look at the estimates for IAG for 2013 and 2014, they have dropped 49% and 46% respectively from the estimates that were issued 90 days ago (estimates sourced from Yahoo! Finance). IAG pays a dividend that currently yields 4.78%. This is the best yield of the five companies that we are discussing. IAG is also the most undervalued stock by the price-to-book ratio. I think that IAG could be a good buy around the $5 mark.
KGC is the second most undervalued stock if measured by price-to-book ratio. KGC pays a dividend that yields 2.94%. This is the third result of the four companies that pay dividends. Earnings estimates for KGC for 2013 and 2014 have dropped 46% and 38% respectively.
When the stocks are under such pressure, it is useful to explore solvency issues. There are none in these five stocks. If measured by debt-to-total-assets ratio, ANV is the riskiest stock and EGO is the safest one.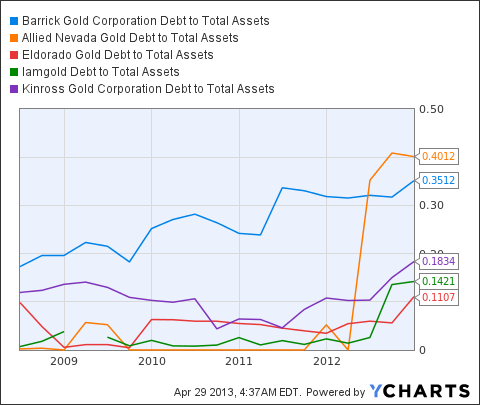 ABX Debt to Total Assets data by YCharts
This is the time to turn to a conclusion. I think that all five stocks are attractive from a long-term point of view. If you had to choose just three of them, I would recommend ABX, ANV and IAG. ABX is one of the industry leaders, it pays good dividends and is undervalued. ANV is the stock that has suffered the most. Typically, when a rebound comes, such stocks tend to outperform. ANV is also the riskiest one, so be careful. IAG is a balanced stock with a good valuation and a solid dividend yield.
Disclosure: I am long GLD. I wrote this article myself, and it expresses my own opinions. I am not receiving compensation for it (other than from Seeking Alpha). I have no business relationship with any company whose stock is mentioned in this article.