Among the major integrated oil and natural gas stocks, Chevron (NYSE:CVX) has one of the better growth prospects. The company also has a long history of dividend-growth, with 25 consecutive years of dividend increases. As of late, Chevron has been an aggressive repurchaser of its stock. As of this writing, Chevron offers a $1.00 quarterly dividend and yields about 3.30%.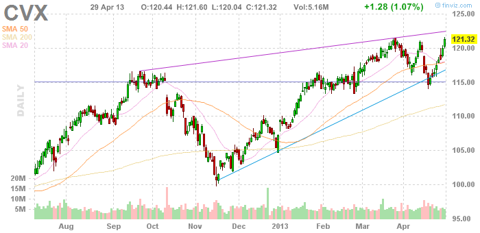 On April 26, Chevron reported its Q1 2013 results. For the quarter, Chevron saw revenues decline 9% to $54B, from $59B last year. Chevron reported earnings of $6.2B, or $3.18 per share. This is a 3% decline from Q1 2012 earnings of $6.5B, or $3.27 per share. This decline in earnings was mostly caused by lower earnings in the upstream and downstream segments. During the quarter, Chevron's total upstream earnings were $5.9B, down 5% from $6.2B last year. Total downstream earnings came in at $700M, down 13% from $804M last year.
When compared to Q4 2012, Chevron's earnings were down $1B, or 14%. The downstream segment saw earnings decline $224M. The biggest laggard was the upstream segment, which saw earnings decline $942M. However, Q4 2012 upstream earnings were inflated by a $1.4B gain from asset sales. Excluding this asset sale, Q/Q earnings were actually up $400M, or 7%.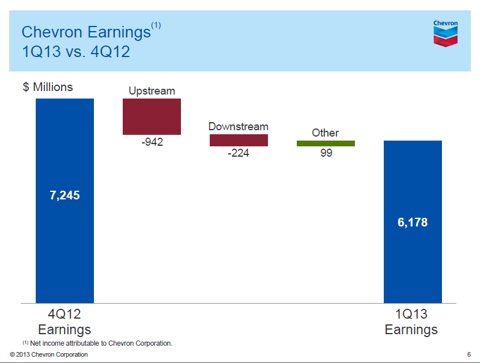 During the quarter, Chevron saw total worldwide net oil and gas production of 2645 MB/D, which is down 1% from Q4 2012, but up 1% from Q1 2012. Most of Chevron's Y/Y production growth came from the US, which saw its production climb 2%, while International production was flat.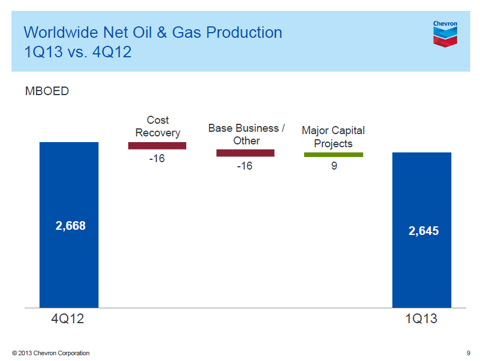 Chevron generated $5.7B in operational cash flow in the quarter, much lower than in previous quarters due to working capital requirements. However, this was much less than the $8.2B spent in capital expenditures. When added to the $1.7B in dividend payments and $1.25B in share repurchases, total use of cash was $ 11.15B. During the quarter, Chevron issues $2.0B in debt and received $600M from asset sales. Chevron's total cash fell $3.6B to $17.4B, while its total debt climbed to over $14B. During the Q1 2013 conference call, CFO Patricia E. Yarrington mentioned that the quarter's cash flow was an atypical situation and will only be temporary:
Turning to slide 5, cash generated from operations was $5.7 billion during the first quarter, a lower level than it has been in some time. This was primarily the result of working capital impact. Overall, working capital requirements for the Company increased by $3.4 billion in the quarter. This working capital consumption of cash was principally in our Downstream operation. This is not an atypical pattern for us for the first quarter of the year, though this quarters increasing working capital requirements is larger than we have usually seen. The increase reflects the timing and pricing of commodity purchases and sales between quarters as well as the operational downtime we had at several refineries this quarter. The vast majority of these effects are temporary in nature and the impact that cash flow are expected to reverse in future quarters.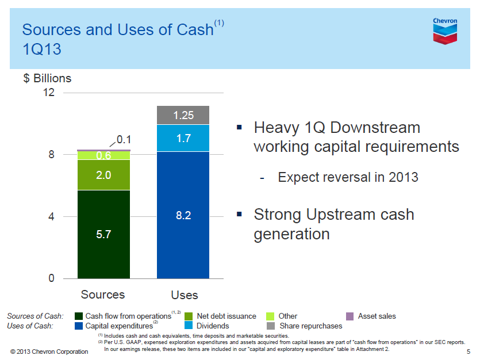 Since 2004, Chevron has been a dividend growth machine, and has increased the dividend at a CAGR of 11%. Indeed, Chevron's most recent dividend boost came just this quarter. Chevron announced an 11% increase to its quarterly dividend to $1.00 per share, starting with the June 2013 payment. In addition, Chevron has been repurchasing a large amount of its stock, reducing its total shares outstanding by 5.5% since 2008.
Conclusion
Few large-cap energy stocks have offered the level of yield and total return that Chevron has. Since 2008, Chevron has an average 5-year total return of 10.5%.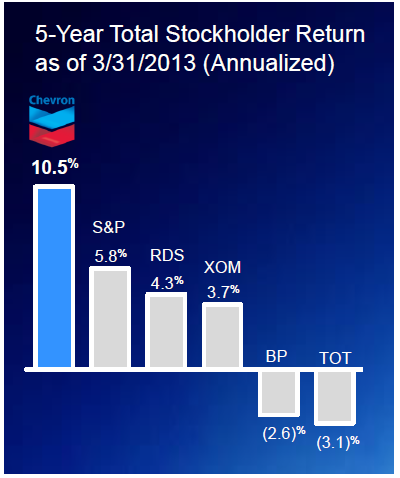 High-quality, large-cap, dividend stocks have lately been trading at a premium, and Chevron is no exception. YTD, Chevron is up over 12%. However, Chevron is still rather inexpensive, as its TTM P/E is only 9.2X. Chevron is worth a look on any weakness.
Disclaimer: The opinions in this article are for informational purposes only and should not be construed as a recommendation to buy or sell the stocks mentioned. Please do your own due diligence before making any investment decision.
Disclosure: I am long COP. I wrote this article myself, and it expresses my own opinions. I am not receiving compensation for it (other than from Seeking Alpha). I have no business relationship with any company whose stock is mentioned in this article.