I came across AFLAC (NYSE:AFL) in November 2011 after the shares of the company had a deep dive due to concerns of European Security Exposure. The stock fell from $58 in January 2011 to $30 in September 2011 and then recovered to $49 by January 2012. This represents a change in market cap from $27B in January 2011 to $14B in September 2011 and $23.3B in January 2012. There was the Japanese Tsunami on 11 March 2011 that could have impacted the company's profitability and also some Europe originated Yen denominated debt that was impaired. However it seemed highly likely that actual intrinsic value of the company was not changing that much but it was the investor psychology that was causing the swings. This motivated me to dig deeper into AFLAC to find out what was the true intrinsic value of this company.
(1) The Record
Aflac has a rich history of value creation and is an owner operated company with Daniel Amos (whose family started the company in 1955) the Chairman and CEO having a major portion of his wealth in AFL shares. $1 invested in AFL in 1984 would be equal to $164 today (19.4% annual return). This compares favorably to high quality companies like Coca-Cola (NYSE:KO), for example, in which $1 invested on same date is now worth $65 (15.6% annual return). Consider another example, H.J. HEINZ CO (HNZ), for which even after the 20% premium paid recently by Warren Buffett and 3G Capital, $1 invested in 1984 is now worth $44 ($14.3% annual return).
The dividend growth rate has been 11% per year for last 5 years, 19% per year for last 10 years and an amazing 16% per year for last 25 years. As the Aflac duck spreads its wings further and the scale of the company expands over the coming decades we can expect continued strong dividend growth.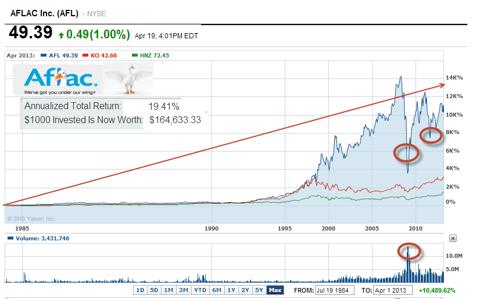 Aflac Dividend Growth History: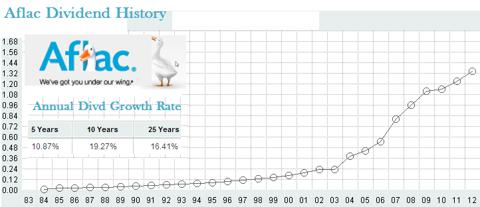 (2) Business History (information from Aflac website):
More than 50 million people worldwide have chosen Aflac insurance because of the confidence they get from knowing they will have financial assistance when an illness or serious accident occurs. Now that's something to quack about!
Quack Facts:
Aflac is a Fortune 500 company.
Aflac's assets at year-end 2012 totaled more than $118 billion with annual revenues of more than $25.4 billion.
Aflac is the number one insurance company in terms of individual insurance policies in force in Japan, insuring approximately one out of every four Japanese households.
Aflac has a presence in all 50 United States, and in Puerto Rico and the Virgin Islands.
Aflac Incorporated, its employees, and its independent sales associates have contributed more than $79 million to the Aflac Cancer and Blood Disorder Center of Children's Healthcare of Atlanta.
6. Aflac is committed to a healthy environment and sustainable business practices.
History - Three Brothers, an Idea, and the Aflac Duck
John, Paul, and Bill Amos were not insurance experts; they were three hard-working brothers who knew that Americans need financial protection when an illness or accident strikes. With a commitment to be there for policyholders dealing with a medical situation, they created Aflac-now the largest insurance provider of individual insurance in Japan and the leading provider of supplemental insurance in the United States.
(3) Operations and Competitive Advantages
Aflac Japan (78% of total revenue in 2012):
Japan's #1 Life Insurer In Terms Of The Number of Individual Policies In Force. Aflac became licensed in Japan in 1974. Today, it is one of the most respected insurance companies in Japan. It became the number one life insurance company in terms of the number of individual policies in force in fiscal year 2003, and has maintained the status ever since. Aflac Japan sells a variety of insurance policies, including cancer, life, medical and other life insurance products. Policy benefits include fixed lifetime premiums, lifetime coverage, and a policy entry age from zero to 80.
Quack Facts:
More than 19,700 sales agencies with more than 120,700 licensed sales associates represent Aflac Japan.
Nearly 90% of the companies listed on the Tokyo Stock Exchange offer Aflac products to their employees.
Aflac covers more than 140,000 small businesses in Japan.
Aflac insures one in every four households in Japan.
In 2003, the Aflac Duck made his first appearance in Japan, where he has become one of their favorite advertising icons.
In 2010, Aflac Japan introduced the Maneki Neko Duck, which combines the Aflac Duck with the traditional Japanese character Maneki Neko, which is the widely known white cat with the raised paw.
Aflac US (22% of total revenue in 2012):
#1 In Supplemental Insurance. In the U.S. Aflac's individual and group insurance products give American families the ability to direct cash benefits where they are needed most, when a life-interrupting medical situation occurs.
Quack Facts:
Aflac is the Number 1 provider of guaranteed-renewable insurance in the United States.
Aflac employs more than 4,500 people in the United States.
More than 74,000 independent sales agents represent Aflac.
The Aflac Duck made his television debut in 2000.
Aflac has been recognized as one of the 100 Best Companies to Work For in America for the 15th consecutive year by Fortune magazine.
Aflac has been the only insurance company to make Ethisphere magazine's list of the World's Most Ethical Companies for seven consecutive years.
Since 1995, Aflac has raised more than $79 million for childhood cancer treatment and research.
Aflac Strategy for Growth: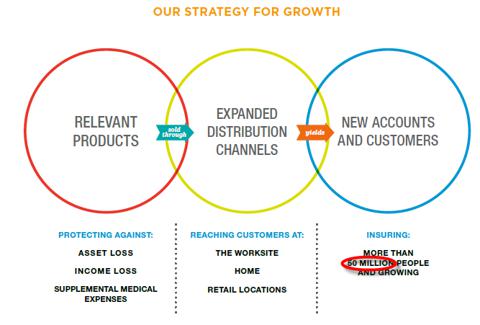 Competitive Advantages
I see the following advantages for Aflac:
Aflac has built strong brand, reputation and customer loyalty. Clients, especially in Japan, are very sticky once they purchase policies. Persistence in Japan usually hovers around 95%, as the average customer stays with Aflac for nearly 20 years.
Aflac has first-mover advantage in Japan which gives it a competitive advantage.
Aflac's scale enables it to be a low cost provider. Aflac's payroll deduction system helps enable it to be the low-cost provider for the supplemental policies in which it specializes.
The strong distribution network and partnerships of Aflac give it an edge over competitors in Japan. For example partnership with Japan Post and Banks in Japan has been an advantage in further increasing scale.
Aflac insures around 80% of all cancer polices in Japan. Japan has very strict regulation as it will be almost impossible to dislodge Aflac from this entrenched position.
Aflac maintains very high liquidity and a strong balance sheet which gives it an advantage. Purchasers of insurance products need assurance that company will deliver on the promises in all financial situations when there is a claim made by them. Aflac has investments and cash of $118B at 2012 end which is up from $102B in 2011 end and $88B in 2010 end (15.7% annual growth).
(4) Balance Sheet and Profitability
Aflac has a strong balance sheet and maintains healthy capital ratios. From the 2012 Annual Report:

"Our financial strength, which exemplifies our ability to pay claims, is rated A+ (Superior) by A.M. Best, Aa3 by Moody's, and AA- by S&P. At the end of 2012, our RBC ratio was 630%, which was significantly higher than our 2011 RBC ratio of 493%. Capital adequacy in Japan is principally measured by our solvency margin ratio. Aflac Japan's solvency margin ratio at December 31, 2012, was 669%, which was well above our targeted range of 500% to 600% and a substantial increase above our 2011 solvency margin ratio of 547%."
The key earnings, operation highlights, balance sheet, asset and policy benefits liability and claims details are highlighted below. Aflac has made an attempt to de-risk the portfolio by reducing PIIGS exposure and this has reduced risks going forward after incurring impairment losses for last 3 years. Majority of Japan Assets are in JGB (44B, 39% of assets). Majority of US Assets are in US corporate bonds (49% of US assets). One major headwind is the low interest rate environment globally which has reduced new money yield of 2.24% on Japanese assets and 3.9% for US assets.
Here is select information from Aflac 2012 Annual Report that helps understand the company better.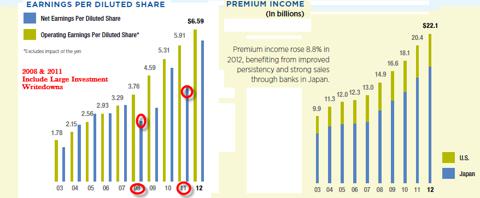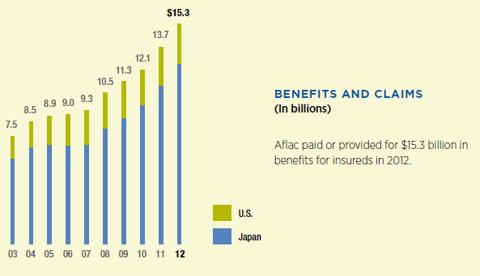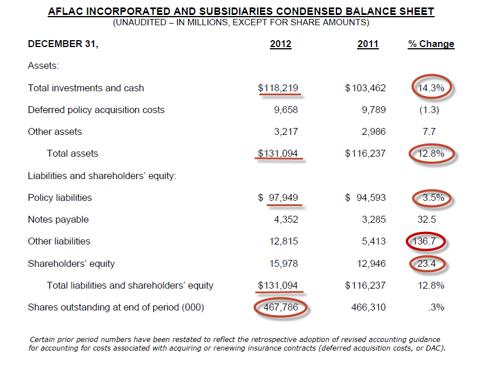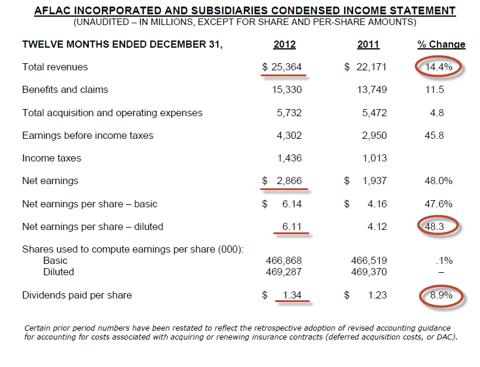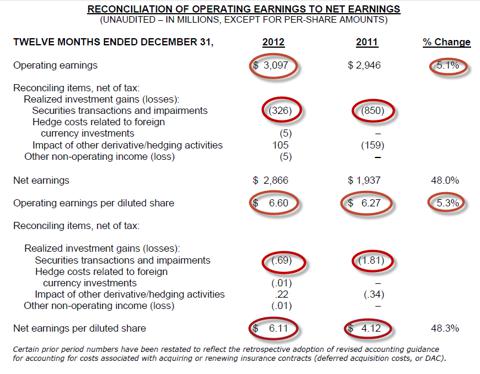 Aflac 2012 Comparison of Investment Yield and Interest Rate for Policy Benefits


Aflac 2012 Investments by Segment:

Aflac 2012 Full Portfolio Composition by Sector: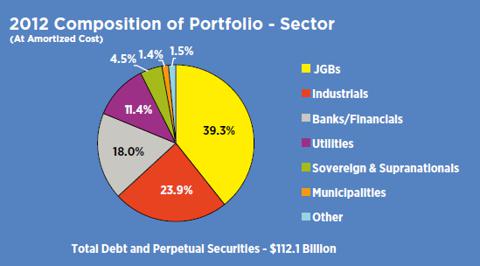 Aflac 2012 Investments Interest Rate Sensitivity Information: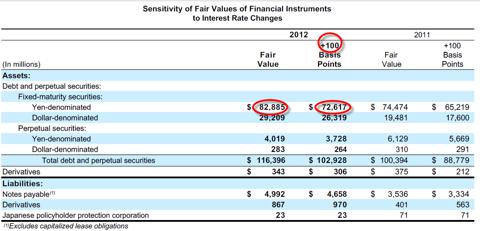 Aflac 2012 Investments by Geographic Exposure: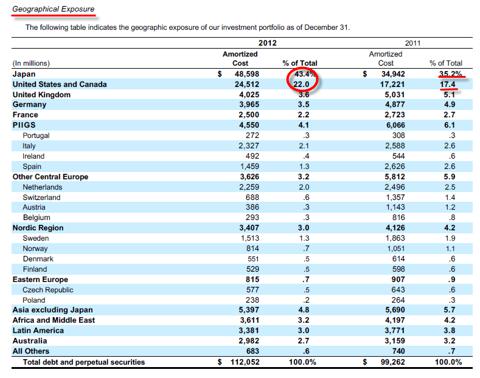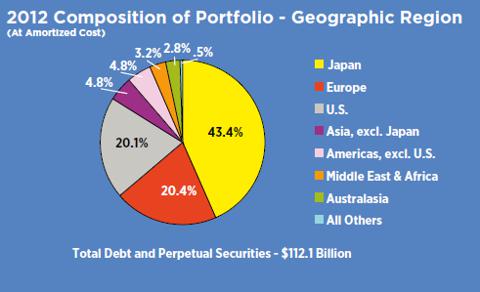 Aflac 2012 Largest Global Debt Investment Positions: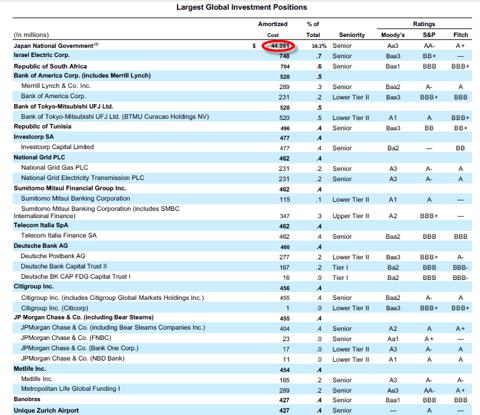 Aflac 2012 Investments PIIGS Exposure: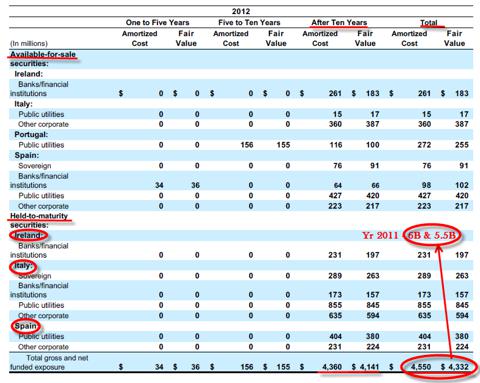 Aflac 2012 Investments Top 10 Unrealized Loss Positions:

(5) Management
Dan Amos is chairman and chief executive officer of Aflac and Aflac Incorporated. Mr. Amos joined Aflac in 1973, working in Aflac sales for ten years. In 1983, he was named president of Aflac. He was named chief operating officer in 1987, chief executive officer of Aflac Incorporated in 1990, and chairman in 2001. During Mr. Amos's tenure as CEO, revenues at Aflac have grown from $2.7 billion to $25.4 billion as of December 31, 2012.
In 2000, Mr. Amos was the driving force in launching the company's enduring national advertising campaign featuring the iconic Aflac Duck, which transformed Aflac into a top national brand. In 2013, Aflac was named by Fortune magazine as one of America's Most Admired Companies for the 12th time.
Eric M. Kirsch joined Aflac in November 2011 as first senior vice president, global chief investment officer, and was promoted to his current position in July 2012. In his role, he is responsible for Aflac's investment portfolio and a team of more than 90 investment professionals. Prior to joining Aflac, he served as managing director and global head of insurance asset management at Goldman Sachs Asset Management, where he managed a global team of 55 professionals and oversaw the management of over $70 billion in insurance assets. Prior to that, he spent 27 combined years at Deutsche Asset Management (DeAM) and Bankers Trust Company, most recently serving as managing director and global head of insurance asset management. He has been adding U.S. corporate debt as Kirsch builds his staff with hires including Brad Dyslin, a former colleague at Deutsche Bank AG, and Timothy "Chip" Stevens from BlackRock Inc. (NYSE:BLK). He has hired Lori Evangel to be chief risk officer in the investment division. She started in the newly created post, according to the insurer. Evangel was senior vice president and enterprise risk officer at MetLife, the biggest U.S. life insurer. She previously worked for MBIA Inc. (NYSE:MBI).
(6) Value and Price
Aflac is currently trading in $38 to $54 range over the last year. The operating results scenarios and yen/dollar foreign exchange impact possibilities are analyzed and presented below. Also select operational data is presented which indicates probability of continued growth prospects. We also believe that the de-risking program implemented and the increased focus of the new team under global chief investment officer Eric Kirsch will lead to improved investment income. Mritik Capital valuation estimation (see full assumptions in red) projects a base case share price of $99 by 2017 assuming a normalized P/E of 13 and a P/B of 1.6. This amounts to an annual total return of 23%. Assuming an adverse case P/E of 11 and P/B of 1.4 the projected share price will be around $83 by 2017. This amounts to an annual total return of 17%.
Aflac Valuation Analysis and Mritik Capital Fair Value Calculation: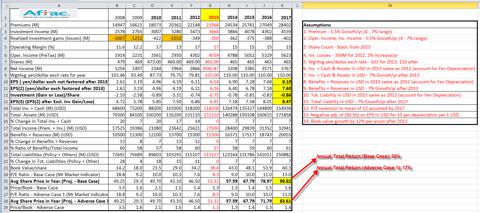 Aflac 2012 Currency Effects on 2013 Earnings Projections: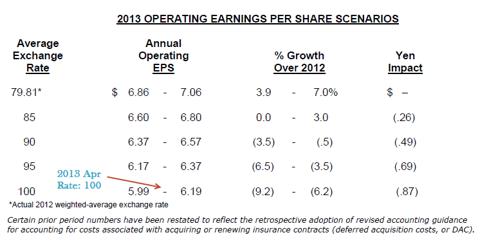 Aflac USD/JPY 2012 Forex Rate: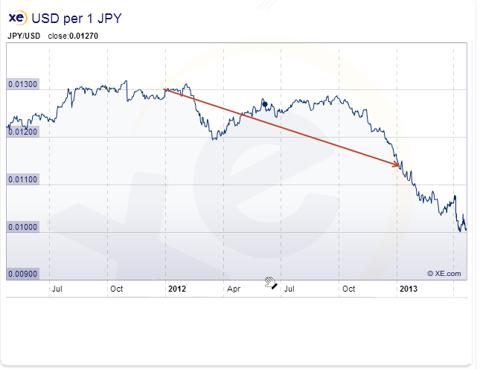 Aflac 2012 Japan Premium Sales by Category: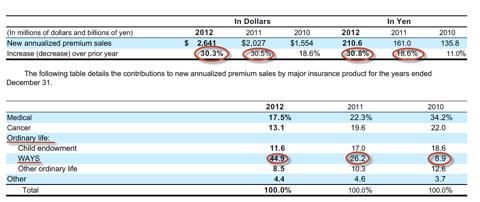 Aflac 2012 Japan Summary of Operating Results: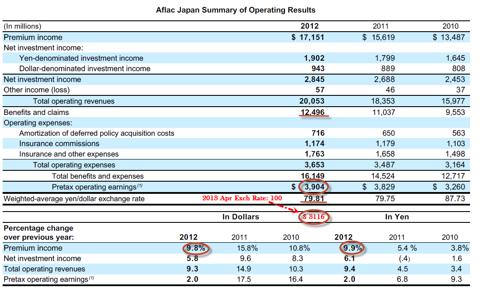 Aflac 2012 US Summary of Operating Results: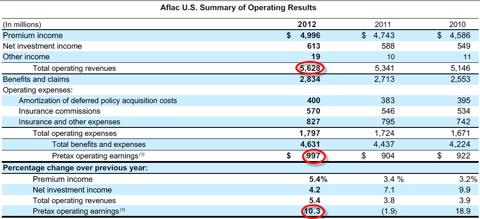 Aflac 2012 US New Premium Sales by Product Category:

(7) Catalysts
Market is focused on the short term which allows us to own this wonderful business which will be successful and growing decades from now. As Ben Graham said although in short term market is a voting machine, in the long term the stock market is a weighing machine. In the near term Aflac may continue trading in the same range but I see the following catalysts in the next 3-5 years.
1. Continued growth of premiums in Japan and business execution will keep increasing intrinsic value and book value per share of the business.
2. The portfolio de-risking program executed by Aflac over last 2 years will lead to better investment income in the future.
3. Market is too much focused on the recent change in USDJPY exchange rate. The recent announcement by Haruhiko Kuroda, the new Bank of Japan governor has announced stimulus (aka money printing) of 62 trillion yen, or $630 billion this year. Since US, UK, EU, JPY all are adopting money printing I think the USDJPY exchange rate will stabilize. Aflac does not convert yen to dollars on an ongoing basis so this does not have as much impact as feared. Our opinion is that this factor is overstated and a reversion to mean is likely.
4. Aflac has scope to grow revenue and income in the US in niche areas including critical care, accident and short term disability. After acquiring Continental American Insurance Corp (CAIC) which sells group policies to the employers, who then offer the insurance to their employees at a cost, Aflac is slowly expanding in the group insurance segment.
5. The demographic trends in Japan and US will continue to increase demand for supplemental policies and aid Aflac's growth.
6. It is never a good idea to count on an acquisition. However AFL ($23B Market Cap) can be a good investment target for a company like Berkshire Hathaway (NYSE:BRK.A) (NYSE:BRK.B) which has other insurance businesses and good investment managers and can more effectively deploy the float of $131B.
7. Aflac plans to return $400M to $600M to shareholders via buybacks in 2013. Q1 2013 share repurchase was 3M shares for $150M. Continued buybacks over next few years can increase per share intrinsic value further.
(8) Specific Risk
In any investment there are risks. There are however multiple risks associated with an investment in Aflac since it is an insurance company and also has substantial operations in a single country, Japan. Following are some of the risks:
Main risk for Aflac is the investment portfolio. Due to the large size of the firm's portfolio ($131B) relative to the small equity cushion small write-downs will have a magnified impact on shareholders' equity. Sovereign default and nationalization or default of banking institutions will affect the company's prospects.
The low interest rate environment is a risk since it has a drag on the investment income. If interest rates remain low for an extended period of time earnings will suffer.
Once Japan Post is fully privatized, it may choose to issue its own supplemental policies. If this happens it could affect Aflac's sales through Japan Post as well as its competitive position.
Deregulation in Japan has allowed large life insurance companies to compete directly with Aflac in issuing supplemental policies.
Customer retention is much lower in the U.S. (around 75%) than in Japan. As Aflac attempts to grow in this under penetrated market, it could have a negative impact on profitability if management does not price its products to reflect the underlying risk.
If Japanese Yen depreciates considerably against the US dollar and remains low for an extended period of time then it will have an impact on rewards to shareholders.
Too much focus on de-risking may have the effect of reducing the investment income.
(9) Why is this Cheap?
1. I believe investors were keenly aware of the risks to Aflac due to the ongoing European credit crisis.
2. Depreciation of the Japanese yen has made investors pessimistic of the near term reported earnings which are in US dollars.
3. Investors are concerned due to the low interest rate environment and hence insurance sector is currently out of favor with investors.
4. Aflac is an insurance company and also has significant operations in Japan. This makes analysis of the company more complex and many investors chose to avoid the stock.
5. The large investment write-downs of recent years have put off investors.
6. Investors purchased Aflac in 2007-2008 paid 5 times book value (up to $68 when book value was $14-$18) may be avoiding this stock although the value proposition is better now with price of $49 being 1.3 times expected year end book value of $38.
Disclosure: I am long AFL. I have also sold January 2015 $47 puts on Aflac. I wrote this article myself, and it expresses my own opinions. I am not receiving compensation for it. I have no business relationship with any company whose stock is mentioned in this article.