It's taken a long time since it was signed into law in 2010, but the Affordable Care Act, commonly known as "Obamacare," will finally see its major provisions implemented in 2014. My expectation is that the act will have a negative impact on the US economy. The ACA will not only lead to higher direct taxes; but could also create very large stealth taxes, as younger, healthier consumers are forced to absorb much higher costs.
You can already see this happening by observing skyrocketing insurance premiums across the nation. A recent example comes from Maryland where CareFirst BlueCross BlueShield has announced that premiums will rise, on average, by about 25 percent next year. These de facto tax increases will sap consumer spending, causing many American to tighten their belts.
That's particularly bad news for restaurants, since eating out is one of the first places consumers will cut back. To make matters worse, ACA compliance will likely result in higher costs for most restaurants. In other words, restaurants could be facing a double whammy of weaker consumer demand and higher menu prices. Meanwhile, restaurant stocks look aggressively valued, suggesting they could be particularly vulnerable in 2014.
Of course, it would be a mistake to overreact: the ACA will not destroy any major restaurant chains, and in all likelihood, most companies will simply find ways to minimize their exposure to the law. All the same, I expect the restaurant sector to underperform the broader market over the next 12 - 24 months. If one believes that the market is a bit overheated right now (as I do), then shorting restaurant stocks could be an excellent way to hedge increasing market risks.
The Ideal Restaurant Short
Unfortunately, this is a tricky sector to short. Restaurants are a great long-term growth story, because restaurant growth is directly tied to rising disposable income. As consumers get wealthier, they "outsource" food preparation with greater frequency. That's why it would be a fool's errand to bet against the long-term growth of restaurants.
Likewise, most of the publicly traded chains have reasonable opportunities to expand internationally, with prospects in Asia, South America, and even Europe. Even if US growth slows, strong international growth could offset that for many chains.
For these reasons, one must tread cautiously here. I view restaurant shorts as a 1-2 year hedging play; a bet that if the market pulls back, restaurants will pull back more. Stock selection is absolutely critical. The ideal short candidate is a restaurant chain with the following characteristics:
(1) Somewhat vulnerable to rising labor costs from the ACA,
(2) Priced aggressively relative to probable future cash flows,
(3) Lacks significant international expansion prospects, and
(4) Has significant company-specific issues that could be exacerbated in a downturn
There are a handful of restaurants that make good short candidates here, but Sonic Corporation (NASDAQ:SONC), operator and franchisor of Sonic Drive-In, is at the top of my list. In this article, I'll explain the basic thesis, Sonic's recent woes, and its aggressive valuation. In my upcoming articles, I'll look at margin deterioration and franchisee economics that have the potential to further undermine the company.
Why the Restaurants are Vulnerable
Before I jump into Sonic, let's first examine why restaurants are so vulnerable to begin with.
The ACA's taxes (both direct and stealth) and labor regulations could cause stagnant growth in disposable income, putting pressure on American middle-class consumers to cut back on dining out. We saw a similar scenario unfold in 2008 and 2009. Real personal consumption in the US fell 0.6% in 2008 and 3.1% in 2009. We can see the impact of that on restaurants by looking at the Knapp-Track benchmark for that time period, which showed declines of 5.6% and 4.9% for same-store revenues in 2008 and 2009 respectively.
Small declines in revenue can have a much larger impact on the underlying stocks. From the market peaks of 2007, to the bottoms of 2008 and 2009, Darden (NYSE:DRI) declined 60%, Brinker (NYSE:EAT) was down 80%, and DineEquity (NYSE:DIN) fell a whopping 89%! While I don't expect such a dramatic plunge this time, it does go to show how small drops in demand, coupled with financial and operating leverage, can lead to large declines in stock prices.
As far as menu price increases go, most chains will take every action necessary to minimize exposure to the ACA. For this reason, menu price increases may be somewhat subdued; probably in the range of 3% - 7%. Nevertheless, even modest price increases could add pressure to the restaurants if consumers are already getting squeezed. This is why the restaurants are particularly vulnerable in 2014.
Fast Food vs. Dine-In
If the restaurant sector offers some attractive short opportunities, the next question becomes which restaurants are most vulnerable? Fast-food restaurants, such as McDonald's (NYSE:MCD) and Burger King (BKW) have more elastic demand, meaning that menu price increases will affect them most. Yet, the fast-food labor model is also much more flexible and adaptive; not to mention much less reliant on full-time employees, suggesting that many fast-food chains may not see a huge difference.
Dine-in restaurants, on the other hand, have a labor model that appears more vulnerable, often being staffed by anywhere from 50 - 100 employees. Many of these employees are also full-time, and very few are offered insurance. For this reason, I expect that dine-in restaurants will get hit more on the labor cost front, and experience higher menu price increases as a result.
Let's also not forget the lessons from the last recession. As consumers suffered in 2008 and 2009, many shifted from lower-end dine-in restaurants to fast-food to save money. This is another reason why dine-in restaurants may be the weaker link in 2014. Yet, we shouldn't totally rule out fast-food chains, either.
Fast Food Labor Costs
It's worthwhile to take a look at labor costs for both fast-food and full-service restaurants. The chart below looks at the wage expense for fast-food restaurants, including Wendy's (NYSE:WEN), McDonald's, and Jack in the Box (NASDAQ:JACK). I put Sonic and Papa John's (NASDAQ:PZZA), as well as Krispy Kreme's (KKD) KremeWorks LLC subsidiary.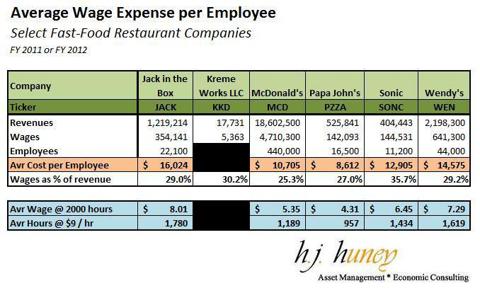 The bottom two rows attempt to deduce a restaurant's dependence upon full-time labor. The first bottom row looks at the average wage assuming every employee works 2,000 hours. This is more useful when we don't have a good guess for the average wages. In this case, $9 - $10 per hour is probably a reasonable estimate of the wages and benefits for the average fast-food employee.
The bottom row (Avr Hours @ $9 / hr) examines the average hours each employee works, assuming $9 in wages and benefits per hour. Under the definitions of the ACA, a full-time employee will work somewhere around 1,500 to 2,000 hours. The lower the number of hours, the more dependent a company is on part-time labor.
For instance, at 957 hours, Papa John's is the most reliant upon part-time labor of the group; whereas at 1,780 hours, Jack-in-the-Box appears to be most reliant upon full-time labor of the group.
The most important stat here is wages as a percentage of revenue, which should tell us which restaurants will be more impacted by wage increases. McDonald's is at the low-end at 25.3% and most of our restaurants fall in the 27% - 31% range. Sonic is the sole outlier at 35.7%; keep that stat in mind.
Dine-In Labor Costs
It's more difficult to make reliable estimations for full service restaurants, as the quantity and diversity of employees in full-service restaurants tends to be greater than with fast food. All the same, we can make some observations. Our group of dine-in restaurants includes Bloomin' Brands (NASDAQ:BLMN), Cheesecake Factory (NASDAQ:CAKE), Cracker Barrel (NASDAQ:CBRL), CEC Entertainment (CEC), Denny's (NASDAQ:DENN), Darden, Brinker, Ruby Tuesday (NYSE:RT); and Texas Roadhouse (NASDAQ:TXRH).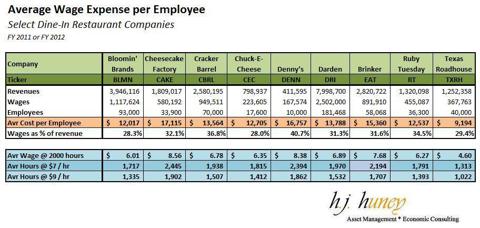 As you can tell, these restaurants are all over the place. Cheesecake Factory and Denny's appear to be the most reliant upon full-time labor, while Texas Roadhouse, Ruby Tuesday, Bloomin Brands, and Chuck-E-Cheese appear least reliant. Brinker, Darden, and Cracker Barrel appear significantly dependent upon full-time labor, as well.
Wage expenses vary dramatically, too, with Chuck-E-Cheese, Bloomin' Brands, and Texas Roadhouse on the low-end (under 30% as a percentage of revenues), and Denny's and Cracker Barrel at the high-end (both over 35% as a percentage of revenues).
Sonic and a Different Type of Model
If fast-food restaurants are more sensitive to price increases, but dine-in restaurants are more likely to see labor costs increases as a result of the ACA, then the question becomes which is more vulnerable? My take is that the dine-in restaurants, particularly on the lower-end, are the most vulnerable. However, there is at least one restaurant in the group above that falls more into the fast-food bucket, but has a labor structure that is more similar to a low-end dine-in restaurant: Sonic Drive-In.
It's fair to say that Sonic competes more with Burger King and Jack-in-the-Box than it does with Olive Garden or Applebee's. Yet, a typical Sonic Drive-In employs carhops to serve food to patrons and these carhops are somewhat similar to servers at a dine-in restaurant; which is one reason why Sonic may have higher labor costs than every other company in its peer group.
We can see this in the analysis above. As a percentage of revenue, Sonic's labor costs are around 36%, making it much more similar to dine-in restaurants like Cracker Barrel, Denny's, and Ruby Tuesday, than McDonald's and Wendy's. Sonic also appears to be at least somewhat reliant on full-time and near full-time labor.
There's another problem for Sonic. Unlike most restaurants, which have a breakfast, lunch, or dinner rush that accounts for a large chunk of their revenues, Sonic's sales are not concentrated during any particular part of the day. In fact, around 50% of revenues come outside of lunch and dinner rush hours, suggesting that Sonic is the place that people might stop for a drink at 2 PM or a snack at 8 PM. What this means is that Sonic Drive-Ins may be less able to vary labor hours as a response to demand. This could make their profitability more dependent upon volume than competitors.
Growth Prospects
Sonic also may have more difficulty growing than some of its competitors. Sonic is a somewhat unique fast-food concept, in that it utilizes the old 1950's drive-in concept. Part of Sonic's appeal is nostalgia, but there's also a reason that virtually every other fast-food restaurant in America has abandoned that business model: higher costs, less efficient service.
While this nostalgic appeal does give Sonic a unique niche in the US market, it dampens its international growth prospects. It's difficult to imagine Sonic getting exported to less car-dependent nations like the UK, France, Japan, and Germany. Nor does it seem like the concept would be ideal for Latin America or China. Sonic is not particularly renowned for its food either; it's known more for its drinks, service, and the drive-in concept; suggesting that it would be difficult to transition to a traditional fast-food model internationally, as well.
All of that makes Sonic more of an American pure-play. This isn't to say that Sonic lacks growth prospects, but that its growth seems to be more limited to the North American continent.
The Four-Year Plunge
Finally, one thing that really caught my eye with Sonic was a four-year revenue plunge. The chart below lays out revenue numbers since 2002 and you can see a definite trend since 2008.

Revenue has fallen 32.4% since 2008. This can partly be explained by the fact that Sonic has sold off some company owned-stores, meaning that company-store sales revenue falls, but franchise royalties increase. In 2008, there were 684 corporate-owned Sonic Drive-Ins and by 2012, there were only 409. Meanwhile, franchised stores increased from 2,791 to 3,147 in that same time frame. So maybe the revenue plunge isn't as troubling as it seems; until you dig beneath the surface and realize that something else is definitely amiss.
The profit picture also doesn't look very good.

Once again, the falling profit for the corporate stores is easily explained, but the falling operating profit for the overall company not as much. So what's going on here? There are a few explanations, but margin deterioration seems to be the biggest factor. We'll explore that issue in more depth in Part II.
Valuation
Finally, to finish off Part I, I want to look at one of the original reasons Sonic made my short list: valuation. As I said in the intro, when I began researching this thesis, I searched for restaurant chains that not only lacked international growth opportunities and had some internal issues; but also ones that looked a bit aggressively valued. Sonic is certainly not in "bubble" territory, but my initial analysis suggested that it might be a little bit overvalued. Below is Sonic's balance sheet for the most recent quarter.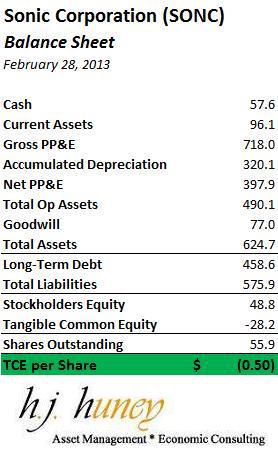 I calculated tangible common equity ["TCE"] per share at negative $0.50. In order to conduct a few quick valuations, I took the balance sheet above, came up with a valuation for operating assets, and came up with a new value for TCE per share based on that. In order to value operating assets, I looked at recurring free cash flows ["FCFs"] in FY 2012 and applied a 15x multiple. This gave me a valuation of $6.53 per share (as you can see below).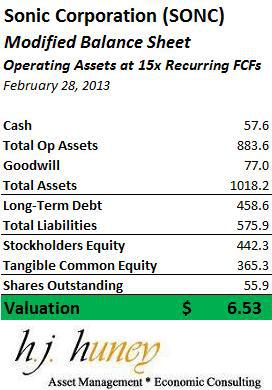 However, FY 2012 was not a fantastic year for Sonic. In fact, the previous three years were all better. For that reason, I also took a look at FY 2011, which changes the results a bit. Based on recurring FCFs in 2011, I come up with a higher valuation of $9.60 per share.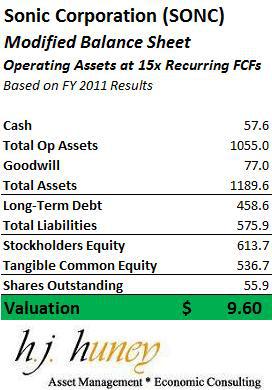 There's a bit of operating slack here, as well. Due to some of Sonic's more fixed costs, it's plausible that profits and cash flows could grow more rapidly than expected. But based on this quick valuation analysis, it would appear to me that Sonic is probably worth somewhere between $6 and $12 per share, with my best guess being around $8. It currently sells at $12.63, which is about 57% higher than my probable valuation, and slightly outside of my overall valuation range.
Once again, Sonic does not appear to be in bubble territory, but it does appear a bit aggressively valued. This at least makes it an attractive hedge on the overall market, if one believes that restaurants are one of the most vulnerable sectors in 2014.
Stayed Tuned for Part II and Part III
Sonic is a reasonable short based on its labor model, recent profit plunge, and a quick valuation analysis of the firm. The implementation of the ACA could provide further headaches and a new deterrent to growth, as well. If the market is a bit "overheated," and restaurants suffer a bit in 2014, it makes sense to short a restaurant chain, such as Sonic, to hedge the overall risks of the market.
Yet, there are also much deeper reasons why Sonic may be an excellent short. In my upcoming articles, I'll examine margin deterioration and franchisee economics, which show a few red flags for Sonic and make it a more attractive short candidate.
Disclosure: I am short SONC. I wrote this article myself, and it expresses my own opinions. I am not receiving compensation for it (other than from Seeking Alpha). I have no business relationship with any company whose stock is mentioned in this article.