This morning, 3D Systems Corp (NYSE:DDD) announced its 2013 first quarter results. 3D Systems has a market cap of $3.25 billion and so far occupies the leader position in the rapidly growing 3D printing space. Below I have provided an analysis of the earnings as well as a discussion on the upside 3D Systems offers investors.
First Quarter Results
3D Systems reported a non-GAAP earnings per share of $0.21 and GAAP EPS of $0.06, which met analysts' expected EPS estimate of $0.21. Revenues came in 31% higher than the prior year's $102.1 million due mostly in part to a 61% increase in printers and other product revenue. A gross profit margin of 52.4% helped bring in $18.9 million (non-GAAP net) and $5.9 of GAAP net income.
During the first quarter, several personal and professional 3D printers were introduced as well as new software packages and consumer apps. 3D Systems has the most diverse product range when compared to its competitors Stratasys (NASDAQ:SSYS) and ExOne (NASDAQ:XONE), which has helped 3D Systems maintain its lead so far. And, with $110.5 million in cash and a commitment to more R&D, I think 3D Systems will occupy the top spot for a long time.
A look at management's presentation on revenue and new product growth: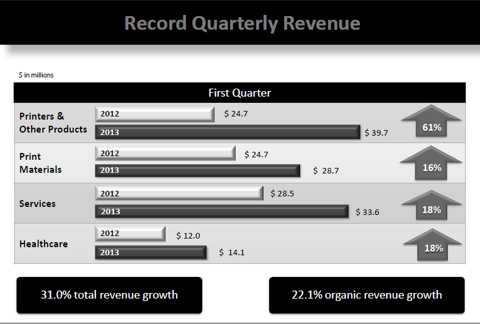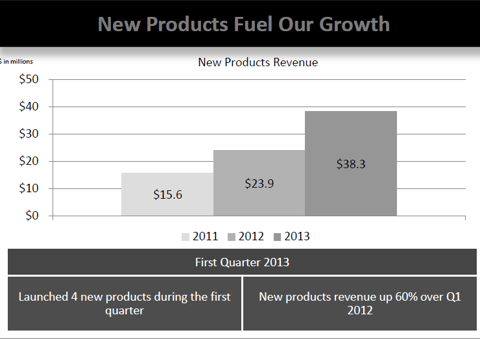 Stock Performance
Unlike most fast-growth companies, DDD shares have pulled back from their 52 week highs of $47.99 and now trade for $35.77 per share. This pullback offers investors what I feel may be one of the last opportunities to get in at a more reasonable price. Once the 3D printers and market develop more, I think there will be exponential growth in revenues and inventory turnover. The turning point will be when manufacturers start to identify exactly where and how they can use the machines, something that is taking time but will ultimately save them millions of dollars when compared to the traditional prototype and manufacturing processes.
Bottom Line
Anyone looking for big growth has everything they are looking for in 3D Systems. It's hard to be definitive on a growing company in a relatively new industry but it is undeniable that the demand is there and that 3D Systems is positioned to benefit from growth in any niche that develops. The only negative that I see from the earnings announcement is that while there was significant growth over what was produced in Q1 2012, revenues, gross profits and income were all relatively flat when compared to the subsequent quarters performance. Shares opened today down 3.66% or $1.42 per share this morning and they will most likely be very volatile over the next year. I personally will be buying on the dips.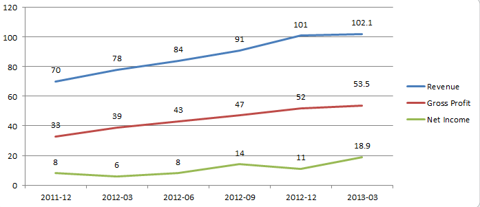 Disclosure: I am long DDD. I wrote this article myself, and it expresses my own opinions. I am not receiving compensation for it (other than from Seeking Alpha). I have no business relationship with any company whose stock is mentioned in this article.