By Jordan Plews, Ph.D.; T. Bacaj, Ph.D.; and Paul Nash, Ph.D.
Zogenix is a pharmaceutical company specializing in the commercialization and development of products for the treatment of central nervous system (CNS) disorders and pain. The company is currently awaiting the outcome of a New Drug Application (NDA) from the Food and Drug Administration (FDA) for the drug Zohydro ERTM; the first orally active, extended release, single entity hydrocodone bitartate capsule for the treatment of moderate to severe chronic pain in patients requiring around the clock opiate therapy.
Chronic pain affects 100 million Americans at a national cost of up to$635B. With roughly 40% of these 100 million patients receiving a prescription for an opioid it makes this class of drugs the most prescribed in the USA. The most commonly prescribed within the opioid class are the hydrocodone based analgesics and competition within this market is strong, putting Zohydro in direct competition with drugs such as Vicodin.
Positive results from Zohydro's phase III clinical trials indicate that it will provide strong clinical competition to the incumbent products. The trial was conducted as a double blind, placebo controlled study in patients with moderate to severe chronic lower back pain, who were already on opioid therapy. The trial met its primary endpoint, with results indicating a clinically significant reduction in their average daily pain in patients on Zohydro when compared to placebo. A responder analysis, characterizing patients who responded favorably to treatment, was marked as a secondary endpoint and results from this analysis showed twice the number of patients had a clinically significant reduction in pain (>30%) on Zohydro as compared with placebo. Also, this result was achieved with a 20% lower mg/day dosage of drug when compared to an alternative analgesic (in this case Vicodin).
Major side effects were comparable to those common among opioid therapies, however, due to Zohydro containing only hydrocodone, the side effects commonly experienced by therapies which included hydrocodone in combination with acetaminophen, such as the increased risk of liver toxicity, were absent. This heightened clinical effect and reduction in side effects give an overall improvement in the patient satisfaction and tolerance of the drug.
FDA Panel Unsupportive of Zohydro Based on Potential for Abuse
Despite positive data, an FDA panel of experts voted against approval for Zohydro (11 to 2 against, 1 abstained). However, the final FDA decision on Zohydro has been delayed and while it is difficult to speculate about the likelihood of FDA approval, chances of approval may be roughly 50%, based on the success rate of previous cases where the initial decision was delayed. Furthermore, the banning of generic OxyContin, which initially seemed to be good news for Zohydro, may actually hold them back in the long term. Oxycontin was set to become a generic in April, which could have indirectly had a negative effect on the value of Zohydro, but the FDA recently chose to ban the generic form on the grounds that it could be easily abused. Instead, only the harder to abuse, reformulated version by Purdue Pharma, based on technology by Acura Pharmaceuticals (NASDAQ:ACUR) will continue to be available. While this seems like good news for Zohydro, this also prompts concern about whether or not similar restrictions will be enforced on Zohydro in regards to protection from abuse. The fact that prescription opioids are the most abused class of drugs is an alarming fact well known to the FDA, and they have taken steps to reduce this by requiring a Risk Evaluation and Mitigation Strategy (REMS) for this class of drugs. In its current formulation, Zohydro has no built in protections against abuse and can be crushed, converting the extended release tablets into a single large dose of hydrocodone. So, should Zohydro be approved, the plan is to mitigate the risk of abuse by limiting the number of prescriptions per year, by distributing Zohydro through specific controlled channels, such as pain clinics, and by ensuring mandatory physician training for the risk of opioid addiction and tolerance. All of this would need to be paid for by Zogenix.
If Zohydro is to be successfully marketed on a larger scale, it's likely that better, formulation-based protections will need to be put into place to prevent abuse. Zogenix is hoping that since Zohydro will be classified as a Schedule II drug (instead of Schedule III - see figure below), this will push the FDA toward approval. The Schedule II classification, however, will also limit sales.
Modified from slide 17 of the FDA AdCom meeting report.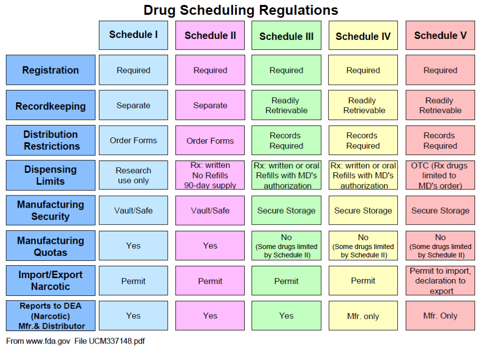 Market for Zohydro
Currently, there are roughly 200 million prescriptions for opioid analgesics filled every year. 130 million of those are for hydrocodone & acetaminophen combination products, such as Vicodin. This large market share is in part due to the relaxed restrictions on production and prescription of Schedule III drugs. Oxycodone products however, are all part of the more restricted Schedule II classification, being subject to more DEA restrictions and requiring in person physicians consults for prescription refills, resulting in limited use and lower market share (See figure above for more details). Production of opioids in the US is limited by DEA imposed quotas. The DEA quota given to Zogenix for 2013 is 0.3% of the total US production levels (or about 300 kg), At 30 mg per pill on average, this means 10 million pills, which sold at the price of about $9/pill, means revenue of $90MM dollars. In its presentation to the FDA (slide 111), Zogenix indicated that it planned to treat 90,000 patients/year by year 5 post launch. While Zogenix might have been underestimating, to lower the perceived abuse risk, 90,000 patients translates to about $150MM in revenue (2 pills/day x $9/pill x 90 days x 90,000 patients) and perhaps more if patients need to use the drug for longer. Therefore, the maximum revenue Zohydro could expect to make annually would likely be in the $100-200MM range. Given that Zohydro is the first opioid analgesic to seek release since the FDA's inclusion of REMS, there is a huge degree of speculation as to the effect these measures will have on the company's bottom line.
Courtesy of this recent FDA report.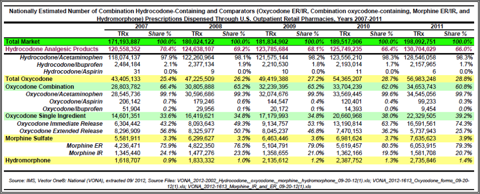 Competition
To avoid the liver toxicity of hydrocodone combination products, several companies have ongoing clinical trials testing single entity hydrocodone extended release formulations, which would be in direct competition to Zohydro. Purdue Pharma, the privately held maker of OxyContin, has ongoing Phase III trials estimated to end in September 2013 to test an extended-release, crush-resistant hydrocodone formulation. Since 2010 they have marketed a similar formulation of OxyContin and voluntarily withdrew the older formulation, while non-crush resistant generic versions were recently banned by the FDA to prevent abuse. On top of their manufacturing expertise, Purdue has connections to prescribers and the sales force to potentially dominate the market. Given their previous success, Purdue appears to be in a prime position to take control of the hydrocodone market as well, assuming their Phase III trial is successful.
Teva, by buying out Cephalon, has entered this market as well. They completed Phase III trials of a crush resistant long-acting hydrocodone formulation in 2011, but they failed to show improvement over placebo, which underscores the point that reformulation is not as straight-forward as one might think. As previewed in the company's 20-F filing, a newly designed Phase III study was started in March 2013 and should be completed by January 2014.
Thus the main competition seems to come from Purdue, which may have a drug like Zohydro on the market within the next 2 years. If Zogenix does not have abuse deterrent formulations by then, which as Teva shows is not necessarily a simple job, it will likely be very difficult to maintain or expand its market share.
Other Sources of Revenue
In addition to Zohydro, Zogenix currently has one approved therapy, Sumavel DosePro - a needle free drug delivery technology that has been formulated with sumatriptan for the treatment of migraine and cluster headache. So far, Sumavel Dose Pro has shown disappointing sales growth, although their recent promotional partnership with Covidien might change that. In the absence of growth, the revenue from Sumavel ($36MM in 2012) is not enough to cover the current $90MM annual operating expenses. Per the company's 10K, the triptan market is $4.3B, of which injectables comprise $371MM, nasal sprays $120MM, and oral formulations $3.8B. For patients with nausea/vomiting related issues, the preferred options are injectables or nasal sprays. Since about 10% of the population has fear of needles, Sumavel should attract those patients, which means a potential of 10% of the $491MM injectable/spray formulation market. This could happen, however, as Sumavel Dose Pro acts faster than oral tablets (12 minutes vs 1-3 hours), but so do regular injections. Gaining market share might be tougher now since a competitor product, Zecuity (a patch delivering the same active ingredient) was recently approved by the FDA. While Zogenix could try to use the Dose Pro system to deliver other drugs, as they are currently doing for risperidone, an antipsychotic, they will need to complete clinical trials before approval, which means significant costs and more importantly a long delay before revenues are generated.
Where does Zogenix stand?
The delayed decision by the FDA for the approval of Zohydro was seen as a good omen for approval, but there has been too much public outcry about the approval of another opioid given the epidemic of abuse in the country. While this is unfair to Zohydro since it appears to be no different than drugs currently in the market, and the FDA is presumably obligated to treat it equally to other drugs, the FDA might make a politically motivated ruling since it has the cover of the scientific committee rejection. At best, the approval will come with tight restrictions, and even then the risk exists that might be pulled from the market if Purdue's crush-resistant formulation is approved.
Zogenix had operating expenses of $90MM in 2012, with a share price of $1.70 (as of time of writing on 4/25/2013), and Market Cap of $171.37MM. At present, Zogenix has a cash burn of about $10M/quarter, with $40MM cash on hand, and net debt of about $30MM.
Peak annual revenue in a good scenario after 3 years could be $200MM ($50MM for Sumavel and $150MM for Zohydro). After COGS (which should be significant since they do not manufacture themselves), R&D (which should stay high due to likely crush-resistant studies for Zohydro), SGA (a significant increase expected due to hiring of a larger sales force for Zohydro launch), plus physician training to satisfy REMS requirements, the earnings per share might not be as strong as expected. In a worst case scenario, without approval of Zohydro, it will be difficult for Sumavel to sustain the company and they may be left in a situation where they would need to do another public offering, issue debt, partner, or sell their proprietary technology. Bottom line is that even with FDA approval for Zohydro Zogenix (NASDAQ:ZGNX) might not be so profitable as to justify the current risk, while a denial will significantly limit revenues.
Disclosure: I have no positions in any stocks mentioned, and no plans to initiate any positions within the next 72 hours. I wrote this article myself, and it expresses my own opinions. I am not receiving compensation for it (other than from Seeking Alpha). I have no business relationship with any company whose stock is mentioned in this article.
Additional disclosure: Business relationship disclosure: Alpha Cardinal is a team of graduate students and postdocs at the Stanford University School of Medicine. This article was written by Jordan Plews, Ph.D., T Bacaj, Ph.D., Paul Nash Ph.D. members of one of our teams. We did not receive compensation for this article, and we have no business relationship with any company whose stock is mentioned in this article.