In a world of essentially zero interest rates, the Federal Reserve has pushed the dividend focused investor into taking more and more risks with their retirement assets. Long gone are the days of 5% yielding money market funds and 7% CDs where you can earn a healthy income stream while sleeping well at night knowing that your capital is safe from harm.
In today's reality, equity-income investors have to stretch to earn the type of yield that they have been accustomed to in order to maintain their lifestyle and income needs. That is why so many investors are focused solely on the percentage yield of an investment without fully understanding how they are generating those dividends and what the risks are.
One of the last frontiers in the search for double digit yields in the ETF world are mortgage REITs. These specialized financial stocks invest directly in mortgage related debt and use excessive leverage and hedging strategies to juice their returns. Mortgage REITs have thrived in a world of zero interest rates because they are able to borrow short-term money very cheap and use it to buy long-term debt. This enables them to pocket the spread on interest rates and distribute the majority of earnings to shareholders. However, it is important to realize that if credit begins to tighten, the borrowing costs of these REITs will also increase, which may hinder their ability to sustain these fantastic yields.
The largest mREIT exchange-traded fund is the iShares Mortgage REIT Capped ETF (BATS:REM). This fund invests in 30 publicly traded residential mortgage real estate investment trusts. The top three holdings include: Annaly Capital Management (NYSE:NLY), American Capital Agency Corp (NASDAQ:AGNC), and Starwood Property Trust (NYSE:STWD). These companies make up nearly 45% of the fund.
It has an expense ratio of 0.48% and currently boasts over $1.2 billion in total assets. The 30-day SEC yield on REM is 11.07% which is one of the highest sustaining dividend yields available in the ETF universe today. The distributions are paid to shareholders on a quarterly basis.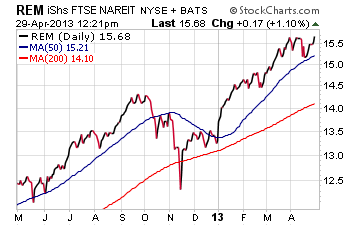 The fund has enjoyed success so far in 2013 with a total year-to-date return of over 16% through 4/26/13. With that strong yield, investors have been flocking to REM has a means of boosting their income while participating in the capital appreciation of the mREIT sector.
However, there is no such thing as a "safe investment" that generates four times the yield of an equivalent 30-Year Treasury bond. REM has also experienced periods of extreme volatility such as in 2008 when the fund lost over 60% of its value from high to low.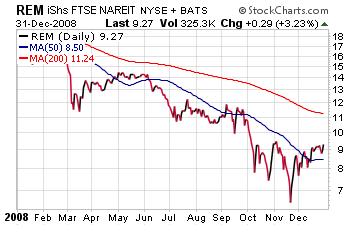 One of the simplest mantras in income investing that pays to remember is High Yield = High Risk. I believe that mortgage REITs can be used as a tool to add high yield, equity-like exposure to an income portfolio. But the caveat is that they should be used in moderation. These funds can have periods of very swift declines that may not be suitable for more conservative investors that can't handle the volatility.
Because REM is currently sitting on its 52-week highs, I would not recommend new investors look to purchase a position at these levels. I would be more inclined to start adding REM near the 200-day moving average at $14. In addition, I would always use a trailing stop loss to ensure that you define your risk and don't get caught up in a wider sell off or trend change in the mortgage sector.
Two other funds that investors can consider in the mREIT sector are the MarketVectors Mortgage REIT Income ETF (NYSEARCA:MORT) and the PowerShares KBW High Dividend Yield Financial Portfolio (NASDAQ:KBWD). MORT is constructed very similarly to REM with the underlying holdings market cap weighted towards the largest securities. KBWD on the other hand, takes more of an equal weight approach to its security selection.
The Final Word
There are numerous pitfalls and hazards to avoid when searching for high yield in these markets. I always recommend the following checklist for investors searching for new opportunities to generate the income they desire:
1. Always be skeptical about a headline yield number and research the history of any dividend paying stock, bond, or ETF.
2. Make sure that you thoroughly understand how an investment is able to pay its income and where the potential pitfalls might be if conditions change in the future.
3. If you do purchase a high yield investment, make sure that it is liquid enough so that you can get out whenever you want. Purchasing a publicly traded security vs. a private investment will ensure that you can always cut your losses. Use a trailing stop loss whenever possible if you aren't able to monitor your portfolio regularly.
4. If possible, consider pairing high yield investments with high quality holdings to help offset the volatility in your portfolio.
Disclosure: I have no positions in any stocks mentioned, and no plans to initiate any positions within the next 72 hours. I wrote this article myself, and it expresses my own opinions. I am not receiving compensation for it. I have no business relationship with any company whose stock is mentioned in this article.
Additional disclosure: David Fabian, Fabian Capital Management, and/or its clients may hold positions in the ETFs and mutual funds mentioned above. The commentary does not constitute individualized investment advice. The opinions offered herein are not personalized recommendations to buy, sell or hold securities.