It is no secret that Teck Resources Ltd. (TCK) wants to sell a 20% stake in its Elk Valley coal deposits to pay down debt and balance its commodity exposure. At a conference last week, chief executive Don Lindsay offered a price range of C$3-billion to C$5-billion for the minority interest in Elk Valley.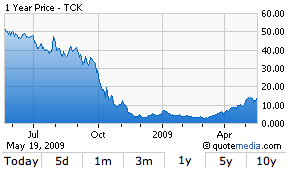 But is that feasible? BMO Capital Markets analyst Tony Robson is not convinced. Using a long-term metallurgical coal price of $125 a tonne, he calculated a value of C$1.5-billion for a 20% stake in Elk Valley.
However, he also noted that Elk Valley is very sensitive to coal prices because it is a higher-cost producer. Assuming a long-term coal price of $145 a tonne, he wrote that the stake is worth an estimated C$2.2-billion.
To reach Teck's stated price range of C$3-billion to C$5-billion, Mr. Robson suggested long-term coal prices of $165 a tonne to $215 a tonne are required. That would seem cheap compared to the $300 prices seen in 2008, but considerably higher than current prices of around $125 a tonne.
Mr. Robson wrote in a note to clients:
The average implied price of $190 [a tonne] would require exceptionally robust steel production and prices, and prolonged structural issues in the met coal market.
Teck has identified three potential types of buyers of the Elk Valley stake: Asian customers, financial institutions, and large mining companies. Of the latter group, Mr. Robson suspects that Brazilian giant Companhia Vale do Rio Doce (NYSE:VALE) is the most likely candidate. Vale has plenty of cash on hand ($12.2-billion) and limited exposure to metallurgical coal.
He wrote:
Should Vale be interested in increasing exposure to met coal, Elk Valley would allow easy and immediate entry into the seaborne coking coal market.
Mr. Robson rates Teck a "market perform." He had a very dim view of Teck for months, but his outlook improved after the company received extensions on its debt payments.