Another Amazon (NASDAQ:AMZN) quarter passes where the numbers continue to get worse as revenue growth slows, operating expenses soar and huge capital expenditures continue to shrink free cash flow. Although the erosion in almost all financial metrics in the first quarter followed the downward historical trends, this quarter was different in that analysts finally expected the numbers to improve in 2013 as the large infrastructure investments Amazon has made were supposed to drive operating efficiencies by this point. While my modeling of the business has been able to accurately predict that shipping and operating expenses would outpace Amazon's revenue growth and therefore these efficiencies would not occur, I have been surprised at the pace in which customer's spending on Amazon has been saturated to a point where it is now actually declining. At 209 million active customers, this last point is an extremely troubling trend for Amazon as it needs each existing customer to spend more each year as its new customer additions inevitably will slow.
Customers Are Now Spending Less
Historically, customer spending per account had increased steadily for Amazon, driven by programs such as Amazon Prime and the expansion of product selection by new Amazon stores and Third-Party Market Place (3P). Figure 1 shows that the average customer now spends $313 per year at Amazon.com on 3P and Amazon direct merchandise combined.
Figure 1: Customer Annual Retail Spend on Amazon per Active Account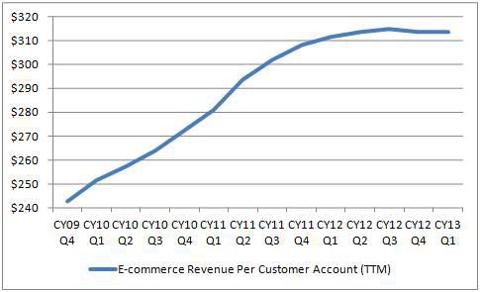 Figure 2 shows the growth rates of both customer spending and total active customer accounts for Amazon since CY09 Q4. While active customer accounts have been consistently rising between 20-25% per year, customer spending growth peaked in CY11 Q2 and has quickly declined since. For the past two quarters, customers on average are actually spending less on Amazon then they did in the prior-year period. That is an amazing turnaround in this key metric and shows why Amazon's overall growth has been in such large decline. Either existing customers are spending less or new customers are not proving to be as fruitful as the existing ones, or some combination thereof. My take is that it is getting harder and harder for Amazon to add new customers who bring up the average spend - especially since it already has tremendous share of the lucrative North American market and disposable income internationally is significantly lower. Add to this the significant currency exchange headwind in Europe and Japan (international's wealthiest customers) and it is hard to imagine that incremental new customers will not erode the average customer spend per year going forward as well.
Figure 2: Active Customer and Customer Average Spend Growth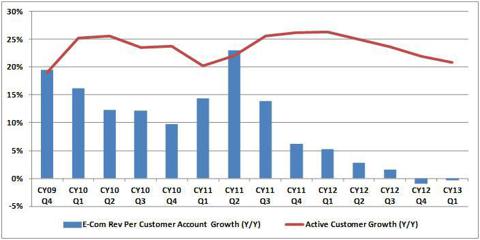 It is clear Amazon is trying to address this by adding more and more benefit to its customer loyalty program, Amazon Prime, but all that has done is add significant cost (article) and not improved average spend per customer.
Amazon Continues to Spend More
Capturing those new customers has proven expensive. I have spent a tremendous amount of time in other articles plowing through the gory details of why and how shipping and operating expenses must outpace revenue gains due to Amazon's business model - so I will not repeat that here. Needless to say, all key costs increased as percentage of sales in Q1 versus the year-ago period: gross Shipping Cost, Fulfillment, Technology & Content, Marketing and G&A combined for a 322 basis point increase. While these increases are partially offset by product gross margin increases due to Amazon's gross margin accounting method, they continue to push down Amazon's own three key metrics: Free Cash Flow (FCF), Return on Invested Capital (ROIC) and Consolidated Segment Operating Income (CSOI). In a prior article I used my own five metrics, metrics that I thought told the untold story of why Amazon was so overvalued. Here I will present Amazon's own key financial metrics and how they continue to erode into 2013.
Here is Amazon's definition for its three key metrics (source: Amazon 10Q):
Free Cash Flow, a non-GAAP financial measure, is GAAP Operating Cash Flow Less Purchases of Property and Equipment
ROIC = TTM Free Cash Flow divided by average Total Assets minus Current Liabilities, excluding current portion of our Long-Term Debt, over 5 quarter ends
Consolidated Segment Operating Income (CSOI), a non-GAAP financial measure, excludes Stock-Based Compensation and Other Operating Income (Expense)
CSOM in the charts is Consolidated Segment Operating Margin (CSOI divided by Revenue).
Figure 3: Amazon Free Cash Flow & Return on Invested Capital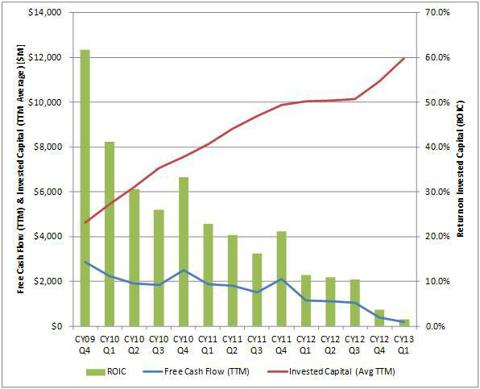 Figure 3 shows that ROIC has been the on a massive decline for over three years. It dropped to 1% in CY13 Q1, as Free Cash Flow continues to erode and invested capital is expanding from the $3 billion bond offering in CY12 Q4. Invested Capital will continue to increase significantly throughout 2013, as the bond offering fully works its way into the TTM average, along with the significant increases in "Additional Paid in Capital" from employee stock compensation. For years while earnings disappointed, Amazon management always pointed to significant Free Cash Flow and much higher than cost of capital ROIC. Those days no longer exist as you can currently achieve a better return on your investment with infinitely lower risk in a FED price-fixed 10-year U.S. Treasury.
The downward trend of CSOM (Figure 4) has occurred in spite of increasing revenues and expansive gross margin improvement. Amazon needs to get CSOM in the 9-10% range with continued strong revenue growth to support its current stock price. It has been stuck in the 2.5% area for seven quarters now, and my model shows that continuing for at least several more quarters.
Figure 4: Amazon Consolidated Segment Operating Margin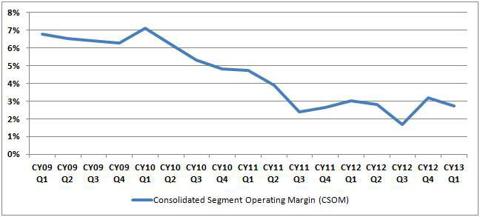 Conclusion
While Amazon continues to spend and invest in the business, it is showing no signs of a turnaround in its financial decline, nor does it show any indication it can ever reach levels of return commensurate with its current stock price. Further pressuring the stock post the Q1 earnings call is the continued reduction in revenue growth estimates, which has been driven by Amazon's customers decreasing their annual spend on the site for two straight quarters. While maybe a bit of a stretch, I would consider this the on-line equivalent of same-store sales being down for brick and mortar - ouch!
Disclosure: I am short AMZN. I wrote this article myself, and it expresses my own opinions. I am not receiving compensation for it (other than from Seeking Alpha). I have no business relationship with any company whose stock is mentioned in this article.