Introduction
About a year ago, I wrote my first article on Xerox (NYSE:XRX) titled Renaissance Era Coming For Xerox. Since then, the company's common stock total return is about 6.7% compared to declines of -16.1%, -21.4%, and -2.9% for competitors Hewlett Packard (NYSE:HPQ), Canon (NYSE:CAJ), and Lexmark (NYSE:LXK), respectively (see graph). Even following this positive performance compared to its major competitors, Xerox shares offer good value to investors.
In addition, the company is continuing to position itself strategically in the services and document technology segments and does not seem affected by the government sequestration in the U.S. (Xerox derives much larger portion of its government revenue from state and local governments than from the federal government). Any improvements in the global economy are likely to benefit Xerox, as the company provides technology and services that represent significant fund capital outflows for its customers. Demand for its services should rise when the economy recovers and companies' and governments' confidence returns. On the negative side, Xerox's performance could suffer if the recent trend of companies keeping their technology services in-house continues.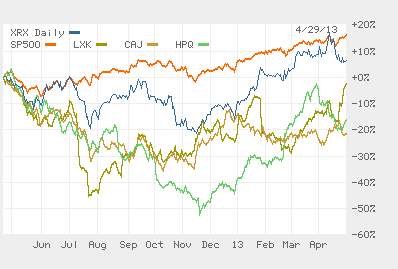 Valuation and fundamentals
Xerox had 1.23 billion shares outstanding as of March 25, 2013 compared to 1.35 billion shares outstanding as of March 26, 2012. The company has been actively repurchasing shares, and it plans to repurchase over $400 million of its own shares in 2013. A decreased number of shares improves the per share performance and allows a company to increase its per share dividend.
During its latest quarter that ended on March 31, 2013, Xerox profit margin from service revenues remained flat compared to the same period of 2012 and stood at 9.3% while revenues rose by 4% to $2.92 billion. Many investors are probably concerned about Xerox's inability to improve its services margin. However, the company continues to sign new clients and as its contracts (which generally have multi-year lengths) mature, increased profits should follow. Xerox's signings in the last quarter grew by 64% compared to the same quarter in 2012 reaching $3.7 billion (75.7% of which was in business process outsourcing). Once this growth normalizes, Xerox will certainly start thinking more about margins.
Xerox's recent performance is significantly better than that of HP, Canon, and Lexmark as evidenced in the stock performance. For example, HP saw its revenues decline in four out of five segments and overall its revenues declined 6% in the quarter compared to the first quarter of 2012. Its enterprise services group, which is roughly comparable to Xerox's services business, recorded revenues of $5.92 billion during Q1 '13 or a -7% decline from Q1 '12, and the operating margin declined by 1%. Below is a table comparing key valuation measures and fundamentals for Xerox, HP, Canon, and Lexmark.
| | | | | |
| --- | --- | --- | --- | --- |
| | XRX | HPQ | CAJ | LXK |
| Market capitalization | $10.4B | $39.9B | $42.1B | $1.9B |
| Enterprise value [EV] | $17.8B | $54.4B | $33.8B | $1.7B |
| EBITDA margin | 12.9% | -5.4% | 16.1% | 10.2% |
| EV/EBITDA | 5.9 | 3.8 | 4.8 | 2.9 |
| Dividend yield | 2.7% | 2.6% | 4.2% | 4.1% |
| Price-to-earnings [PE] | 7.7 | 5.7 | 17.6 | 7.3 |
| PE-to-growth | 1.1 | 2.5 | n/a | n/a |
| Price-to-book-value | 0.9 | 1.7 | 1.6 | 1.5 |
| Price-to-sales | 0.5 | 0.3 | 1.4 | 0.5 |
| Beta | 1.7 | 1.2 | 1 | 1.2 |
| Price-to-CFO | 4.2 | 3.4 | 8.6 | n/a |
| Europe sales (2012) | 23% | >30%* | 29% | 35%* |
Source: Capital IQ, Thomson Reuters, SEC filings, author's calculations; EBITDA - earnings before interest, tax depreciation, and amortization; CFO - cash flow from operations.
*Includes the Middle East and Africa
As seen from the above table, Xerox offers an attractive dividend yield and EBITDA margin and the lowest price-to-book value ratio. On an EV/EBITDA basis, it is the most expensive stock, but this is justified. For example, Lexmark is competing more directly with Canon, which is currently more competitive due to the declining yen. Canon is also suffering from decreasing demand in digital cameras due to competition from ever-improving smart-phone cameras. Finally, HP, Canon, and Lexmark derive significantly larger portion of their revenues from Europe where economic pressures will likely not ease in the near future. It seems like investors are still valuing Xerox as a hardware company while it should be valued more like a services company, similar to IBM (NYSE:IBM).
New developments
Xerox's goal in 2013 is to spend $500 million on acquisitions primarily in services but also in the printing area. In Feb. 2013 it acquired the French-based Impika, a leader in production inkjet printing in such industries as packaging, security, and commerce. This acquisition should allow the company to offer more printing solutions to its corporate customers. Demand for printing is not expected to disappear anytime soon. For example, when a person goes to the emergency room, the healthcare professional still gives a printed sheet of instructions how to care after being discharged. There are many similar examples from ticket printing at the train station and the airport to shipping labels where it is just easier if you can put the piece of paper in your pocket. However, Xerox did sell its paper and print media business in the U.S. and Canada to Domtar (NYSE:UFS) in Mar. 2013.
Xerox continues to provide assistance as states near the deadline for setting up the health insurance exchanges as mandated by the Affordable Care Act. Xerox has been awarded contracts by a number of states including Nevada, New Hampshire, and Wyoming. Xerox should be able to capture even more of this business as the deadlines for the states and their health insurance exchanges are approaching quickly:
Ready to enroll participants by Oct. 2013;

Fully operational by Jan. 2014; and

Independent by 2015.
In addition, Xerox research center in Grenoble, France is developing a new parking congestion solution. Citizens receive notification on their smart-phone when a parking spot is available and the price, which fluctuates depending on the time of day, they have to pay. This is expected to complement Xerox transportation services, particularly in California where Xerox is providing parking management solutions to municipalities.
A threat is the more recent trend of in-sourcing IT by a number of leading companies as discussed in this article by Techrepublic.com. The major reason companies are increasingly deciding to keep their data processing capabilities in house is that they want to be able to stay on top of the latest technology, be able to develop technology expertise, ability to leverage in-house information systems, and costs (implementation, adapting, and monitoring). However, due to the specific areas where Xerox operates (healthcare and transportation) and its large exposure to the government sector, the threat of in-sourcing seems minimal at this time for Xerox.
Conclusion
Without a doubt, Xerox is a leading technological company that is successfully transitioning to services. However, many of its common stock fundamentals and valuation measures seem closer to a hardware company than a modern data processing and business outsourcing company. For example, IBM has an enterprise value-to-EBITDA ratio of 8.9 or over 50% higher than that of Xerox. As Xerox continues to increase its service revenues this share price discount should narrow and it could turn into a premium.
Disclosure: I have no positions in any stocks mentioned, and no plans to initiate any positions within the next 72 hours. I wrote this article myself, and it expresses my own opinions. I am not receiving compensation for it (other than from Seeking Alpha). I have no business relationship with any company whose stock is mentioned in this article.