The capricious weather has stifled the current planting season across the U.S., bolstering soft commodities related exchange traded funds.
The Teucrium Corn Fund (NYSEARCA:CORN) surged 6.7% Monday, jumping over its 50-day simple moving average. CORN has declined 11.4% year-to-date.
Corn futures increased 6.5%, the highest daily rise in 10 months, during afternoon trading Monday after the cold weather slowed planting in the U.S., the world's top exporter of corn, report Jeff Wilson and Whitney Mcferron for Bloomberg.
Farmers sowed 4% of corn crops as of April 21, compared to the five-year average of 16% for this time of year.
According to forecaster T-Storm Weather, central U.S. will experience more planting delays due to rising rain fall.
"The weather is wetter, and little planting is likely to occur with most farmers still working to apply fertilizer and prepare fields for seeds," Jim Gerlach, the president of A/C Trading Inc. said in the article. "The risk is that this weather doesn't break and planting delays become more severe in May," adding to greater risk of crop damage during the summer.
In a report, Planalystics calculates that U.S. wheat yields will diminish to 43 bushels an acre from 47.2 bushels year-over-year due to drought conditions and freezing temperatures three times this month across the central and southern Great Plains.
"Very poor winter wheat-condition ratings and a late emergence from dormancy have seen many make substantial cuts" to estimates, Chris Gadd, an analyst at Macquarie Group Ltd., said.
Wheat futures rose 3.5% Monday and soybean futures were 2.0% higher. The Teucrium Wheat Fund (NYSEARCA:WEAT) was up 4.2% and Teucrium Soybean Fund (NYSEARCA:SOYB) gained 1.1%.
The broad PowerShares DB Agriculture Fund (NYSEARCA:DBA), which includes a basket of agriculture futures, also gained 1.4% Monday.
Teucrium Corn Fund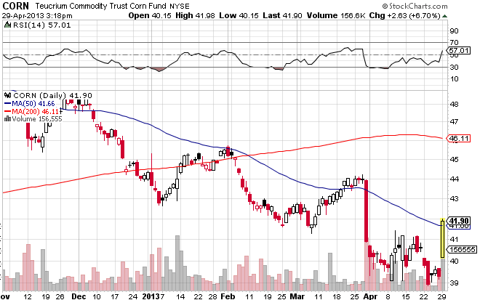 Max Chen contributed to this article.
Disclosure: I have no positions in any stocks mentioned, and no plans to initiate any positions within the next 72 hours. I wrote this article myself, and it expresses my own opinions. I am not receiving compensation for it. I have no business relationship with any company whose stock is mentioned in this article.