In my introductory article on what I call "Buyback Kings," I discussed what I wanted to do with this series. It will provide analyses of companies with a commitment to share repurchases and delivering value to shareholders.
The Inspiration
I was drawn to the idea of writing a series like this from the great Warren Buffett of Berkshire Hathaway (BRK.A, BRK.B). In my article titled "Buffett Has The Solution For Apple," I wrote about Buffett's appearance on CNBC's "Squawk Box" in early March when he advised that Apple (NASDAQ:AAPL) CEO Tim Cook and the company's board of directors expand the buyback program and buy more shares while they were cheap. He recalled a conversation with Steve Jobs a few years ago:
When Steve called me, I said, 'Is your stock cheap?' He said, 'yes.' I said, 'Do you have more cash than you need?' He said, 'a little.' [laughs] I said, 'Then buy back your stock.' He didn't...

But if you could buy dollar bills for 80 cents, it's a very good thing to do. Berkshire has gone down 50 percent four times in its history. When that happens, if you've got money you buy it. You just keep working on building the value.
Those words -- "You just keep working on building the value" -- really stuck with me. From then on I wanted to find companies with management that had the same mentality as Buffett. I did some more research, looking at Buffett's current holdings in Berkshire's stock portfolio. What I found was that many of Berkshire's biggest holdings are what I call Buyback Kings. They have significantly reduced their own share counts in the past five years through buybacks.
Click to enlarge images.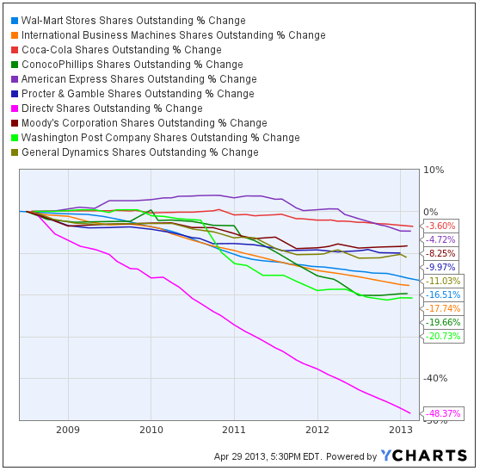 I admire and respect Warren Buffett, so I felt that there must be something meaningful to this. If Buffett loves companies that buy themselves, then maybe we should too.
Analysis
In this article I will be analyzing a Buyback King that is also one of Buffett's largest holdings: Wal-Mart (NYSE:WMT). Wal-Mart is the world's largest retailer. It operates nearly 11,000 stores worldwide and is one of the strongest brands in the world. Under the leadership of current CEO Michael Duke and Lee Scott before him, the company has reduced its own share count rather consistently by 15.61% in the past five years. The company also has dividends totaling $1.88 annually. Current dividend yield is a healthy 2.4%. To begin analyzing the company's buybacks, we must first search through the company's most recent SEC report to find the buyback data. The table below shows the information we need for fiscal 2011-13: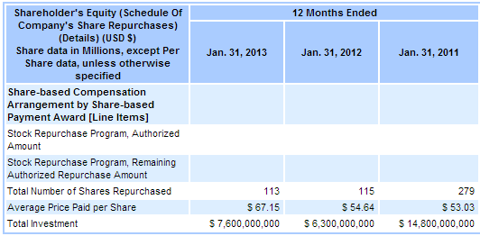 Source: SEC.gov.
Efficiency and Timing
Wal-Mart is certainly shelling out the cash needed to be a Buyback King, but how effectively is the company buying back shares? Investing billions of dollars in itself is great, but if I owned WMT shares I'd want to make sure the company paid a good price. Buybacks are just like the investments of an outsider: The lower the price paid, the more effective the investment. The table below compares the company's average buyback prices to several valuation data points I find to be significant: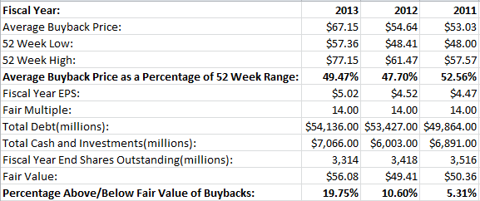 In my valuation calculations, I assume a fair P/E multiple of 14. Normally I use a multiple that matches my expectations for five-year annual earning growth for a company. In Wal-Mart's case, that would be 10. Wal-Mart has been a consistent 10% grower in the past and I think that will continue. I assigned Wal-Mart a multiple of 14 instead, though, because of the company's incredibly consistent and predictable growth and size. Companies as consistent and large as Wal-Mart usually trade at a premium. I also made adjustments to my valuation to account for Wal-Mart's financial strength, adding cash per share and subtracting debt per share.
As you can see, Wal-Mart's average buyback price is significantly higher than fair value in each of the past three years and the discrepancy has gotten larger every year. What also troubles me is that Wal-Mart's average buyback price falls right in the middle of the 52-week range of its shares for the past three years. This leads me to believe that Wal-Mart is not timing buybacks at all, but rather employing a dollar-cost-averaging strategy. Rather than buying back shares when the stock is the cheapest, the company seems to be displaying a disregard for the price paid, something that is very concerning to me as a value investor. Wal-Mart certainly is a Buyback King, but I'm not so sure it's a king I'd want ruling my portfolio.
Yield Hunter Calculations
For those of you who don't care about anything other than what a company is giving back to you directly, I have prepared some unique calculations you may find useful. I will do this in every article in this series and may add more calculations based on reader feedback and new ideas I might have. For now, I'll calculate what I call:
Total Yield
Dividend Expense Saved
Total Payout Ratio
I explained all three calculations in my last article, as follows:
The term "yield hunter" has become commonplace for investors who scour the market for stocks with high dividend yields. What most of these investors are really after, though, are companies that deliver value to shareholders. Since a company can do so through dividends or buybacks, I think it is more appropriate to include both in yield calculations. In this series, I will refer to this fundamental ratio as total yield and will calculate it as follows:

(Estimated Annualized Buyback Dollars / Market Cap) + Dividend Yield

I will also calculate dividend expense saved for dividend-paying companies to show how much more money the company will have to reinvest as a result of the buybacks, and calculate it as follows:

(Estimated Shares to Be Bought Back * Annual Dividends Per Share)

I will also calculate total payout ratio to show how much of earnings a company is actually returning to shareholders, and calculate it as follows:

(Dividends Paid + Annualized Buyback Dollars) / Net Income
My calculations are below: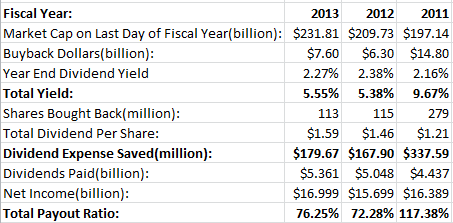 As you can see from the total yield numbers, Wal-Mart is returning much more cash to shareholders than a dividend yield number alone would indicate. This number is useful for comparing to other asset classes like bond yields or even stocks of other companies. The 9.67% yield of 2011 was clearly unsustainable as you can see from the total payout ratio, which is over 100% for the year. The company must've borrowed to generate some of that return, which will hurt future yields. Based on the past few years, it is reasonable to expect a 5% annual total yield going forward.
I find the "dividend expense saved" number useful because that is one of the benefits to a company of buying itself. The savings are also perennial: Because of the buybacks in, say, fiscal 2011, Wal-Mart will have $337.59 million more cash per year to use instead of paying out as dividends. In Wal-Mart's case, it would appear that the company is using the annual savings to grow dividends and buybacks for the following year rather than reinvesting the majority of it.
That brings up another good point in that Wal-Mart's total payout ratio is already quite high. The company is being just about as shareholder-friendly as possible, and will only really be able to increase future payouts through net income growth or the dividend expense saved I just mentioned.
Conclusion
As you read this article, didn't you get the sense that Wal-Mart is more of an efficient financial engineering machine than a retail company? I sure did. The company certainly knows how to dish out loads of cash to shareholders and do it on a yearly basis. My biggest concern, though, is the company paying too high a price to buy back shares. Furthermore, it appears as if the company is buying back on intervals without regard for price paid. That isn't the optimal way to buy back stock, and it very much concerns me. I give Wal-Mart the title of Buyback King, but I'm not so bullish about this king.
Disclosure: I am long AAPL. I have no position in WMT and no plans to initiate a position at current price levels. I wrote this article myself, and it expresses my own opinions. I am not receiving compensation for it (other than from Seeking Alpha). I have no business relationship with any company whose stock is mentioned in this article.